The Best Suction Pool Cleaners of 2023 – Reviews and Ratings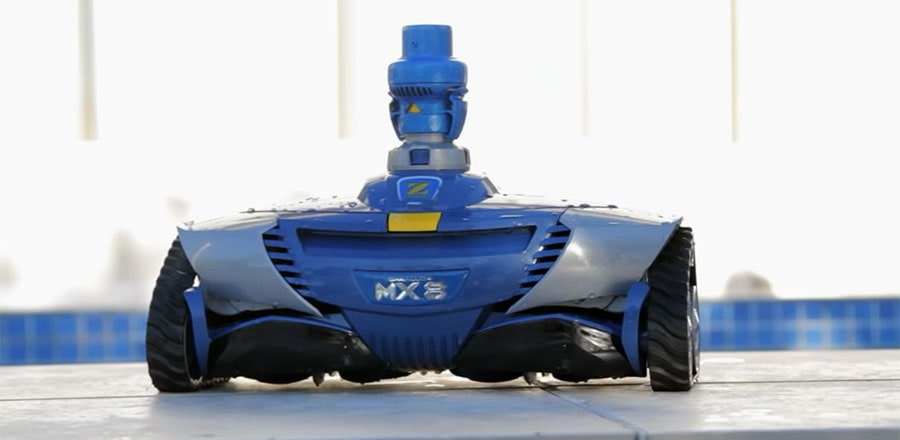 Are you worried that the best suction pool cleaners might make a big dent in your wallet? The good news is that suction-side pool cleaners are among the simplest and most affordable of all automatic pool cleaners. Operation involves simply plugging it into the intake of your pool pump system.
Our Top Picks
We select, test, review and suggest the best products. We may earn a commission, if you buy something through our links.
What is a suction-side pool cleaner
It's basically a vacuum that uses the pressure from the pool's intake to suck in water as it moves around the pool to remove bugs, leaves, hair, and other debris. The dirt is sucked into your pool's filtration system, where you can easily remove the filter basket and clean it.
What type of pools work best with suction-side cleaners?
Suction pool cleaners are best for light to medium dirt and debris. If you have a lot of trees around your pool or a newly constructed pool, you may need a separate leaf canister attachment or a pressure-side or robotic cleaner instead.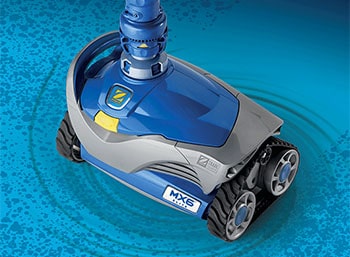 The biggest limitation is that suction-side pool cleaners are only as good as your pool's pump system. If you have a weak pump that struggles under normal conditions, a suction cleaner won't perform well. Variable speed pumps (which are used to save energy) would have to run at a speed of at least 2600 RPM (25 GPM) for several hours at a time, which can impact your electric bill.
Some suction pool cleaners won't do well on some types of pool surfaces. Delicate brushes or rubber blades could be damaged by extra-rough surfaces, so it's important to find one that is a good match for your pool's wall and floor material.
How do suction pool cleaners work
Suction-side pool cleaners come in a wide variety of designs and functions. While their basic mode of operation remains the same, some are very simple and others have advanced technology. They all have brushes or rubber blades that remove debris from your pool's floor, walls, waterline, steps, and other areas.
The simplest suction pool cleaners move in random patterns around the pool, while more advanced models have navigation settings. The advanced models usually have wheels. Simpler designs look like a flat disc that scoots around like a stingray.

Pros:
Runs off pool pump – no separate power source needed
Affordable (average $200 – $600)
Picks up light to medium dirt and debris
Easy to install & repair
Durable

Cons:
Makes the pool pump work harder
May increase your electric bill
Big hoses are visible in water while it's running
Not good for large amounts of debris, big leaves, etc.
Have a look at our reviews and buyers guide to see if a suction-side pool cleaner is a good choice for your pool.
What are the Benefits of Suction Pool Cleaners
Like every other type of pool cleaner on the planet, suction cleaners have their own unique constellation of benefits. Here are some of them:
No Booster Pumps
Suction cleaners use the power generated by your pool's dedicated filtration system, so no booster pumps are needed. This makes them less of a hassle to use.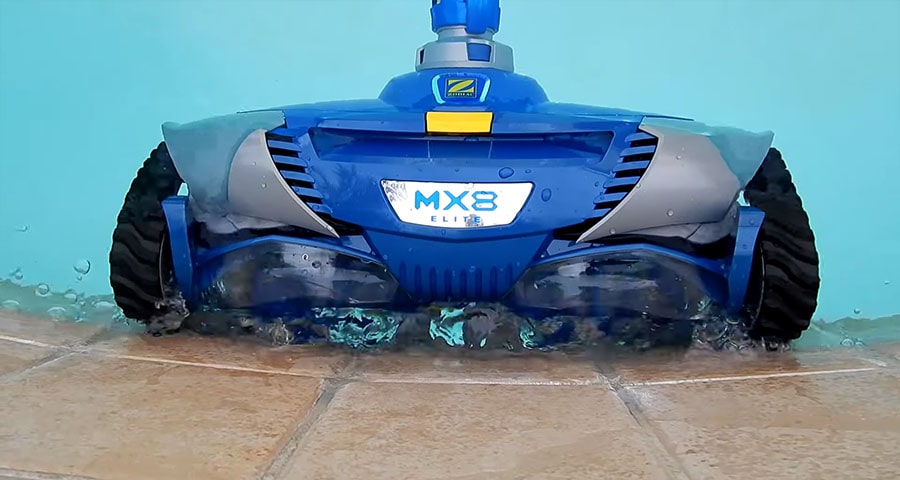 Excellent Scrubbing Brushes
Many of them have excellent scrubbing brushes that can restore surfaces to their original luster, scour away stubborn algae and other stuck-on debris, and remove unsightly stains. This can go a long way toward keeping your pool looking visually appealing.
Superior Wall-Climbing
There are suction cleaners that have tank-like treads for superior wall-climbing capabilities. This way, they provide more complete coverage.
Safe For Every Pool Type
Most suction pool cleaners are safe to use on every pool type. This means you can have greater peace of mind knowing that your pool cleaner isn't going to inadvertently cause damage.
Quiet Operation
They're relatively quiet, so they won't disturb the neighbors (God knows that neighborhoods are noisy enough as it is without adding to the commotion).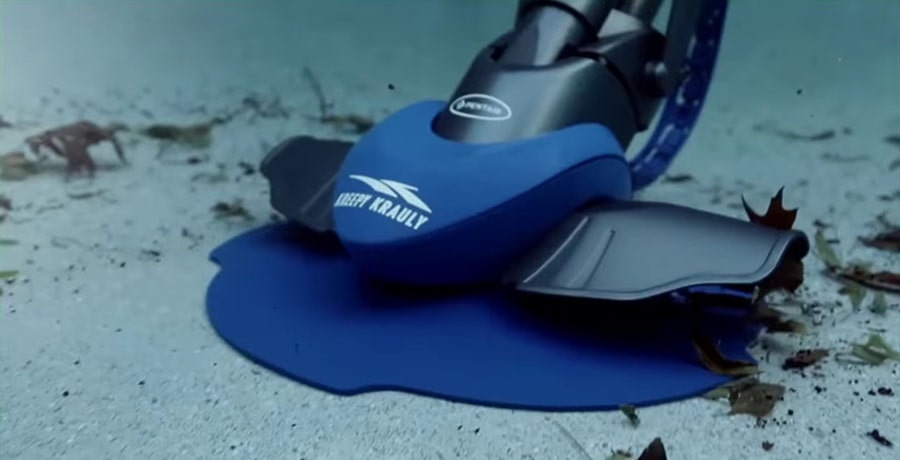 Operates Autonomously
Suction-side cleaners operate autonomously, which is the whole point of buying an automatic pool cleaner in the first place. This means you can set them and forget them without having to worry about repositioning them every two seconds.
Saves You Time and Energy
One of the best things about them is all the time and energy you'll save. Instead of spending countless hours laboriously cleaning the pool yourself, you'll have a machine doing your dirty work. This way, you can kick back and relax as you watch your mechanical pool boy restore crystal clarity to your pool water. This can be pretty mesmerizing to observe. In fact, they'll probably do a better job than you can do!
Boosts Water Circulation
Suction cleaners not only clean your pool—they also boost water circulation. This keeps the water cleaner, prevents microorganisms from gaining a foothold, distributes chemicals more evenly, drastically reduces algae growth, and takes some of the pressure off your pool's dedicated pump.
Few Moving Parts
Suction cleaners do their work without requiring an electrical connection. They have few moving parts (some even have only one moving part) and no sensitive electronics. This means they're easy to operate and super simple to maintain. Because they're less likely to break down, you won't get a heart attack because of an expensive repair bill.
More
Top-Performing Suction-Side Pool Cleaners – 2023 Ratings and Reviews
---
---
---
---
---
---
---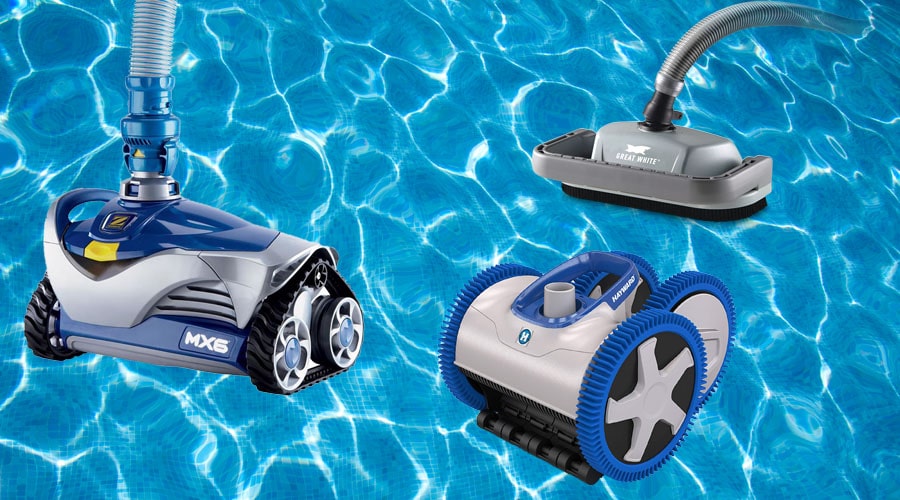 You may have to try a few pool cleaners before you find one that suits your pool
If you don't take away anything else from this guide, remember this one rule: What works in one person's pool may not work in yours.
Many factors affect how well a pool cleaner works. For suction pool cleaners, the water pressure from your pool's pump is a big factor. Then there's the type of pool surface, pool shape, water depth, type and amount of debris, and obstacles such as stairs, ladders, and drains.
So, this means you may have to try a few pool cleaners before you find one that suits your pool. We've compiled this guide and reviews, however, to help you narrow down the choices in the hopes that you won't waste time and money on incompatible products.
Types of Pool Cleaners
While suction-side pool cleaners are among the cheapest of automatic pool cleaners, they're not always the best choice for your pool. You have a few basic options.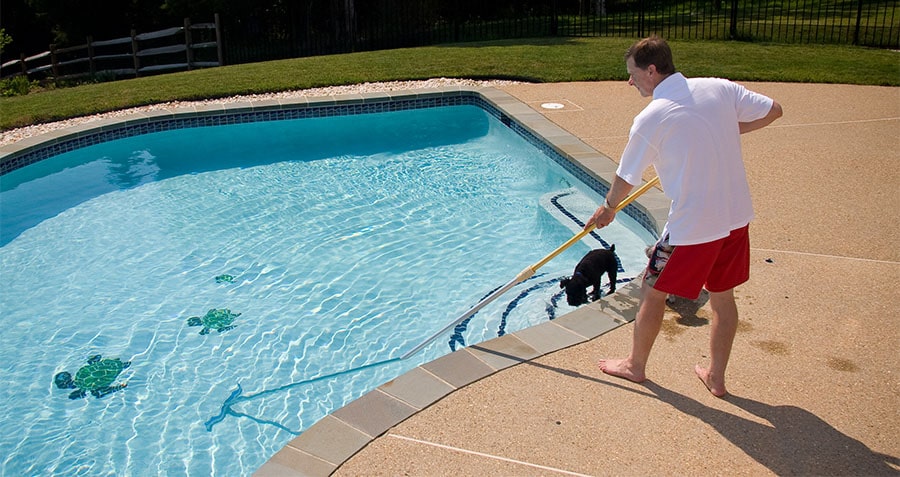 Manual pool cleaners are the cheapest option
Manual pool cleaners: These are your pool skimmers, manual vacuums and brushes. They're the cheapest option, but will require the most physical effort. If you have a small pool, you're on a budget, and want to burn some calories, this is your best bet.
Automatic pool cleaners: We'll divide these into three distinct choices.

Suction-side

– As you've seen, these are fairly affordable and depend on your pool's pump intake. If your pool pump can't consistently move at least 25 gallons per minute, then this isn't the option for you. Variable speed pumps often struggle with this.



You also have to stay on top of cleaning the pool filter and ensuring all the plumbing connections are airtight. They're best for fine and small debris and will often need a separate leaf canister if you need to remove large leaves, twigs, acorns, etc.

Pressure side

– These run on your pool's return port. They're cheaper than a robotic pool cleaner, but more expensive than a suction-side cleaner. They'll pick up larger debris easier than a suction-side cleaner.



Some of them run on the filter pump via a wall return fitting or dedicated cleaner line, but depend on your pool filter being kept clean. Some run on a separate booster pump with a dedicated cleaner line and don't require your pool's filter system. But they can also boost your electric bill.

Robotic

– These are the most technologically advanced, most independent, and most expensive of the automatic pool cleaners. They run on their own power source and don't require your pool's pump at all. They'll pick up debris of all sizes and are great for larger pools.
How to find the best suction-side cleaner for your pool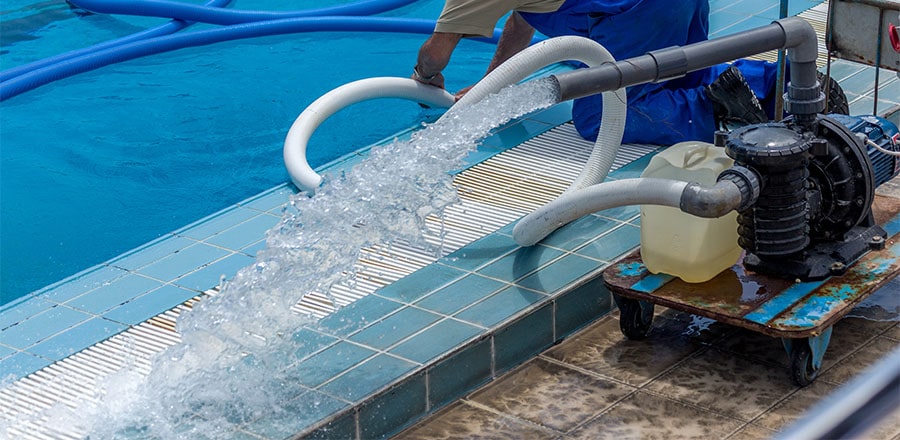 Your pool pump should be able to consistently produce 25 GPM at minimum
First off, your pool pump should be able to consistently produce 25 GPM at minimum. Some suction cleaners will list the minimum pump GPM while others don't. We've listed it in our reviews when we could find it.
When in doubt, you can always reach out to a pool supply store rep or call the manufacturer directly to see if your pool pump is compatible. If they can't tell you, then that's probably a good hint to skip that brand.
Beyond pump power, there are other important things to consider.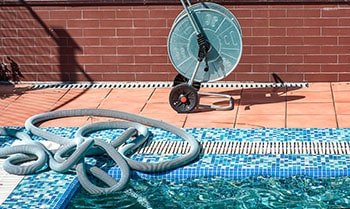 Hose length
The bigger your pool, the more hose you'll need. This also includes pools with deep ends. The good thing is that most cleaners come with several sections of hose that you simply snap together until you get the length you need. If your cleaner can't reach the furthest corner of the deep end with all the hose sections, you'll need to purchase extra hose lengths.
Type of pool surface
Construction materials are another big factor. Often, these cleaners lack enough suction to climb the walls of smooth surfaces such as vinyl and fiberglass. Special "tape wheels" or tracks may be needed to make these work.
We've listed compatible surfaces in our reviews when possible. But browse through customer reviews and see what their experiences have been with various pool types. You can also call that handy pool supply rep or manufacturer to see if a certain cleaner will work for your specific pool surface.
Types and amount of debris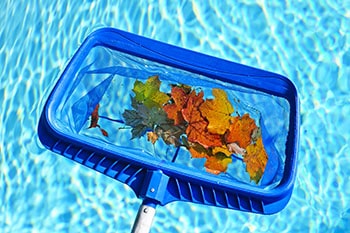 Generally, suction-side cleaners do best with fine to medium sized debris like bugs, small leaves, dirt, grass, hair, etc. Some cleaners have adjustable intake valves so you can make the opening bigger for bigger debris.
If you have a lot of leaf litter, you may need a separate inline leaf canister to prevent clogs. Or you should opt for a pressure side or robotic cleaner instead.
Amount of debris is another consideration. Since they depend on your pool filter, suction-side cleaners will require that you keep your skimmer basket clean, so heavy debris may require more maintenance from you. On the other hand, a fenced-in pool with no trees around it and minimal dirt trafficking will not pose much of a challenge debris-wise.
Price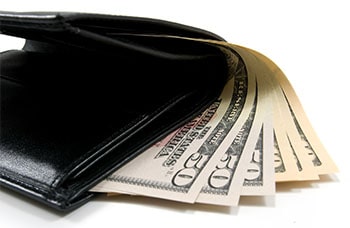 Suction-side cleaners can run anywhere from $200 – $600, with the simplest models being the cheapest. You don't have to spend a lot to get a good cleaner. A small pool with minimal debris will do just fine with a simple Kreepy Krauly.
However, if you have a large pool with a lot of debris and frequent usage, you may want to invest more in a cleaner that will tackle the mess faster and more efficiently. Look at the pre-programmed models and those with adjustable throats. Purchasing a separate leaf canister and a repair kit of spare parts isn't a bad idea either.
Troubleshooting tips
From what we've gathered from pool professionals and customers, here are some of the most common issues you'll find with suction cleaners and how to address them.
My pool cleaner won't move or moves too slowly

Backwash your filter and empty the pump basket if needed.
Check for trapped air. Do you see a lot of air bubbles in the pump basket or return lines? Are all the hose connections tight? Are the fittings at the pump tight? Is the o-ring at the pump basket in good shape?
Look inside the cleaner to see if debris is jamming the turbines.
Check the flow regulator valves on the cleaner to make sure they're at the right setting.
Make sure nothing's caught in the wheels or tracks and that they're not damaged.

My pool cleaner won't cover the whole pool.

Make sure you have adequate hose length to reach all the way across and all the way to the bottom of the deepest end.
Adjust hose float as necessary. This is especially important in pools with big depth changes.
Adjust programmed steering settings to change the number of wheel rotations.
Are the return line fittings turned downward? Use a return diverter if needed.
Is the hose kinked or coiled? Straighten and lay in the sun to remove bends.
Is the hose broken, cracked, or damaged? Replace with new hose length(s).

My pool cleaner won't climb walls.

Adjust flow intake and hose float.
The wheels/tracks/feet may not be compatible for that pool surface. You may be able to purchase additional ones from the manufacturer.
Check that the cleaner throat and turbine are clear of debris.
Backwash filter and empty pump basket if needed.
Replace worn feet, wheels, skirts, or tracks.

My pool cleaner gets stuck on steps, drains, or ladders.

Try a ladder guard kit to block the ladder.
Try a pool drain cover to ease the transition from floor to drain.
Make sure the main drain is closed.
Adjust the water flow or direction of the cleaner.
Shorten the hose to keep it from going in those areas.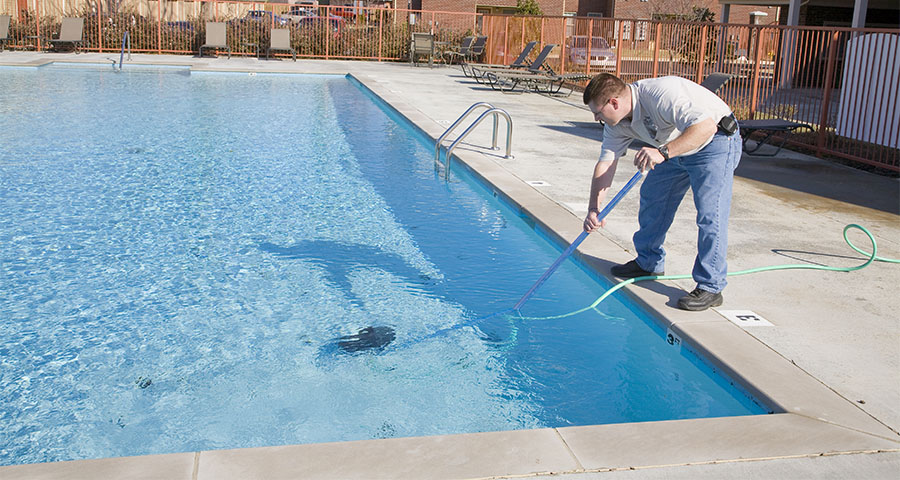 If you have a good pool pump, keep your pool filter system cleaned, and with a little routine maintenance on the machine itself, you should be able to run a suction-side cleaner for at least 1 – 3 years. Since they use minimal energy and have no danger of shorting out, they can be left in the pool for an extended time, unlike those that require their own power source.
When you find one that works well for you, stick with that model or with similar models from the same manufacturer when you need to replace it. And don't be afraid to ask your local pool supply reps for their recommendations. They should be familiar with your pool type and the debris most likely found in your area.
Suction-Side Cleaners FAQs
Can I leave a suction-side cleaner in the pool 24/7?
You can leave a suction cleaner in your pool long-term. Whenever the pump kicks on, it'll automatically start operating, getting your pool all nice and clean for swimmers. However, many manufacturers recommend removing the unit whenever swimmers are in the water or when you're adding chemicals (which could irrevocably damage your device). You should also remove the cleaner when you shut your pool down for the season.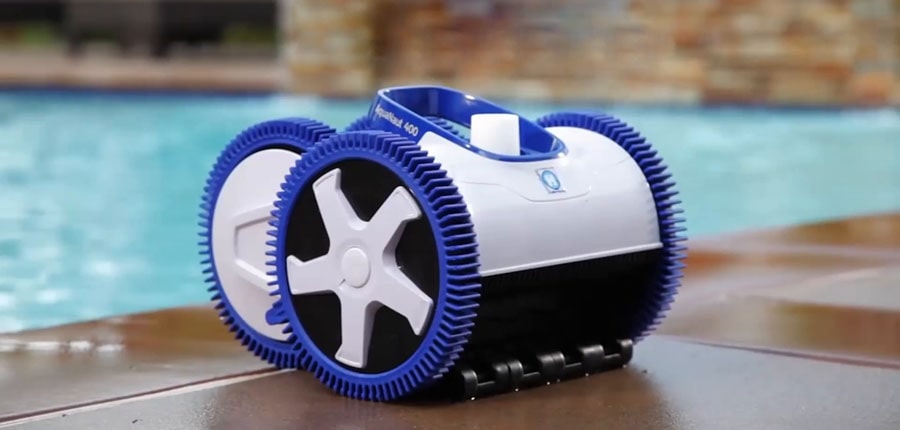 Why do people like suction cleaners?
Because they're a more affordable alternative to pressure and robotic cleaners while still being effective enough to keep their pools sparkling clean. Also, pool owners love these cleaners because they're low maintenance and are easy to install.
How much electricity do suction cleaners use?
A suction cleaner runs off your pool's dedicated filter pump, so it doesn't use any electricity on its own. However, it still indirectly uses electricity. This means the more time your device spends operating, the more electricity it will consume.
That's why it's crucial to purchase a model that's the perfect size for your pool. This way, you won't have to run the pump as long, saving you a ton of money on electricity costs.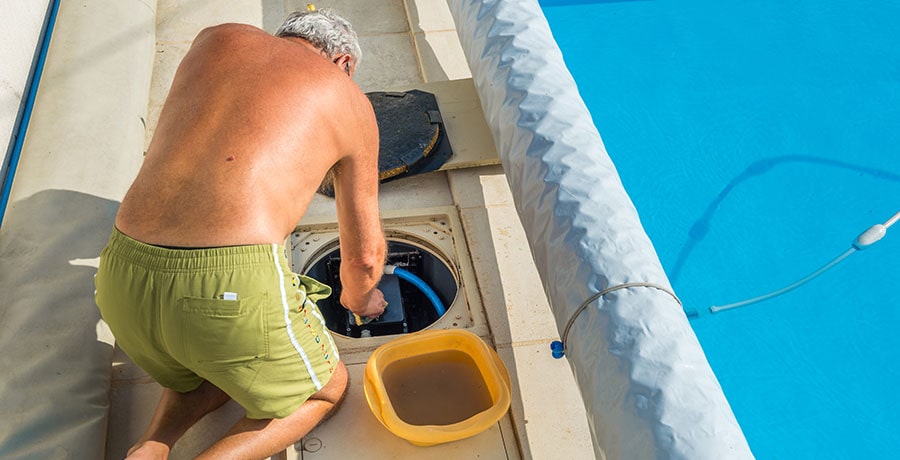 Ensure that the filter is clean when installing your cleaner
How do you maintain a suction pool cleaner?
If you're installing your cleaner at the beginning of the season, ensure that the filter is clean and the plumbing line is flushed out. For storage during the winter months, turn the pump off and remove the cleaner from the pool. Once you remove the unit, drain all the water to prevent it from incurring damage from freezing.
Either disassemble the hoses or lay them straight. Never coil the hoses or store them in direct sunlight. Find a dry area where you can keep the product so it will be ready to use when next summer rolls around.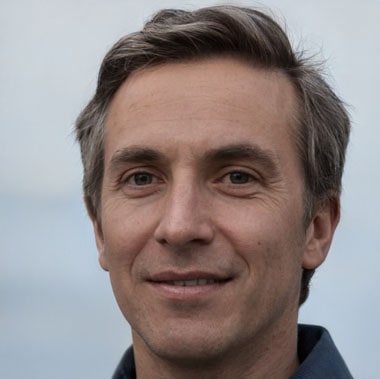 Author
Our pool maintenance expert, Luke Reed, earned his BS in Civil Engineering from Georgia Tech in 1998. Since then, he's worked in a variety of industries, including design and construction of luxury swimming pools.
Pool Maintenance Tips & Tricks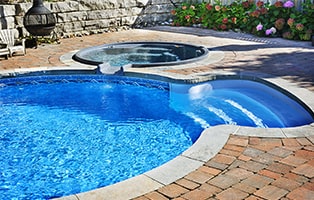 With all the different types of swimming pools available, such as in-ground and above-ground, it can be difficult to decide which one to get. Our guide including pros and cons can help you make that choice.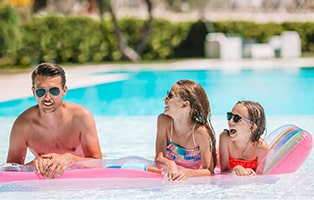 Germs and bacteria can cause life-threatening illnesses in a swimming pool. Find out what the dangers are and what you can do about them by reading our article.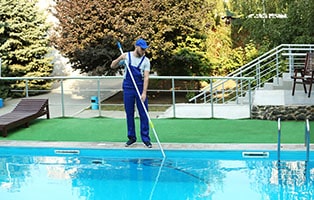 Dreaming of entrepreneurial success? Check out our guide on how to start a pool cleaning business. You'll find everything you need to know to set one up.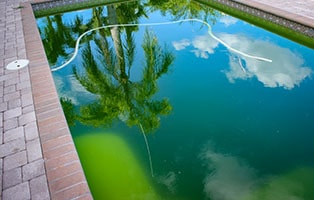 Is your swimming pool too murky to swim in? In our informative article, you'll discover the causes of a cloudy pool and how to fix the problem.