Ready for some high-tech floor cleaning? Check out our 2019 reviews and ratings of the Best Robot Mops.
updated: December 13, 2019
Who doesn't want to automate cleaning, especially mopping? Before you rush out to buy the best robot mop on the market, you may want to browse our 2019 reviews of the top sellers. Not all mopping robots are created equally. They're also not quite as advanced as robotic vacuums…yet. Even the best robot mops have some growing to do with features and performance, but they're getting there fast.
What about hybrid robot mop vacuums?
Multi-taskers are hit or miss when it comes to home appliances. They're often jacks of all trades, but master of none. Certainly, hybrids have come a long way and continue to do so. But usually they are a bit lacking in one mode or the other, which is why we aren't reviewing hybrids along with dedicated mopping robots.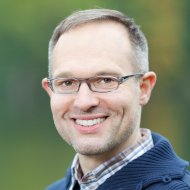 We've only found one – the Roborock S5 – that can do a respectable job, but even that hybrid works better as a vacuum than a mop. On this page, you'll find models that work only as mops. For more sophisticated and thorough vacuuming power, we encourage you to explore our list of the top-performing robotic vacuum cleaners.
Robot mops are maintenance tools
Don't throw out your mop and bucket. For heavy-duty cleaning, nothing beats a scrubbing with a good hand-held mop. Robot mops are best for maintenance between manual mopping sessions. They can take care of daily pet shedding and food splatters.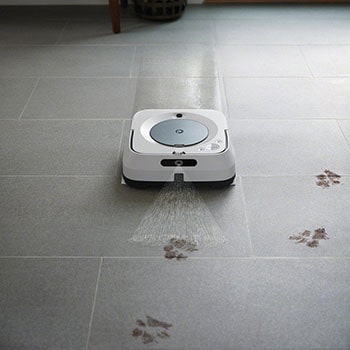 Some of the current models are gentle on delicate surfaces such as wood floors. Instead of only a strong jet of water which can damage wood, some robot mops now use a slow drip with microfiber cloths. Some even act as dust mops. The most advanced models can be controlled with apps or voice control, and some can interact with other smart home devices..
When looking for a robotic mop, keep in mind that the tech isn't on par with robot vacuums, especially when it comes to smart navigating and timed schedules. Robot mops with water tanks are a bit more challenging because volume is limited, so large rooms may require a couple of refills.
For true "automation" during a workday, for instance, a robot mop might not clean your whole kitchen or family room, but could tackle the foyer or a bedroom or bathroom. Larger spaces will require some babysitting.
Things to consider when shopping:

Battery life – Robot mops for large rooms should have batteries that last around 90 minutes.
Sensors – They should be able to sense obstacles such as walls, rugs, and carpeting.
Setup – The simpler it is to charge, program, and fill water tanks, the better.
Apps – If available, are they intuitive? What are the benefits?
Performance – Under real-life situations, it should clean various surfaces without damaging them and pick up lots of grime in the microfiber cloth.
More
Top 5 Mopping Robots of 2019
Most Advanced Technology

Leaves Floors Drier

Best For Beginners

– App control with iRobot HOME;
– Voice control via Alexa or Google Assistant;
– Automatically re-docks;
– Precision jet spray;
– Advanced mapping;
– Keep-out zones;


– Dual clean and dirty water tanks;
– Sprays, scrubs, suctions, and dries;
– 4 cleaning modes;
– Quiet;
– 2-hour battery life;


– Wet, damp, and dry mopping;
– Quiet;
– Compact to fit in small areas;
– Affordable;
– iRobot app controls;
– Virtual walls;


– 1-button operation;
– Reusable wet and dry cloths;
– Compatible with Swiffer cloths;
– Quiet;
– Compact;
– iAdapt 2.0 Navigation with NorthStar;

---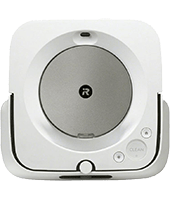 Advanced navigation and versatile smart tech in a simple package
iRobot Braava Jet m6


The Braava Jet m6 is an extensively upgraded version of the previous Jet 240. It has a sleek and simple design, but don't let that fool you. It comes with several smart tech features as well as 2 disposable wet mopping pads and 2 disposable dry-mopping pads and a sample-sized bottle of cleaning solution.
Dimensions: 10.6" W x 10.6" L x 3.5"H. Weight: 4.85 pounds. Warranty: 1-year limited.

The Good
Operation is amazingly versatile with the iRobot HOME App. It also responds to voice control via Alexa or Google Assistant. Patented iAdapt 3.0 Navigation allows the m6 to map your home and avoid obstacles and walls. It also pairs with the Roomba i7 or S9.
Precision jet spray ensures water goes where you want it rather than spraying all over the furniture, cabinets, and walls. The m6 usually avoids rugs and carpet, but for further protection, you can set Keep Out Zones to prevent the mop from spraying pet beds, shoes, etc.

The Not-So-Good
The m6 is expensive compared to others on the market. You'll also need to purchase more pads since it only comes with 2 disposable wet and dry pads. You can purchase washable pads, but they're also expensive. Those pads are gray, though, so it's hard to see how much dirt it's picked up.
Battery life is pretty short at 30 – 60 minutes depending on mode, but it does return to the dock automatically to recharge.

What Customers Say
Customers love that they can program the robot to mop only certain rooms. The love that it knows which pad is on it so it won't get a floor wet if you only want dry mopping and that it returns to the charging dock on its own.
One big complaint is that the M6 has trouble moving over thresholds higher than 3mm. Some customers noted that the cleaning solution isn't good for wood floors and leaves tire marks on darker floors.

Editor's Choice – Most Efficient Robot Vacuum and Mop Combo:
Via the iRobot app and a new feature called Imprint Link Technology, the Roomba s9 and Braava Jet m6 work in sequence. Once the vacuum is done and back on the dock, it sends a signal to the mop, which then sets out and cleans the freshly swept hard floors.

The s9 is self-emptying and nearly hands-free, while the m6 is the most advanced robot mop on the market. Both robots save you time with top notch navigation that lets them cover a lot of ground on one charge. Read more.
---
---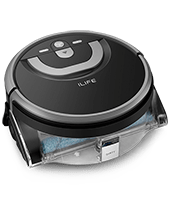 Quiet, simple operation with multiple cleaning modes and long-lasting battery
If there was a drive-thru car wash for floors, the iLife Shinebot would be running it. This little guy not only mops, but he sucks up the dirty water and dries the floor as he goes. Though this one isn't quite as set-it-and-forget-it as some models, it performs well, cleaning about 160 square feet in one charge.
Dimensions: 11.1" W x 11.5" L x 4.7" H Weight: 7.7 pounds Warranty: 1 year

The Good
The TidalPower Cleaning System is a multi-stage function that first sprays the floor, scrubs with a microfiber roller, suctions up the dirty water, and squeegees with a rubber scraper. Beyond that, it has multiple cleaning modes – edge mode, spot clean, path mode, and area mode.
A dual tank separates the clean and dirty water. LED sensors indicate battery life and water levels. The battery can last up to 2 hours, which is pretty good.

The Not-So-Good
The W400 cannot automatically return to its charging dock. You'll have to pick it up (there's a handle) and bring it back to the dock. It's also pretty bulky, often too tall to get under toe kicks in the kitchen and bath.
There's no smartphone or voice control with this robot. It doesn't really have any navigation features, but avoids carpets. It works on a back and forth path so some areas may get missed.

What Customers Say
Customers love that it has both clean and dirty water compartments. They really liked that it left the floor very dry when finished and appreciated the long battery life. One of the biggest praises was that it's very quiet.
The biggest complaints were the lack of smart tech, navigation, and auto-docking features. A few homeowners with wood floors thought it left too much water behind in the flooring joints. Some also didn't like that you can't put detergent in the tank.
---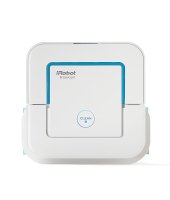 Single-purpose mopping robot that's good for first-timers
This may be the little mopping robot that could. It only mops, but can do either dry, damp, or wet mopping. Don't expect miracles. It's still pretty light-duty, but it acts more like a trigger spray mop and moves like one too.
It's the cheapest product iRobot makes, but it has good navigation and a smartphone app for basic controls.
Dimensions: 6.7" W x 7" L x 3" H Weight: 2.7 pounds Warranty: 12-month limited.

The Good
The Braava is compact enough to fit behind some toilets and other areas that its big brothers can't, such as under toe kicks. The square shape helps clean corners and edges better than the round boys.
Precision jet spray & vibrating cleaning head helps remove stains. Virtual barriers keep it from wandering too far. It knows which mode to use from the cleaning pad that's on it. It charges in about 2 hrs and cleans 150-200 sq. ft. (wet) or 200-250 sq. ft. (damp or dry).

The Not-So-Good
The Braava isn't meant for large areas. It doesn't come with reusable pads (only disposable), but they can be bought separately. It's not meant for heavy-duty cleaning or big, stuck-on stains.
There is no automatic scheduling, and no auto docking, but it will return to its starting spot. The battery must be removed and plugged into a wall charger. It doesn't avoid objects well and can bump into stuff repeatedly.

What Customers Say
Customers love the price & say it's a good starter robot, though it's pretty much an automatic Swiffer. They like the long battery life (up to 6 hrs for dry).
Damp & mop pads are treated with a cleaner that can streak darker floors. Customers felt the water tank was too small and needed refilling too often. It won't always connect to the app, which was annoying for some
---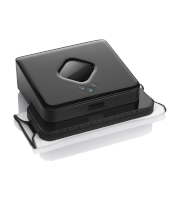 A simple, compact robot for light-duty maintenance of hard floors
This little mopping robot is built for maintenance cleaning only. It comes with reusable microfiber dry and damp cloths but is also designed to work with disposable Swiffer-style cloths for wet or dry modes.
It's not a heavy-duty cleaner by any means, but for just everyday dust and damp mopping to keep floors tidy, it's good at what it does. It's also very quiet.
Dimensions: 8.5" W x 8.5" L x 3.1" H Weight: 4 pounds Warranty: 1-year.

The Good
This little guy has an impressive battery run time of 210 minutes for dry mode (up to 1000 sq. feet) and 150 minutes in wet mode (up to 350 sq. feet). It fully charges in 2 hrs thanks to the Turbo Charge Cradle.
Wet & dry reusable cloths are included, but can also use disposable cloths. A small water reservoir keeps the cleaning pad wet. It also relies on a separate NorthStar navigation cube to map the area so it can clean accurately.

The Not-So-Good
While the carry handle is good for transport, it's actually on the side that fits into the vertical charging port, so you can't lift it to and from the port with that.
It also can't find the port on its own, so you'll have to do a search & rescue after every run. You can't schedule automatic runs either, so you'll have to babysit it while it works.

What Customers Say
Customers love that it's so quiet and compact enough to get under/between furniture and avoids throw rugs well. They love it for everyday dust control.
Though good at catching light dust/hair even in corners & edges, for heavier dirt, customers found it just pushes it around. It can handle light spills and sticky stains, but for large spills, the pad gets saturated quickly and can't soak up all the spill.
---
Why bother with a floor mopping robot
To robot mop or not to robot mop. That's the question of the day. In our tech-loving time, we're always looking for the next cool gadget we can control with an app or voice commands. Robot vacuum and mop developers are listening. As more models arrive on the market, more improvements and innovations are coming while the price is decreasing. Where at one time, you couldn't find a robot vacuum for less than $1000, you can now get both robot vacuums and mops starting at prices below $200.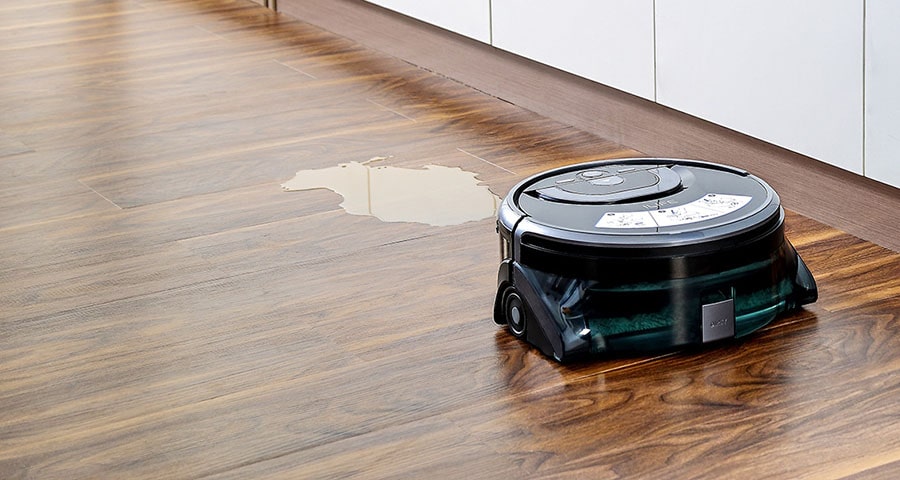 Robot Mop could help you with small everyday cleaning but couldn't match the power of a traditional mop
What you WON'T get with a robot mop is a heavy duty cleaning machine. They'll never quite match the cleaning power of a mop and bucket. You will always be the better mopper since you have almighty elbow grease and a smarter brain.
So why even buy one? Convenience!
Very few June Cleavers exist today. Even full time moms are busy with side jobs, children's activities, volunteering, laundry, dishes, grocery shopping…finding time to keep floors clean is hard. We often wait until we're wading through cat litter or sticking to Kool-Aid spots before we break out the cleaning equipment because it's just so time-consuming and tiring.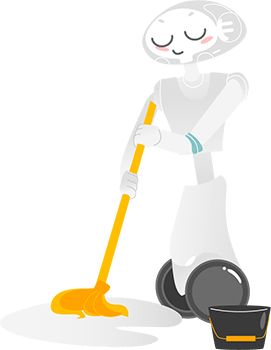 That's where robot mops & vacuums can really save the day. You just have to be realistic. You shouldn't wait until your floor is hidden under dirt to send these out. They'll just make a streaky path through it, get upset, and go back to their dock to escape.
These guys are meant for everyday, light duty maintenance. The best thing to do is, once you give your floors a thorough sweeping and/or mopping, THEN set these guys up to run on a daily schedule. That will lengthen the time needed between deep cleanings, which in turn will save you time, energy, and cat litter sticking to your feet.
With these devices, there are less physical tips and tricks to use than with manual cleaning tools, but there are still some little hacks you can keep in mind to make your robot vacuum or mop your BFF.
Tips & tricks to get the most from your robot mop
Wet it first – Yes, the robot mop will be continually dripping or spraying water as it goes (unless you want dry mopping only), but it will take a while for the cleaning pad to get wet enough to actually mop. By then, it's made a few passes of just dry mopping. So, to give it a head start, spray the mop pad with cleaning solution or a water/vinegar solution before you turn on the machine.
Stains need some TLC – No mopping robot will tackle really sticky or dried on stains as well as a mop. Take a minute to spray some cleaner or vinegar solution on those spots to pre-treat and soften them up for easier removal.
One room wonders aren't bad – Some people are annoyed if they have to refill the water tank or change a cleaning pad between rooms. Don't be. This is NOT a bad thing. By the time your robot's done with a room, the pad will be saturated with dirt. If you let it go off into another room, it's just going to drag the dirt along and be unable to pick up new grime.
Nobody likes streaks – You'll probably see a few, especially on darker floors. So, opt for fast-drying cleaning solutions & always use distilled water. Same goes for steam mops.
Read that manual – For some robot mops, you must only put water or a specific cleaning solution into the water reservoir. Make sure you follow those directions. It could void the warranty otherwise. If you find it's not cleaning well with plain water, try spraying an undiluted floor cleaner like Mop & Go on the cleaning pad to wet it first.
Stuff to avoid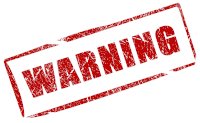 We learn a lot from researching real customer reviews and testimonials. Homeowners care a lot about keeping their homes clean while holding down jobs and taking care of families. So anything that makes cleaning easier and less costly is right up their alleys. They're great about relating what works as well as what didn't work.
From reading these experiences, we've discovered there are a few things that robot mops just don't play nice with. Pay particular attention to these before you purchase and operate a robot mop so you're not out $200 – $800 for a broken hunk of plastic.
Wires

Most of us have a number of wires in our home for electrical and mobile devices. We don't think twice about leaving them where they are on the floor if they're not tripping hazards. Robot mops, despite their "smart" technology, aren't really that smart. They'll go right under the end table or behind the couch where they can easily get tangled up in the wires.

Then you may lose both robot wire AND your charging cord. Those with scrubbing rollers are especially bad at this. So, before you set your little mop loose, take a couple minutes to get all electrical wires and charging cables off the floor where the robot may wander.

Strings, long hair & shoelaces

These pose a similar hazard to wires and cables, but aren't always as obvious. Have a look around. Pick up any stray tennis shoes, ribbons, play jewelry, yarn, etc.

If you or your kids have long hair, make sure you've given your floor a good weekly/bi-weekly sweeping so none of this stuff gets clogged up in your robot mop wheels or scrub rollers.

Stairs


Even the best high-tech robot mops with room mapping capabilities and drop off sensors can sometimes take a tumble down stairs. Carpeted stairs provide a better cushion, but any stairs have the potential of damaging your robot mop.

The fall can also make dents in the stairs and wall on the way down. For safety's sake, consider blocking off stairs with a baby gate or pillows while the mop's running.



Throw rugs & carpet

Most robot mops are great with room mapping and virtual walls so they'll stay off the carpet and rugs. Others not so much. If you don't want soppy rugs and a wet path through your carpet, you may want to pick up those rugs and block off carpeted areas with virtual walls or baby gates.

Last but definitely not least…

Dog doo

You may have come across one dad's horrifically hilarious recounting of a run-in between a Roomba and a fresh pile of dog doo. He referred to the resulting mess as "a home that closely resembles a Jackson Pollock poop painting."

As we said before, robot mops and vacuums are smart(ish). They have one job, and that is cleaning your floor. They can't quite determine which messes they need to leave to the warm-blooded primates with opposable thumbs. As admirable as their work ethic is, you really don't want to run your robot mop as you sleep only to wake up to a floor covered with dog mess.

Of course, you can't always control those accidents when you have pets, but if you have a puppy (or toddler) you're potty-training or an incontinent older dog, consider NOT running the robot mop or vacuum while you're asleep or gone. Sure it's less convenient, but you'll save yourself a 3 AM nightmare.
Mop Tips & Tricks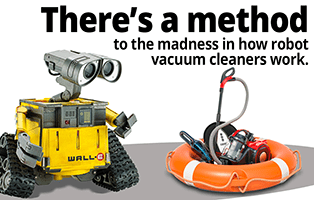 Have you ever wondered how a vacuum robot really works? Before rushing out to buy one, it's good to know about the features robotic vacuums use to clean hard floors and carpet. Read our guide to find out.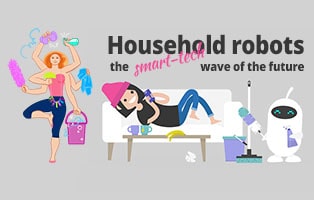 Wish you had a live-in cleaning assistant that didn't cost a fortune? Now you can! With home robots, cleaning has become more hands-off than ever before. Here are 4 types you could have right now.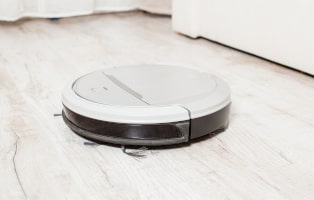 Homeowners are turning to automation more than ever to keep their floors clean. But should you jump on the technology bandwagon and buy a robotic mop? Discover the pros and cons of these smart cleaning devices.