Pool Cleaning: Tools You Need to Do it the Right Way Every Time
No matter how many cool automatic cleaners you have roaming around your pool, it's still necessary to roll up your sleeves and use a little elbow grease for a thorough clean. Pools often need this extra bit of effort on our part when we procrastinate in cleaning them, but also upon first opening the pool for the season, and after storms and vacations.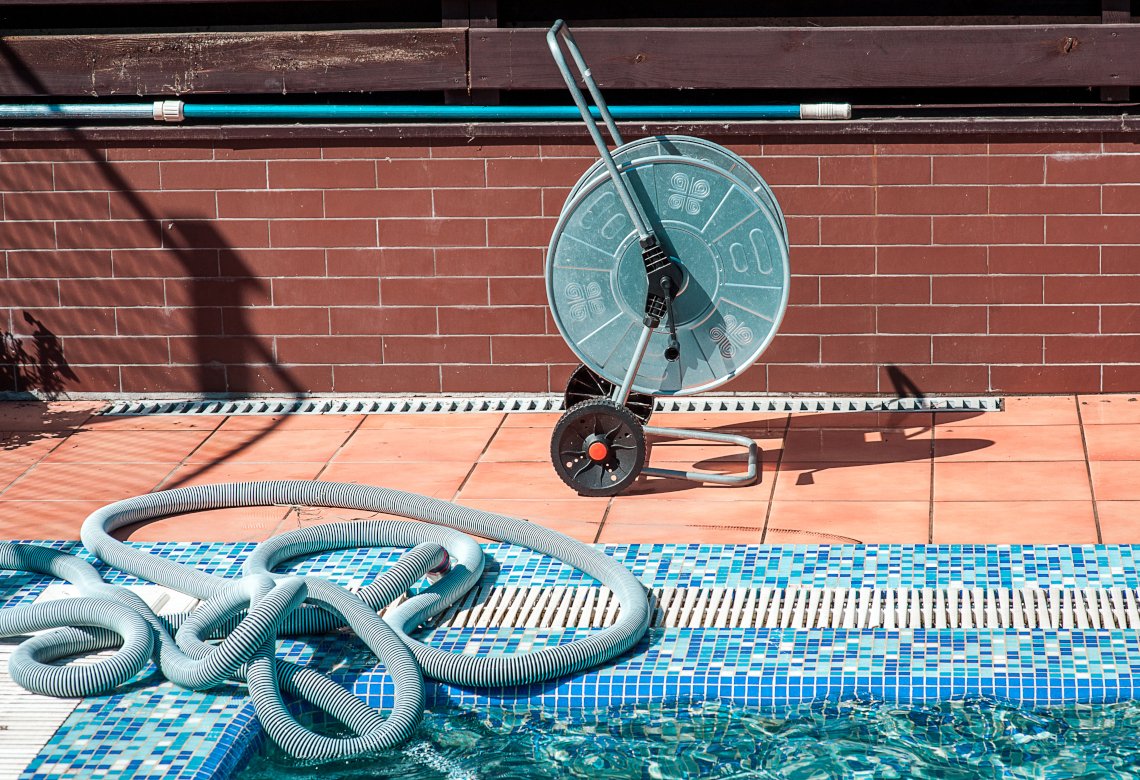 For heavy accumulations of debris and especially algae, you'll need some manual cleaning tools at your disposal.
Pool Skimmers
Unlike the suction, pressure and robotic pool cleaners that roam around the bottom and walls of the pool, skimmers hang out at the water's surface. The most basic of these is a net attached to a telescoping pole. They're perfect for removing leaves and other debris floating on the water's surface since automatic cleaners often miss that. For bigger pools, make sure you have a skimmer with a telescoping pole that allows you to reach at least halfway across the pool so you can walk the circumference and stay dry. Of course, you always have the option of using the skimmer while you're in the pool.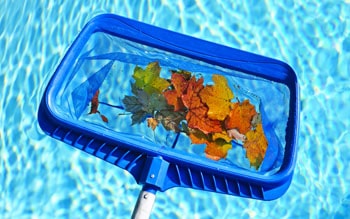 Skimmers come in 3 basic types:
Manual – That's the net on a pole. They won't do much for filtering out fine debris, but they'll catch bugs and leaves like nobody's business.
Automatic – If you really hate using the net on a pole or are really short on time, opt for an automatic skimmer. Sometimes these attach to an existing suction side pool cleaner and use the pressure to create a whirlpool that sucks in leaves and other debris.
Self-Contained – These are the newest type of skimmer. They're powered by sunlight with built-in solar panels. They're more expensive than the others but on sunny days, they can reduce the need to run the pool pump thereby saving power.
Pool Brush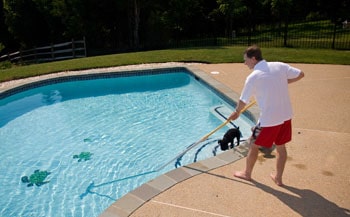 Attach a pool brush to a telescopic pole to scrub your pool's walls and floor. These are especially good for algae removal, which automatic pool cleaners can't tackle as well. When you open the pool for the season, you're more likely to need one of these. After that, use it at least twice weekly to brush walls, ladders and corners of the pool where automatic cleaners often miss.
The material of the brush depends on the pool's surface. If it's unpainted concrete, use a brush with stainless steel and nylon bristles. If it's gunite, use a brush with only stainless steel bristles. For fiberglass, vinyl or painted concrete, use a brush with only nylon bristles.
Pool Vacuums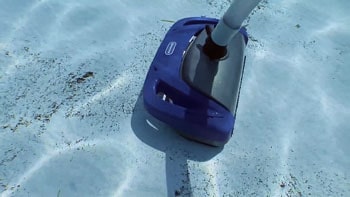 Suction-side, pressure-side and robotic pool cleaners all fall into this category, but you can also use a manual pool vacuum. They're usually cheaper than the automatic type. The vacuum head attaches to a telescopic pole and also to a suction hose attached to a pump that comes with the vacuum. Air should always be expelled from the hose before attaching to the pump.
You'll basically move it along the bottom of the pool the same way you'd vacuum your carpet. Spend more time and move slowly in heavily soiled areas. Vacuum at least once a week and after storms that may deposit a lot of debris into the pool.
Keep it Clean
Prevention is the best medicine, even for pools. Don't neglect the maintenance. Stay on top of the cleaning, the chemicals and your filtration system to keep your pool clean and healthy for your family. It'll save you a ton of work and stress by doing a little pool maintenance each day.