Check out these 2023 reviews on the best upholstery cleaners currently on the market.
There's one thing dog owners, parents, and clumsy people agree on: accidents can ruin furniture. Searching for the best upholstery cleaners should be your priority when faced with persistent food spills or oily stains on your fabric surfaces that vacuuming and other techniques simply can't remove.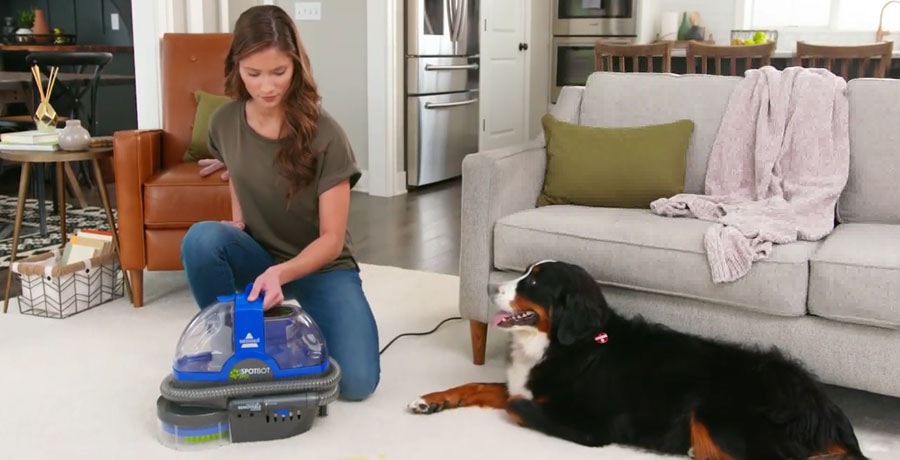 An upholstery cleaner is an essential tool for pet owners.
Of course, regular vacuuming is an important aspect of removing dust and dirt, but sometimes you just need something more powerful. Given that some pieces of furniture are especially vulnerable to staining, an upholstery cleaner quickly becomes an essential tool.
It's not just about having a pretty and clean couch. Woven fabrics can also harbor bacteria, and now more than ever you need to keep your family safe by regularly cleaning certain items. There is a direct health benefit to choosing the right upholstery cleaners, especially if anyone in your family has a medical condition such as asthma. The Center for Disease Control's article on common asthma triggers list many factors you can influence to improve their health, all by simply cleaning your carpets and upholstery routinely.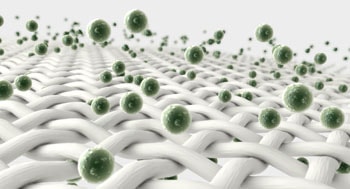 Of course, each situation is unique. Depending on the fabric and construction of the furniture item, different cleaners may need to be used. Some cleaning solutions can stain or even deteriorate certain fabrics, so be sure to take care when selecting the best cleaner for your home. Always exercise caution when trying out new cleaners. Before the first use, spot test the upholstery solution by just adding a small quantity to a hidden area and see if it works. Going all-out with a new cleaning solution can be a gamble you don't want to make.
It is possible to take apart certain furniture pieces before using the upholstery cleaner to help make cleaning more effective and easier.
To figure out the best option for your own home, we've compiled this concise-yet-comprehensive guide loaded with reviews and ratings to help you decide.
More
The Best Upholstery Cleaners Of 2023 (Reviews and Ratings)
We select, test, review and suggest the best products. We may earn a commission, if you buy something through our links.
---
---
---
---
To the average person, there are two types of fabrics: those that go in the washing machines and those that don't. As much as we would like them to be, carpets and upholstery are not as easily and readily cleaned as a t-shirt. We often grow attached to our furniture and hate to see them deteriorated, stained, or even damaged.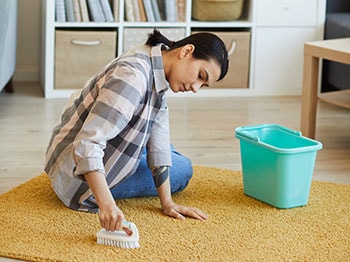 Of course, we can rent expensive specialized cleaners or hire pricey professionals to resolve our issues, but that is simply not affordable or feasible for most people. For minor incidents and stains, you can always manually scrub the stain using specialized upholstery and carpet cleaning solutions.
While that works well for minor, fresh spills, it may not remove older and more persistent stains. For these challenging tasks, manual cleaning simply isn't enough. Not only that, but getting on your hands and knees and brushing every inch of your carpet quickly becomes back-breaking work.
Thankfully, upholstery and carpet cleaning machines have revolutionized the lives of homeowners and made cleaning easier and more convenient than ever. These portable cleaners tackle a wide variety of tasks, leaving you with a clean and healthy home, all with minimal time and effort.
Pet Owners Rejoice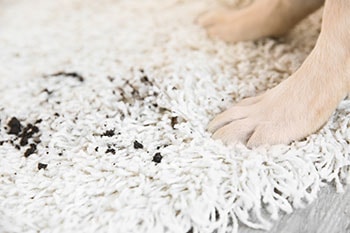 Pets bring plenty of joy to their families' lives, as well as a lot of dirt, dust, and dander. While people love their pets, they can quickly mess up even the cleanest homes, and that's before even mentioning accidents.
This is a crucial reason why you shouldn't rely on carpet cleaning services. It can quickly become unsustainable to roll up carpets, chairs, and couch cushions and take them to the cleaners every time a mess is made. Pets are mess-making machines, and even the most well-behaved animals may have their moments.
So what's the solution? Consider purchasing and owning your own personal upholstery and carpet cleaner. They make an excellent investment and addition to your cleaning arsenal by making the entire process of upholstery cleaning much more efficient and cost-effective.
How does an Upholstery Cleaner Work
An upholstery cleaner uses a combination of hot water and a cleaning solution to penetrate deep into stained fibers. While the detergent is breaking down the stain, a potent suction force is applied at the same time to help remove water and dirt.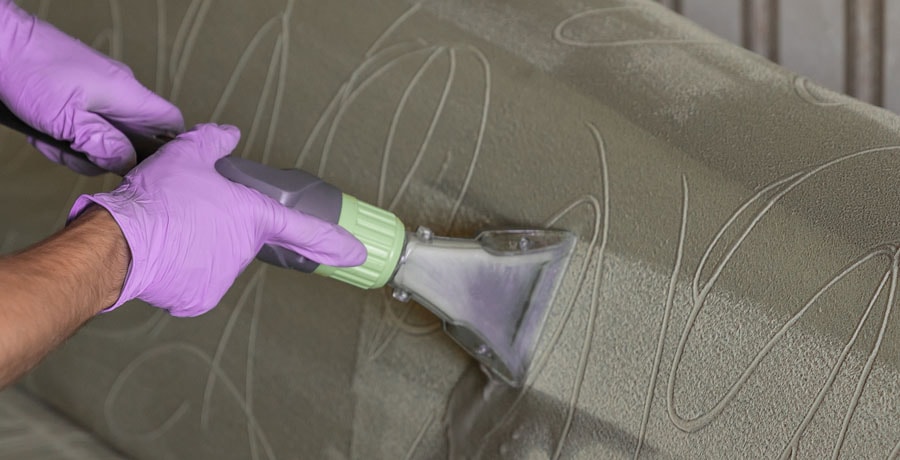 Upholstery cleaners are very efficient at their job
Most upholstery cleaners utilize warm water as it has a much easier time dissolving dirt and fat. Some models incorporate a built-in heating system that warms the water up to the required temperature, while others require the user to add standard warm tap or distilled water themselves.
Upholstery cleaners are very efficient, reducing the need to use excessive detergent and cleaning solutions. The cleaning process of these machines is both physical and chemical, and the results will immediately show.
Is this similar to steam cleaning?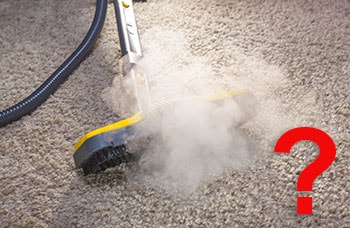 While an upholstery and carpet cleaning appliance is similar to a steam cleaner, they are not the same thing. These two have distinct uses and should not be confused or used interchangeably.
As their name suggests, upholstery cleaners are good at cleaning upholstery of any kind, as well as carpets, car interiors, and other areas. A general rule of thumb is if it's made from a woven fabric, you can use an upholstery cleaner to remove dirt and stains from it.
Steam cleaners function on a very similar principle, but they use steam to clean and break up stains instead of detergent and warm water. Of course, the steam is much hotter and can easily damage more delicate materials, including fibers in upholstery and carpets. Steam cleaners are made for and can be used on tougher surfaces upholstery cleaners can't, such as hardwood floors.
Can I just throw away my vacuum cleaner?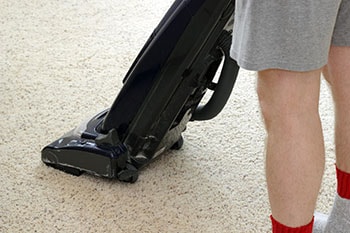 The short answer is no. Depending on the strength of their suction, vacuum cleaners can easily damage, wear out, or rip delicate upholstery and carpeting. However, they are effective at removing solid matter and debris such as small sand grains, dust, dead skin, hairs, and others.
Any pet owner can tell you that their upholstery cleaner simply isn't the most effective at gathering and getting rid of pet hairs, while vacuums do little to stains. Most people will make the first pass with a vacuum cleaner, then use their upholstery cleaner to clean what's left. These two tools are complementary to one another, not mutually exclusive.
How to Clean
Most upholstery cleaners have decent-sized water containers that fit inside your household sink for easy filling and dumping. All you need to do is fill it up with water, making sure to leave a bit of room for the cleaning solution.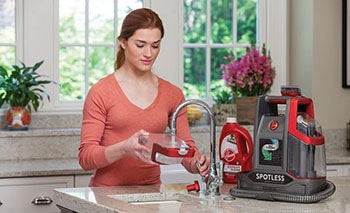 If you are unsure about how much to use, consult the product manual for more information, as they typically offer step-by-step guidance. There are various cleaners available on the market, and we recommend shopping around until you find the one that best suits your household's needs.
After the tank is filled with water and cleaner, all you need to do is select the appropriate attachment head and begin cleaning your carpet or upholstery surface. In essence, you use it similarly to how you use your vacuum cleaner. With most machines, you will do slow passes until the desired area is fully cleaned.
Benefits of Upholstery Cleaners:
User-friendly and easy to assemble;
Cheaper than traditional cleaning services;
Huge time-saver with convenient operation;
Can use all around the house, and even in your car;
Great option for pet owners.
Things To Consider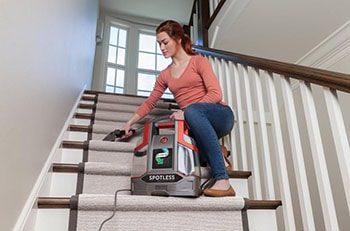 Upholstery and carpet cleaners are capable of producing a fair bit of noise. Most home vacuum cleaners produce around 68-73 decibels of sound, while the average upholstery cleaner let out a roaring 80 on average. In the context of the decibel scale, that represents almost double the sound intensity and potential for damage.
Patience is key when dealing with older, persistent, and stubborn stains. Your upholstery cleaner won't get them all at once and may require multiple passes to remove any dirt or any trace of the stain completely.
Conclusion
If you care about the care and appearance of your home, carpets, and upholstery, consider investing in an upholstery cleaner today. It is not hard to use or clean and provides great convenience and value to your life and home. A high-quality upholstery cleaner is a solid purchase for most but is an essential household appliance to anyone with pets.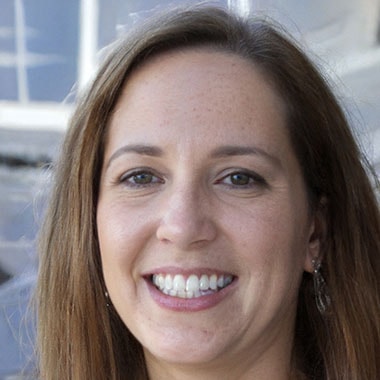 Author
Melba Espinal is a proud mother and self-professed "neat-freak." She started a successful cleaning service to earn money while obtaining her degree in Environmental Engineering from the University of Washington. After growing the business from a part-time job to a full operation with a fleet of vehicles and a team of employees, she now focuses on helping homeowners with her expert tips and advice!
Mop Tips & Tricks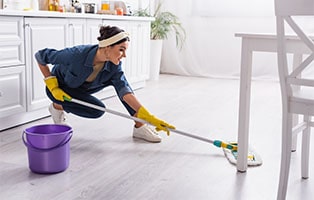 Everyone thinks they know how to clean floors. However, do you really know the steps you need to follow so you don't damage expensive surfaces? Check out what we wrote to find out.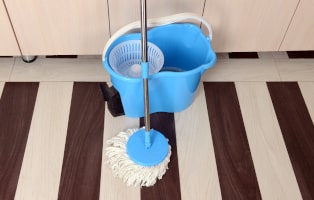 Wood floors need a bit more TLC than other hard floors. The wrong cleaners can dull them, hard shoes can scratch them, and water can warp them. Here are our tips to clean, mop, and maintain any wood flooring.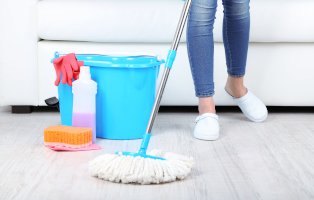 Mopping isn't rocket science, but there are some tips and tricks to get the most out of that not-so-fun task. Here, we'll tell you some of the best ways to mop floors using spin and steam mops.