The Best Robotic Window Cleaners of 2023. All the data and reviews you need.
No one likes daily chores, so following our guide to the best window cleaning robot should be a major win. Handy machines such as robotic vacuums, mops, and even a newer invention, the automatic windows cleaner, are becoming increasingly popular. We've come a long way from the early days of automated housekeeping.
Our Top Picks
We select, test, review and suggest the best products. We may earn a commission, if you buy something through our links.
However, despite the surge in interest around robot window cleaning, finding a trustworthy rating or expert reviews can often be a struggle. As such, we crafted this guide to not only answer any questions you may have about the robotic windows cleaner market but also give you our pick for the very best window cleaning robot out there.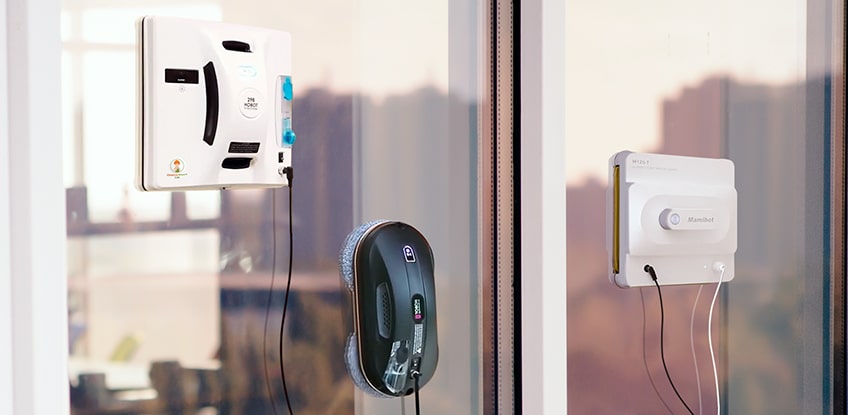 Handy machines free you from the chore of cleaning windows
No matter if you have hard-to-access windows or simply never want to do that chore again, we'll get you on the right track to success.
Unlike the very well-known robotic vacuum cleaners, not everyone has heard of the automation of window cleaning. Imagine a Roomba type machine, but built to cling to windows and clean them as they move.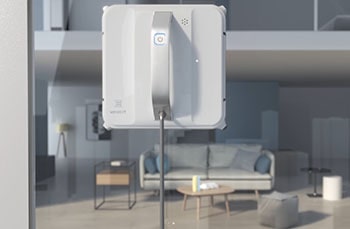 These winbots utilize the same basic technology, except with the added magic of sticking to glass. They've been a game-changer for those who jumped on board early. Unfortunately, with the massive growth in the market over the last couple of years, it's become much more challenging to know if you're getting trustworthy information.
Our comprehensive guide was made to go over everything the average person should know before choosing and purchasing a robot window cleaner of their own. We also provide a breakdown on six of our favorite options on the market today.
We've come a long way from the earliest window cleaning robots, which had paltry functionality and features. These days most advanced models can be set on a specific schedule. Just tell it when to work and allow the onboard AI to intelligently choose a route.
So if you're interested in learning more about the very best window cleaning robot for your specific needs, be sure to read ahead!
Why Use a Window Cleaning Robot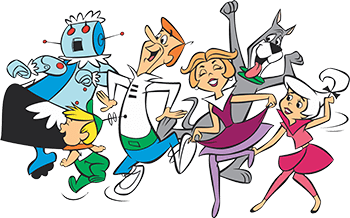 We're on the cusp of a Jetson-like era where a battalion of mechanical servants is available to do tedious household tasks. There are robotic vacuum cleaners that can get our floors spic and span without us having to lift a finger.
Robotic pool cleaners can magically transform a pool that was previously unbelievably filthy into an immaculate one. There are even robotic lawn mowers that save us from pushing a hydrocarbon-spewing behemoth in 90-degree heat.
Game Changer for Commercial Businesses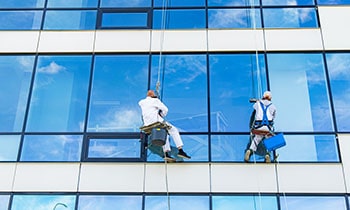 The latest labor-saving device on the block is the window cleaning robot. This invention has been a game-changer for commercial businesses everywhere. No longer must an individual risk their life by traveling hundreds of feet upwards in a dangerous basket just so a company can have windows that are sparkling clean. All a maintenance person needs to do is to set up a handy dandy window cleaning machine on the side of a skyscraper and let the bot do the rest.
Soon, the device will scour the accumulated gunk from every window in the building. Commercial window cleaning robots are technological marvels jam-packed with impressive features. For example, if wind gusts make operation unsafe, the bot will shut down until meteorological conditions are more favorable.
Benefits for Residential Users
However, this revolutionary advance in technology also offers enormous benefits for residential users. These tiny yet highly intelligent apparatuses have cutting-edge electronic sensors that can plot the best path on every window of a home so that the glass can be cleaned in the most efficient way possible.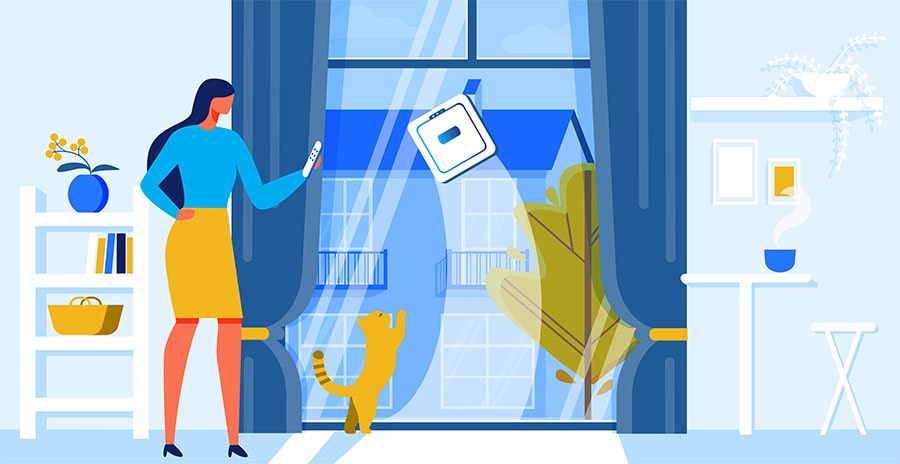 Window cleaning bots are fantastic time savers. Even using one for a short time can prove to be an eye-opening experience when you realize how many hours they can trim off your household cleaning schedule.
They're an excellent alternative to ladders and manual operation of chemical sprayers, which can be hazardous to your health. By purchasing one, you'll have more time to devote to projects that are far more meaningful than tedious household chores. For this reason alone, it's well worth investing in one of these devices.
More
Window Cleaning Robots 2023: Rating and Reviews of the Top Performing Options
---
---
---
---
---
---
Your Comprehensive Guide To Window Cleaning Robots
Just How Well Do Automated Window Robots Work
The Magic of Winbots
Many people are amazed when they see their first window cleaning robot, often known simply as a Winbot. It seems like something straight out of science fiction, a large robot magically floating across the glass.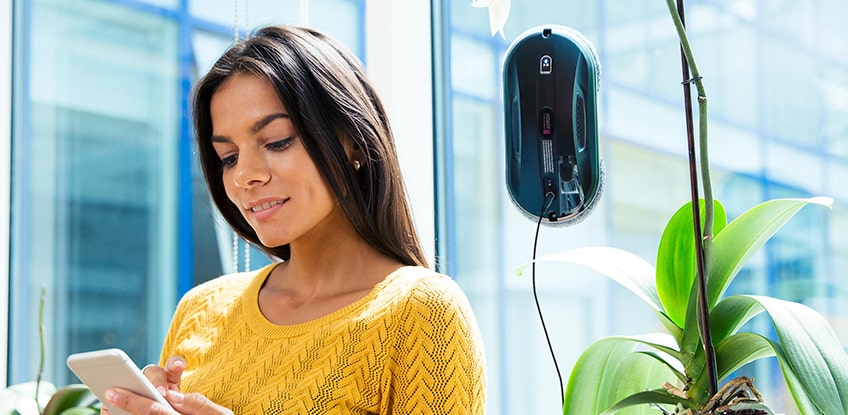 Robot magically floating across the glass
Despite their quite magical aura, the science behind how they work is pretty straightforward. These machines are held up one of two ways, either a powerful vacuum creates enough suction to hold the robot to the glass, or a specialized magnet is placed on the opposite side of the glass.
Magnets vs. Suction
While there is the occasional device that utilizes a hybrid of these, for the most part, it's one or the other. Magnets were far more common than suction-based tech in the early days of Winbots. However, as the efficiency of motors and vacuums has improved, the magnetic connection is becoming less used.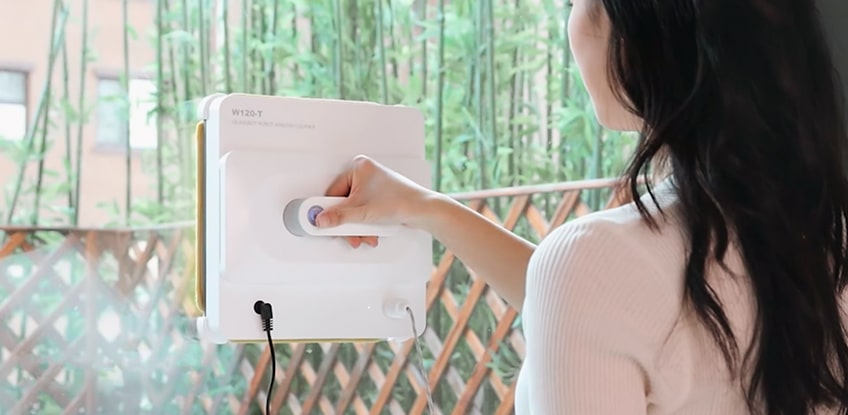 Suction-based window cleaners are more popular than magnetic
Despite this, one major advantage of magnetic-based models is that you never have to worry about your machine falling due to a loss of suction or disconnecting from the power. That said, a significant reason why they're becoming less popular is that attaching a magnet on the other side of the glass isn't always a viable option, making them far less versatile.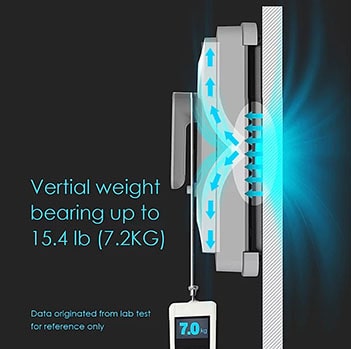 Suction-based cleaners are growing much more common in the last couple of years. It's not hard to understand why when you see just how powerful this technology has become. They can be used virtually anywhere, with many models even boasting the ability to work on skylights. This does mean that some are quite a bit louder than their magnetic counterparts. However, high-end devices do a fantastic job of mitigating the noise level. Another potential downside is the need to attach a safety rope to ensure no accidents. While for many, this isn't much of an issue, it's a definite downside compared to magnetic robots.
These days the vast majority of high-quality window cleaning robots use suction over magnets. Despite the downsides, they tend to be relatively faster moving, leave fewer streaks, and work on a wider variety of surfaces.
Although you should always check the specifications of your specific device before using it on an uneven surface. Additionally, as backup battery technology improves, it has dramatically reduced the risk of vacuum robots falling.
How They Work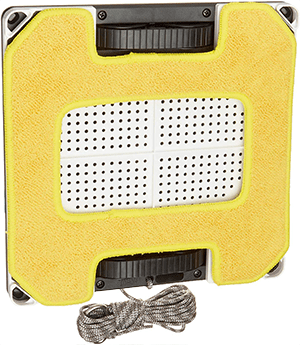 Regardless of how they're attached to the glass, the robots travel using a set of wheels or tracks. Other types of Winbots may move in a circular motion via the spinning of dual microfiber pads. Window cleaning robots are always equipped with microfiber pads to efficiently clean the glass without leaving any streaks.
While higher-end models will sport more advanced features, such as automated sprayers and advanced route planning, all window cleaning robots function by the set of principles. For the most part, how well they work depends on how well you do your research and follow the guidelines when using it.
So if you've decided to buy an automated window cleaner, let's break down the most important things to keep your eyes on!
What Makes A High-Quality Window Robot
What makes a given window cleaning robot good or bad will be greatly dependent on what your needs are. Before making any purchases, you have to ask yourself what sort of windows need to be cleaned, how many there are, and how often they need to be done.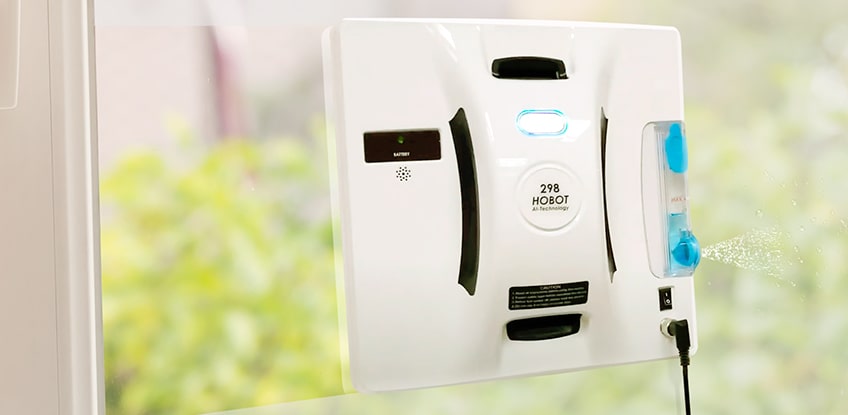 As you can imagine, these answers are going to vary significantly between the average homeowner and a small business owner, for example. As such, what would be considered a good robot for one person may not nearly do the needed job for someone else. Very few window cleaning robots can realistically do it all.
Size, Shape, and Weight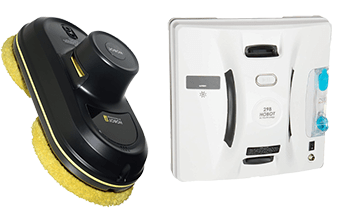 The dimensions of your potential winbot is always an excellent place to start. Its size is going to directly dictate the windows it can clean. If you need a lot of small windows cleaned, it doesn't make nearly as much sense to get a giant robot as it does for someone with massive windows all around their house.
Instead, those people should opt for a smaller device that can get their needed job done right. The shape of your robot is also critical. For instance, dual spinning models cannot get into corners effectively but are fantastic for circular windows.
Weight is an often overlooked part of the dimensions. After all, if it's being sold, the suction created can handle the weight. However, if you live in an older house with thin glass, the glass might not! While many newer models don't have this drawback, it's always better to check the specifications for a minimum glass thickness before making a huge mistake.
Quality of the Motor
The motor is likely the most impactful part of any automated window cleaner. Not only does the quality directly determine the suction power, but also the speed of movement, and even how loud it is. More suction power and speed are always preferable, especially for those worried about it falling or for those with a lot of windows to clean on a regular basis.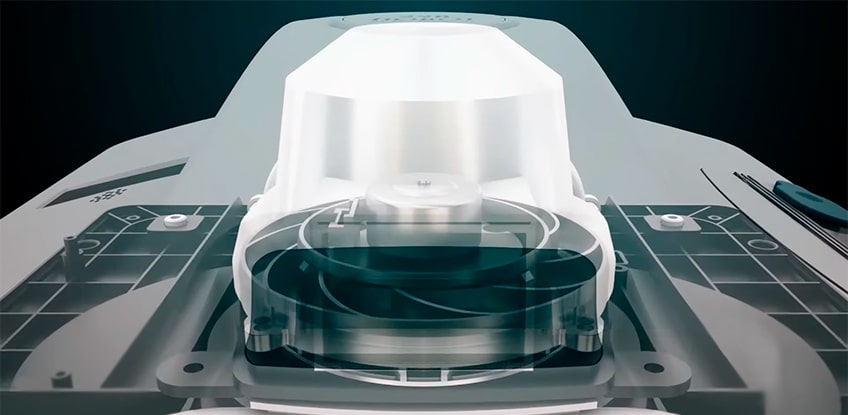 High-quality machines provide more suction power and speed
Top-quality machines are capable of providing incredible suction while remaining relatively quiet. That said, mid-tier robots tend to be much louder, which is only a problem if you plan on using it while relaxing.
Attention To Safety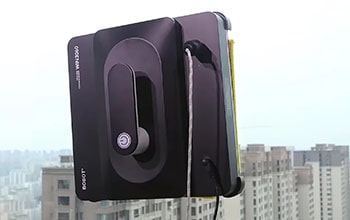 A window cleaning robot of any level is a hefty investment, which makes the focus on safety all the more critical. As such, most users appreciate brands that implement extra features. For example, the majority of vacuum powered cleaning robots now have a backup battery used to keep the machine attached if the power somehow becomes disconnected.
An often overlooked safety feature is the indicators used to alert people of issues. While the majority of devices still rely on simple beeping and LEDs, some newer models have begun using voice alerts to relay important information. This significantly reduces the chances of a critical failure. Just think of how many times you zoned out and didn't notice something beeping!
AI Technology
The AI used in any robot window cleaner impacts how well it cleans. Simpler machines will use random routes that, with enough time, clean everything. Most advanced models now use AI-powered routes that use a set of sensors and circuitry to track where it's been and where it needs to go next. The cutting edge models have begun to build on this AI, crafting multi-step cleaning processes for leaving a sparkling finish. The bottom line is, the better the tech powering your robot, the happier you'll be with how it works.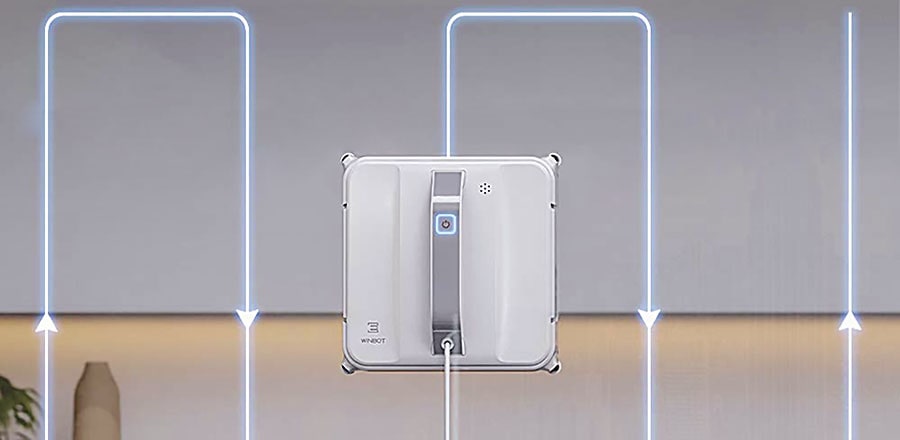 More advanced models clean windows in patterns.
Advanced Features
There's been a ton of innovation in the window cleaning robot market over the last couple of years. One of the new features becoming increasingly requested is automated sprayers. Instead of needing to pre-spray each window as you go, these robots ensure the right distribution every time. Similarly, apps have become commonplace, offering a greater sense of control over the process.
Other Things To Consider
Power cable length – You should always keep in mind how long the cable is and where you're going to be using it most. Be sure to consider where the outlets are, and if you're going to want or need an extension cable.
Replacement pad costs – While most of the microfiber pads sold with automated window cleaners are machine washable, they won't last forever. You should compare the price of different brands if you're stuck between a couple of options. Either way, to extend the life of your pads, wash them after each use.
FAQ
How Useful Are Winbots?
How useful a window cleaning robot is, really comes down to why you need it. For example, any small business with lots of large windows should seriously consider the investment. It's a small expense to ensure their business is always giving off the best impression possible, without wasting workers time.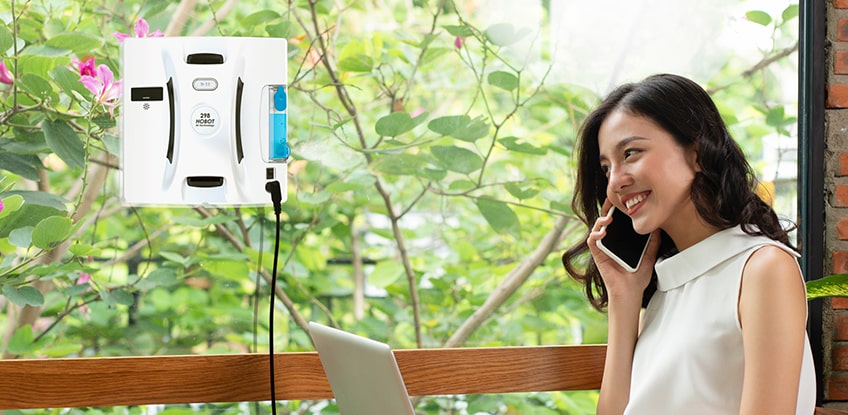 By the same token, any homeowner who has a lot of large or inaccessible windows who want them to be clean would also find a cleaning robot to be quite helpful. However, if you only have a few small, reachable windows to do at your house. It may not be an essential purchase.
Should I Get One?
As mentioned above, we believe two primary groups of people should strongly consider buying an automated window cleaner: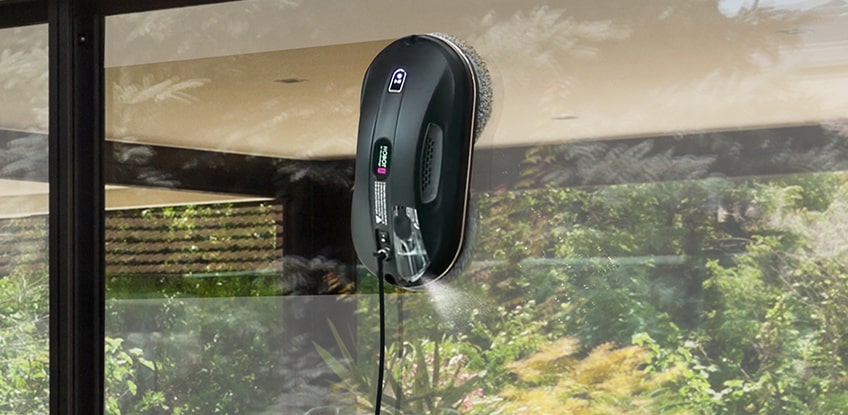 Business owners will get a ton of use out of these incredible devices, helping ensure their reputation is as sparkling as their glass.
Homeowners with large windows and a desire to keep things clean will also get a lot of value from their little robot friend.
What's The Best Window Washer?
While what's the "best" window washing robot truly depends on your needs, you can't go wrong getting the HOBOT-388. With an incredibly powerful, yet quiet motor, advanced AI, and all the most innovative features around, it's hard to argue the HOBOT-388 is currently the very best window washer you can get.
How Do You Operate One?
The vast majority of these machines are straightforward to set up and use. After reading the manual for any crucial tips and tricks, connect the power and safety cables. Make sure the microfiber pad is adequately attached, pre-spray the window if necessary, hold the bot to your glass, and press power.
From there, many models will run automatically, or you can alter its settings via the remote control or Bluetooth enabled app. The robot will alert you when it's finished its cycle with a clear indicator, letting you know it's time to move it to the next location.
What's The Maintenance Like?
Window cleaning robots may seem very complicated, but properly caring for them doesn't have to be. Simply follow these simple tips, and you'll significantly increase the life of your robot and pads: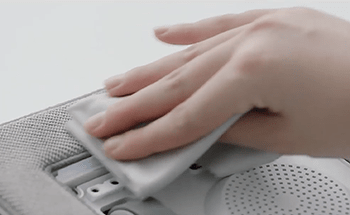 Make sure to wipe down the various parts of your robot after each use.
Most winbots won't work particularly well in extreme temperatures. Always consult the manual if you're concerned it may be too cold or humid.
If you want to keep your microfiber pads fresher for longer, make sure you wash and dry them after every use.
Run your cleaning robot once a week to prevent buildup that could cause more wear and tear.
Additional Uses?
Lots of people ask if you can use your winbot for other types of surfaces, such as mirrors, shower-door glass, and even floors. The short answer is, yes. Most winbots are well-equipped to handle each of these tasks, but it's important to check your manual before doing anything. As for cleaning the floor, it's definitely possible. That said, it's worth noting they often don't work nearly as well as robots designed for automatic wet floor cleaning.
Disadvantages of a Window Cleaning Robot
Weather Considerations
If you're cleaning the exterior portion of your windows, a bot doesn't work well in sweltering weather. It also can't be used when weather conditions are at the opposite ends of the spectrum, such as when it's snowing, raining, or temperatures plummet below 40º.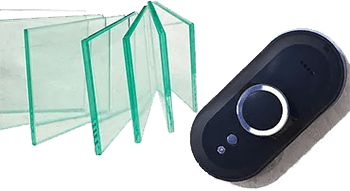 Thin Mirrors
If you're going to use it to clean your mirrors, keep in mind that a bot could crack mirrors that aren't very thick. If your windows are less than three millimeters, you should get a robot that uses magnets or clean them by hand.
Battery Powered Bots
While battery-powered window cleaners are less cumbersome, the average battery life is usually 30 minutes or less. Although that might be sufficient to clean approximately 10 windows on a single charge, you should get a bot with a cord attached if you have more glass surfaces than this.
Can Cause Streaks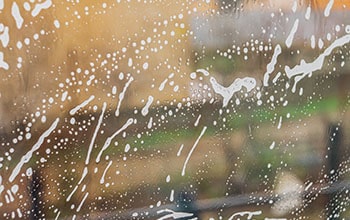 The most common cause of streaky windows when using a robot is dirty microfiber cloths. Periodically inspect them and if they're filthy, toss them in the washer.
When putting them back on the unit, be careful not to cover the movement tracks or sensors because this could result in missed spots or your bot falling off the window. However, check your manual first. Sometimes these cloths need to be cleaned by hand.
Can Be Noisy
Every window-washing bot has a motor. This means there's always going to be some noise. However, window cleaning robots are relatively quiet when compared to most other household devices.
Try not to buy one that's overly loud because it can be an annoying distraction if you need to concentrate on a task. Try to choose a machine that generates a decibel level of 65 or less, which is about as loud as a normal conversation.
Conclusions
While automatic window washers may not be for everyone, they certainly have a ton of value for some. For them, these robots have been a game-changer. It's incredible to live in a world where automated machinery has solved so many of our daily problems. From business owners who can improve their appearance while saving manpower to the homeowner who values a tidy appearance, window cleaning robots have been an excellent purchase for many.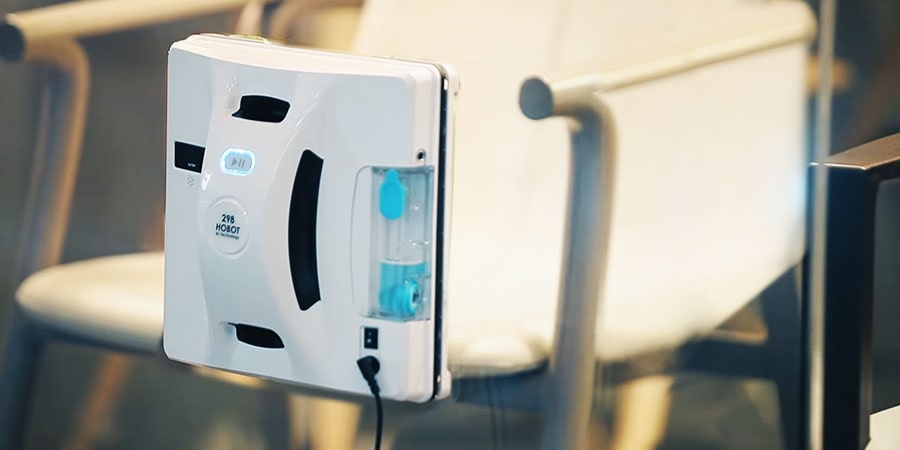 Have you ever used a robotic window cleaner? Do you think you would get a lot of value out of getting one? What's the most important feature you'd like to see in a window cleaning robot? Please leave us a comment below and let us know!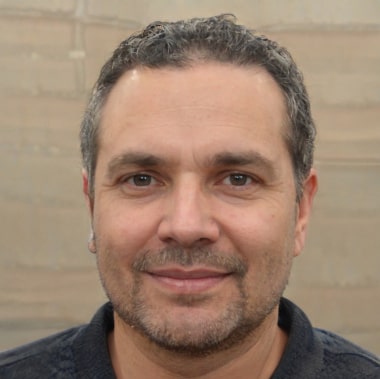 Author
Stephen A. Hancock received his M.S. in Mechanical Engineering (Robotics Track) from University of Utah in 2004. Since then, he's contributed to numerous articles and has been a consultant for many technical publications and websites.
Robot Tips & Tricks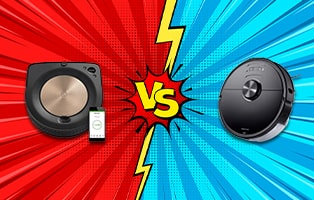 If you want to know which company wins the "Roomba vs. Roborock" battle, check out our article. You'll learn what makes each model exceptional, and things you'll need to know before buying.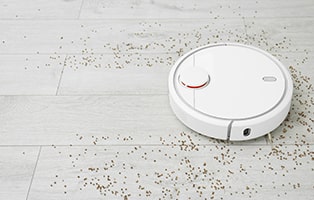 Robotic vacuum navigation systems include sensor mapping, camera mapping, gyroscopes, LiDAR, and SLAM. Read all about this technology in our informative article.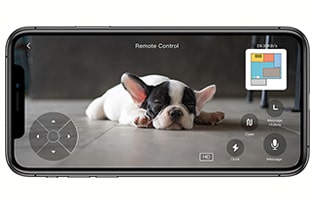 If you're worried that your robot vacuum is spying on you, you're not alone. Read our information-packed article to find out if it is, and what you can do about it.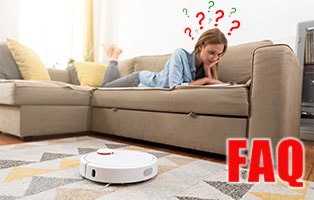 Robot Vacuum Cleaners are evolving at a rapid pace and have indeed become the new necessity for any modern household. Here's a breakdown on some of the most frequently asked questions about these devices