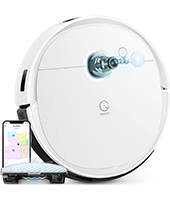 Here's our 2023 review of the yeedi vac 2 pro robot vacuum and mop with self-empty station. Read it to find out what makes this model a must buy!
We select, test, review and suggest the best products. We may earn a commission, if you buy something through our links.
The yeedi vac 2 pro is an exceptional hybrid vacuum and mopping robot with an innovative feature that puts it light years ahead of the competition. This is its ability to vigorously scrub floors using a groundbreaking mopping system no other machine on the planet has. This design improvement is a bold evolutionary leap in the development of robotic cleaning machines.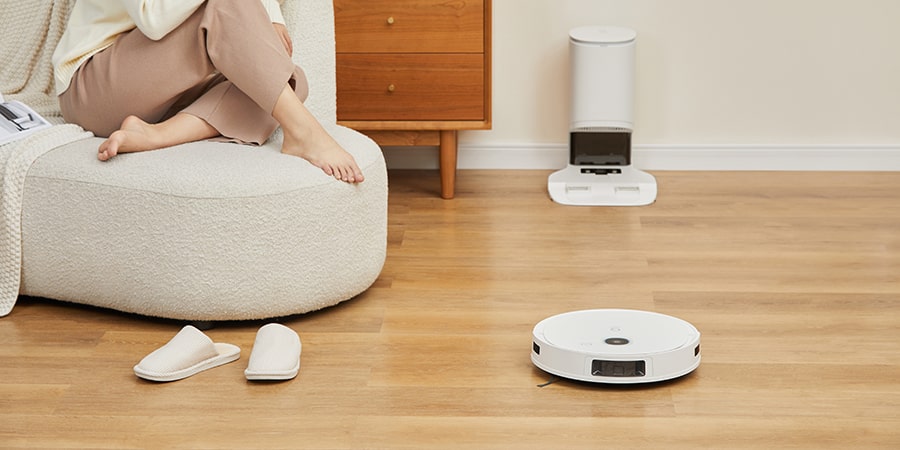 The yeedi vac 2 pro is hybrid robot vacuum and mop
Once upon a time, these devices worked by mindlessly bumping into furniture, spinning around randomly until their batteries ran out of juice. Because these early models weren't very intelligent, their ability to clean was subpar. This is a far cry from the yeedi, with its electronic brain, onboard camera system, and proprietary algorithms that allow it to deftly navigate your floors.
Features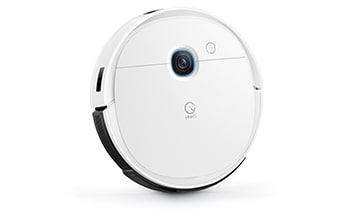 Revolutionary oscillating mopping system for immaculate floors;
Optional self-emptying dustbin for truly hassle-free operation;
3D obstacle avoidance technology;
3000Pa of suction power for superior cleaning every time;
5200mAh battery for a runtime of up to 240 minutes;
Exceptional customer service;
Who's the yeedi vac 2 pro For?
If your floors are perpetually messy because you have toddlers, you'll love the exceptional cleaning ability of this bot. You'll appreciate it even more once you realize you don't have to pick up the toys they throw all over the place. That's because your eager-to-please droid senses every obstacle standing in the way of you having immaculately clean floors and expertly avoids them.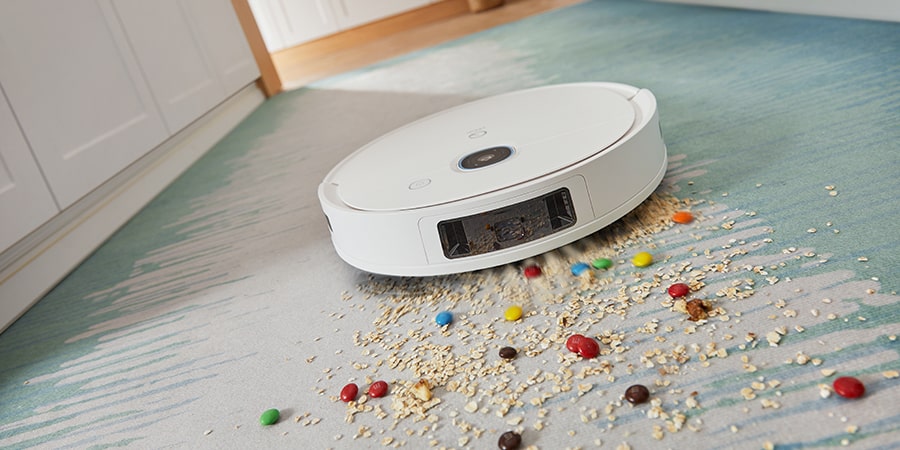 The yeedi vac 2 pro has high cleaning ability
People with dogs tracking disgusting muck through their homes will want to own this fantastic cleaning gadget. The tireless yeedi will clean it up without you lifting a finger. Cat lovers will flip over this machine with a ravenous appetite for household crud that devours kitty litter, feline fur, and shredded paper like few other machines can.
The yeedi is terrific if you're exhausted after working all day and want to come home to a sparkling clean house. Simply program the unit to start as soon as you leave your desk. While you're driving home, the yeedi will be hard at work, getting all the dirt out of your carpets and giving your hard floors a luminous shine.
Let's say you're not exactly a horrible house cleaner but merely selective about what you want to do in your limited time. In that case, you'll love what the yeedi can do for you. Crumbs, dog hair, and the repulsive filth your partner tracks after gardening are no match for this incomparable device.
Pros

This unit comes from the innovative minds over at yeedi, a company that's only been operating since 2020. However, with their precisely engineered cleaning machines, you'd think they've been in business for far longer.
The yeedi vac 2 pro comes with all the original model's incredible features. However, the manufacturer went the extra mile by vastly improving the mop design and obstacle avoidance system. This version also has an automatic carpet sensor that keeps your rugs from getting saturated with water when the bot's in mopping mode.
The stylish minimalist design and glossy white housing allow it to blend nicely with any type of décor.
Revolutionary Oscillating Mopping System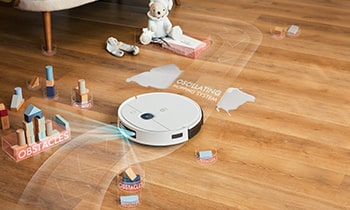 The yeedi is an affordable cyborg cleaner that's revolutionizing the robotic cleaning industry. The oscillating mop feature is a technological triumph that raises the bar of what a hybrid machine can be.
Most robotic vacuum/mop hybrids suffer from an inefficient mophead design. Often, this is a plate holding a wet cloth gliding along the floor with no ability to scrub, resulting in poorly cleaned floors with lots of streaks.
The yeedi's powerful cleaning abilities come from a microfiber pad moving back and forth 480 times per minute, which supercharges the device's mopping ability. This helps scrub away dried-on coffee, mud, oil, lipstick, and other stains on your wood, tile, and laminate floors. Unlike some other bots that leave unsightly streaks, the yeedi only leaves a sparkling clean floor.
The mop pads are removable—simply remove them from the Velcro strips and give them a good washing.
3D Obstacle Avoidance Technology
The yeedi can easily navigate around objects down to the size of a Hot Wheels toy car. This means you won't have to pick up stuff on your carpets and hard floors before deploying your robot. Just hit the "go" button and watch yeedi go to town on all the dirt, dust, and stains in your home. This invaluable feature incorporates the same cutting-edge technology Apple uses for Face ID.
Intelligent Navigation of Your Home
Some hybrid cleaning machines have such poor navigational abilities you wonder if they could even find their way out of a paper bag. Not this baby! That's because the yeedi uses its superior mapping abilities to create a detailed map of your floors. This ensures that it follows the most efficient cleaning path without missing spots.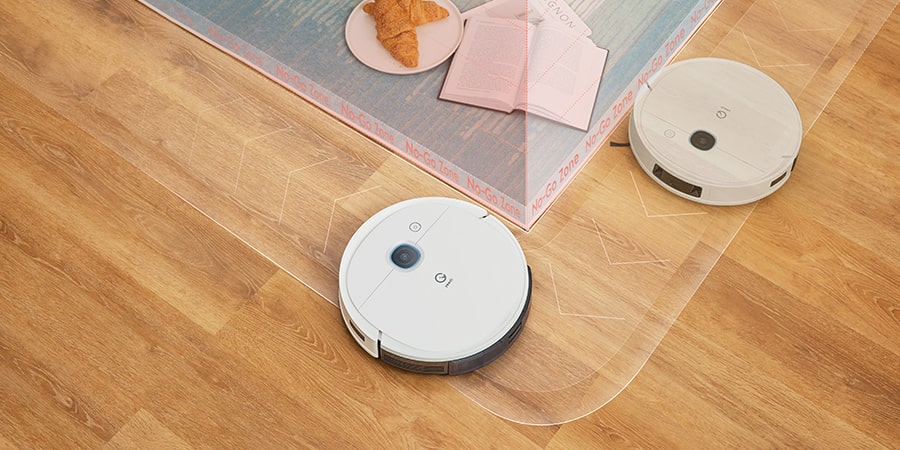 The yeedi vac 2 pro steers clear of carpet in mopping mode
The yeedi utilizes a systematic and highly efficient linear pattern to clean your floors. This means it'll go in a straight line and then turn around 180 degrees to clean the next line of flooring. Less effective models merely randomly bounce, which means they move around haphazardly. This results in a less than unsatisfactory cleaning job.
When the unit detects carpet, it steers clear of it if it's in mopping mode. That way, your rugs won't get soaked. Use the custom clean option if you want to spot clean or go over high-traffic areas twice. This allows you to give your floors the attention they need to stay sparkling clean and blessedly free from the stains and debris that take away from the visual beauty of your home.
Note: If you want to check where your bot's been, look at the cleaning log. This lets you know the times and dates yeedi was hard at work and which areas it cleaned, giving you feedback you can use to help your hardworking droid do an even better job.
Anti-drop sensors ensure that your machine doesn't tumble headlong down the stairs. This prevents costly damage that could put your bot out of commission for a while.
Room Splitting and Merging
A recent software update now allows for room splitting and merging. That way, if the living area in your home is one big open space, but you want to subdivide it into separate cleaning sections, you'll be able to do just that. The unit's maps are 100% editable, which is fantastic if your home layout ever changes.
Enough Suction for Any Job
The yeedi has 3000Pa of suction power, as much as most high-end machines. Four suction levels mean you'll always have the right amount of power for whatever your bot needs to clean. The yeedi automatically boosts suction depending on how much power it needs to do the job.
For example, if yeedi is on carpet and needs to suck up stubborn dirt, it's smart enough to realize it needs to increase suction to do this.
Optional Automatic Dustbin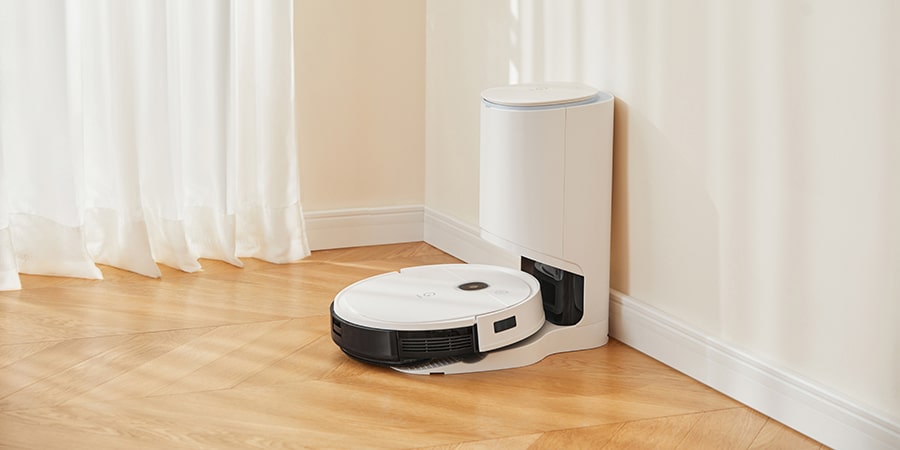 The yeedi vac 2 pro with self-empty station
With the optional automatic dustbin, you won't need to manually empty dirt and dust for up to 30 days. The yeedi Self-Empty Station is fantastic if you want your bot to run on a schedule without having to deal with the hassle of emptying the bin in the middle of a cleaning.
The super-tight seal of the lid keeps dust and odors locked in. When you empty the dirt after a month, a self-sealing bag ensures you won't get your fingers dirty with any of the filth your unit collected. This makes the yeedi ideal if you have allergies that could be triggered by dust. Merely pull out the bag and dispose of the dirt without getting dust everywhere.
Check out the yeedi Mop Station pro for another exceptional hybrid cleaning machine that comes with a self-emptying dustbin.
Long-Lasting Battery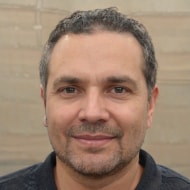 Your tireless cleaning buddy has a 5200mAh battery that runs up to 240 minutes per charge, which is fantastic news if your home is larger than average. It automatically recharges when the battery runs out of juice and resumes cleaning where it left off.
Highly Intuitive App
yeedi's highly intuitive app gives you total control over your bot. The app is compatible with Alexa and Google Home if you want to command your bot to do your bidding via voice.
Use the app to choose a specific room to clean or set up virtual boundaries if you don't want your device to enter certain areas. For example, a no mop zone underneath your couch. You can even schedule your cleaning, such as programming your trusty bot to start operating at 9 AM sharp every day. If you'd like to give it weekends off, schedule it to skip Saturdays and Sundays.
The app also allows you to specify a cleaning sequence. This is very useful if you want your machine to clean one room before doing another.
Other Benefits of the yeedi vac 2 pro
The yeedi is tiny enough to slide under most sofas and other tight spaces. The unit has a lower profile than comparable machines because its sensors are on the front instead of the top, which is the case with many other models.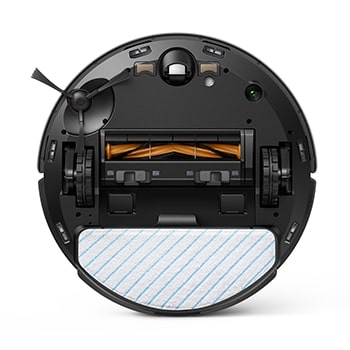 The yeedi is quiet enough that it won't scare your cat or wake up your baby but loud enough that you know it's running. The machine has a sound level of 66 decibels when vacuuming in standard mode. However, when it's mopping, it's a little louder due to the oscillating action of the pads.
You can easily adjust suction and water flow levels. This means you can decrease suction if you're on a crucial Zoom work call and need to ensure minimal background noise. On the other hand, you can increase suction for more thorough cleaning if you're out and about. Increasing water flow helps scrub dried-on dirt away more effectively.
Two suspended wheels mean the yeedi can climb over inclines of up to one centimeter. The main brush is suspended, which helps it adjust more easily to differing carpet levels. For removing hair that gets entangled in the main brush, there's a cutting tool embedded in a chamber of the machine.
People rave about the manufacturer's exceptional customer service. If you ever have a problem with your unit, send it back, and a new one will be on its way to you in no time.
Cons

Some users complain that the bot occasionally leaves marks on their floors. However, this happened so infrequently that it didn't detract from an otherwise exceptional experience. A few customers said their machine wouldn't recharge when placed on the charging dock. Once these individuals sent their devices back and got new ones, they no longer had this problem.
Unfortunately, the self-emptying base is only for dust, debris, and dirt, so you can't use it to empty or refill the water tank. While the yeedi reminds you to refill the tank after completing a cleaning cycle, it can't let you know when the tank is bone dry.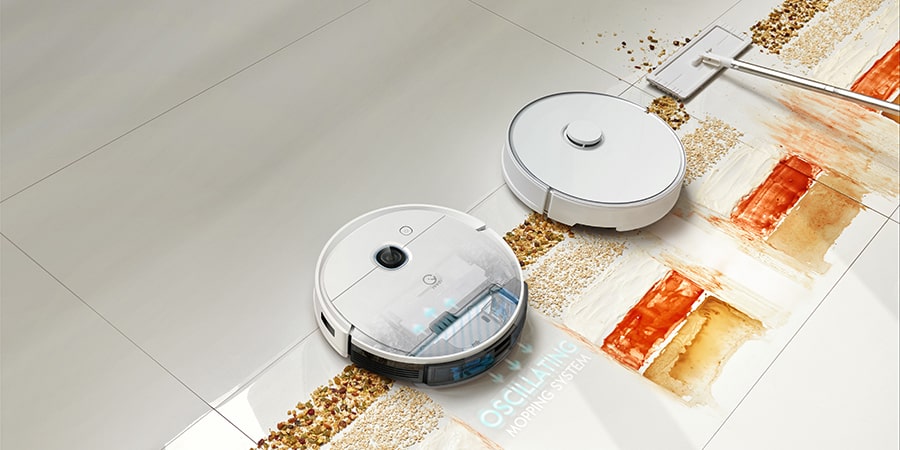 Final Verdict: Should You Buy the yeedi vac 2 Pro?
The yeedi is an exceptional floor-cleaning robot that can simultaneously vacuum and mop, and has many of the same bells and whistles of high-end hybrid machines without costing an arm and a leg. This self-cleaning droid penetrates deeply into rugs to suck out embedded hair, dust, and other debris. That way, your carpets no longer harbor the allergens that can make you sick.
The cutting-edge oscillating mop is a feature that elevates the yeedi far above the ranks of hybrid cleaning machines to make it truly extraordinary. Whether you have carpets, hard floors, or a combination, the yeedi will tirelessly work to keep them sparkling clean.
All of this is why I wholeheartedly recommend the yeedi. For more information on this model, check out the yeedi Official Website. If you would like more recommendations, mosey on over to "Robot Vacuum and Mop: Our Top Picks For 2023".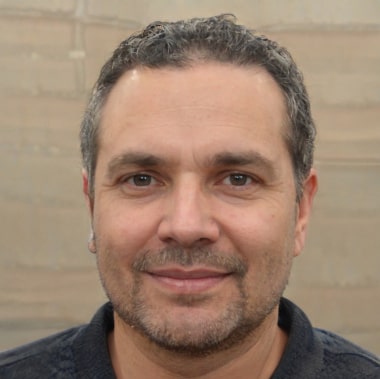 Author
Stephen A. Hancock received his M.S. in Mechanical Engineering (Robotics Track) from University of Utah in 2004. Since then, he's contributed to numerous articles and has been a consultant for many technical publications and websites.
---
Robot Tips & Tricks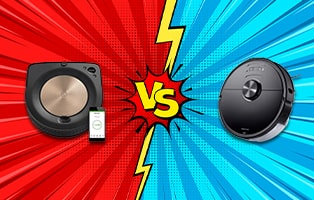 If you want to know which company wins the "Roomba vs. Roborock" battle, check out our article. You'll learn what makes each model exceptional, and things you'll need to know before buying.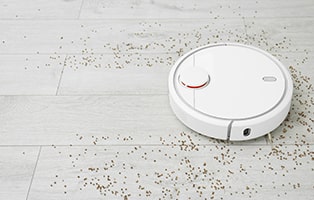 Robotic vacuum navigation systems include sensor mapping, camera mapping, gyroscopes, LiDAR, and SLAM. Read all about this technology in our informative article.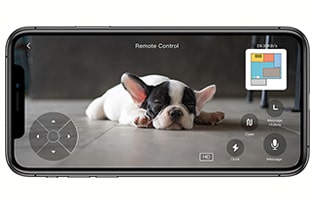 If you're worried that your robot vacuum is spying on you, you're not alone. Read our information-packed article to find out if it is, and what you can do about it.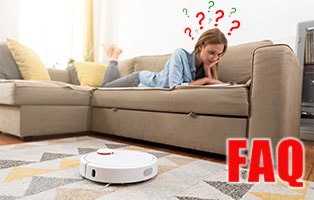 Robot Vacuum Cleaners are evolving at a rapid pace and have indeed become the new necessity for any modern household. Here's a breakdown on some of the most frequently asked questions about these devices