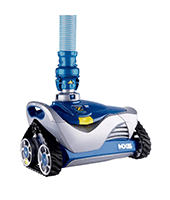 Learn about all the exceptional features of the Zodiac MX6 suction-side pool cleaner in our 2023 review
We select, test, review and suggest the best products. We may earn a commission, if you buy something through our links.
The Zodiac MX6 is an incredibly well-engineered suction side pool cleaner designed for smaller in-ground pools. If you've bought pool cleaners in the past that constantly get tangled or get stuck in corners, you're in for a treat.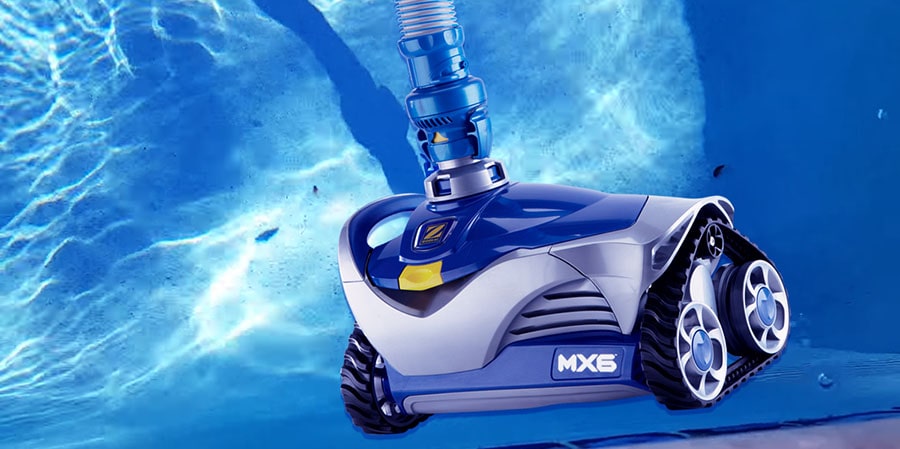 Zodiac MX6 is a well-engineered device designed for smaller pools
That's because the Zodiac MX6 is a juggernaut of a cleaner that boasts features that'll make it exceedingly easy for you to keep your pool clean.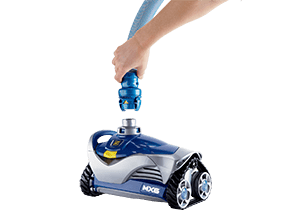 Features
Easy-grip handle—for easy removal and transport;
Innovative low flow design;
Twist locking hose reduces vacuum loss;
Tank-like treads for the ultimate in mobility
Who's It For
This excellent pool cleaner is for anybody who has been ever embarrassed by a disgustingly dirty pool when company unexpectedly drops by. With this machine on the prowl, you'll always have a crystal-clear, debris-free pool. If you have towering trees that dump bucket loads of leaves into your backyard swimming hole, you'll need this indispensable machine.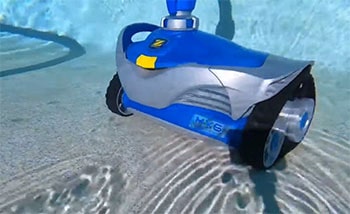 The Zodiac MX6 is also for every mother who ever tried to manually vacuum their pool with a child following them around. You can attend to your young one while the MX6 does the work for you. It's also for every pool owner who's had to put up with overpriced and underperforming pool cleaners.
Lots of people are fascinated by the crazy patterns their little Zodiac bot makes as it zig-zags all over their pool. You, too, might find yourself so captivated by the intriguing gyrations of your little bot that you watch it while it works—kind of like sitting by a roaring fire on a camping trip.
What's Good About the Zodiac MX6

Zodiac is a name trusted by millions of satisfied customers over the years. The company has maintained an impeccable reputation for building durable and reliable products. The MX6 is no exception to this long and illustrious history.
It's a smaller version of the MX8 and is perfect for small to mid-sized pools. I love how compact the unit is. Even though it's on the small side, it's a powerful and ultra-efficient cleaner.
Quick Connect Hoses
The quick-connect hose makes setting up the Zodiac MX6 an easy and effortless process. The hose connects to the swivel head of the cleaner without the slightest bit of difficulty. This lets the hose rotate and turn when the cleaner moves, minimizing the chances of it tangling. The hose sections connect with a twist-style locking mechanism that allows quick coupling while ensuring no suction power loss.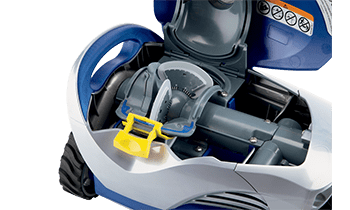 Powerful Suction
Turbines underneath the unit spin as water passes over them. This generates powerful suction that agitates debris and draws it into the cleaner. This better-than-average vacuum power ensures that the unit will gobble up 99% of all pool debris.
Low-Flow Design
The MX6 boasts a leading-edge low-flow design, meaning it consumes less energy than other cleaners in its class. This not only saves you money on electricity bills but also makes less of an impact on the environment. If you own a 2-speed or variable speed pump, this is the model you'll want to get.
Other Features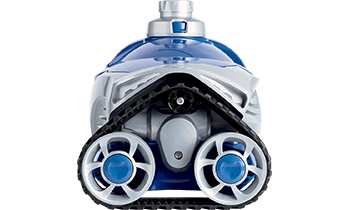 The MX6 has tank-like treads, boosting the unit's ability to adhere to pool surfaces, scale walls, and drive over obstacles. Treads provide better traction and mobility compared to wheels. The innovative flow regulator valve limits water flow through the cleaner. When flow is limited, components are less susceptible to damage, extending the life of your cleaner.
The MX6 operates silently except when it climbs up the wall to the water's surface. Then (and only then) will you hear noise in the form of gurgling sounds. The MX6 is perfect for all kinds of pool surfaces, including concrete, PebbleCrete, QuartzStone, tile, fiberglass, and vinyl. Unlike some other pool cleaners, the MX6 won't get stuck on your pool's main drain.
What's Not So Good About the Zodiac MX6

The Zodiac might occasionally get hung up on your pool ladder or other areas—such as step corners. However, almost every time this happens, it'll extricate itself after a minute or two and will continue to patrol your pool. The hoses tend to fall apart and rip at the connectors—which isn't good because the hoses are expensive to replace.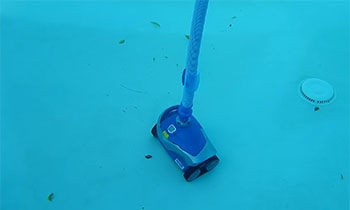 If you live near palm trees and have a lot of wind, thin strands of shredded palm fronds could get stuck in your machine's innards, stopping your bot dead in its tracks. However, this isn't too difficult to fix. Simply push the easy-release latch, pop open the hood, extricate the frond, and send your little guy on its merry way. The entire operation only takes 40 seconds! I know some other cleaners where you'd have to break the whole unit down to clean it.
The MX6 appears to do better with fine to medium-sized debris—not large debris. Although the MX6 is advertised as being compatible with variable speed pumps, it has trouble operating when the pump speed is set to low. You can still use the Zodiac with your variable speed pump set on high.
It comes with a single directional gear. This means that if it's caught in a corner, you'll probably have to rescue it because it won't be able to back itself out of a sticky situation. It also only has 33 feet of hoses, so it's not for big pools.
The MX6 vs. the MX8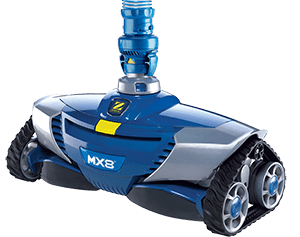 Let's compare the Zodiac MX6 to its bigger sibling—the MX8. The Zodiac MX8 has two turbines instead of one, which means it can clean a wider path. It also has two directional gears, allowing it to maneuver forward and backward.
This boosts navigation ability and keeps the cleaner from getting stuck. The MX6 can't move in reverse. The MX8 is equipped with a longer hose, so you can use it in larger pools. However, the Zodiac MX8 costs more than the MX8.
My Final Verdict: Should You Buy the Zodiac MX6
Don't let another summer pass you by without having a handy-dandy pool cleaning machine at your beck and call. If you're looking for an inexpensive, time-saving way to clean your pool, do yourself a favor and get this cleaner.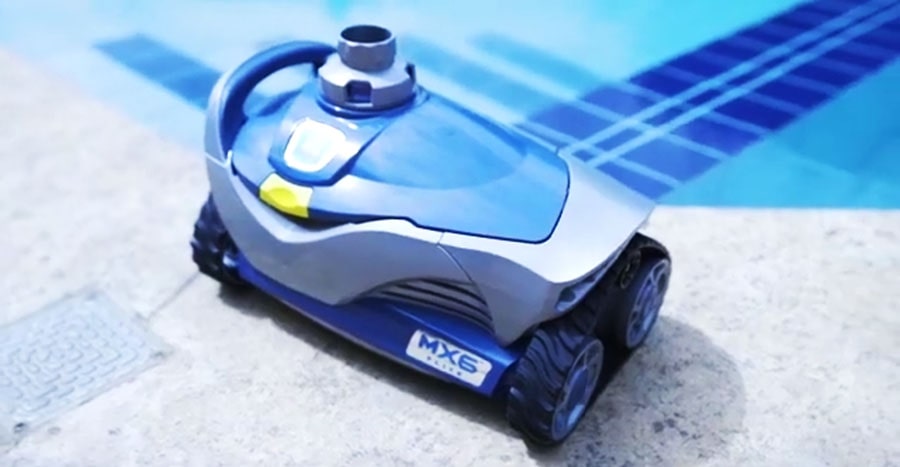 Zodiac MX6 is a quality product
It's a quality product well worth the price. This machine can easily move to the far ends of your pool, climbs walls like a dream, and won't get stuck on your drain.
If you'd like to look at other top-rated pool suction cleaners, check out our informative guide.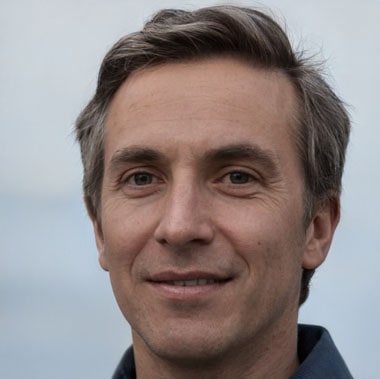 Author
Our pool maintenance expert, Luke Reed, earned his BS in Civil Engineering from Georgia Tech in 1998. Since then, he's worked in a variety of industries, including design and construction of luxury swimming pools.
---
Pool Maintenance Tips & Tricks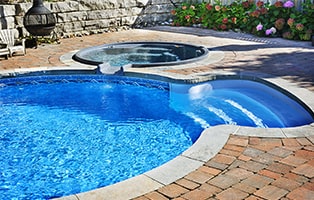 With all the different types of swimming pools available, such as in-ground and above-ground, it can be difficult to decide which one to get. Our guide including pros and cons can help you make that choice.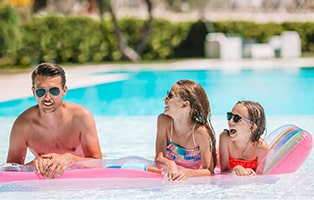 Germs and bacteria can cause life-threatening illnesses in a swimming pool. Find out what the dangers are and what you can do about them by reading our article.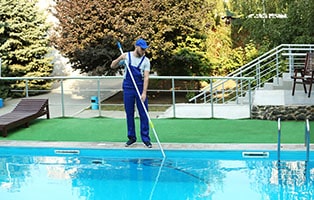 Dreaming of entrepreneurial success? Check out our guide on how to start a pool cleaning business. You'll find everything you need to know to set one up.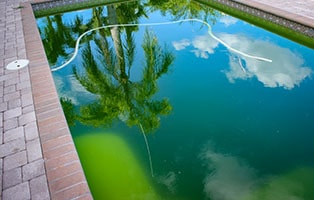 Is your swimming pool too murky to swim in? In our informative article, you'll discover the causes of a cloudy pool and how to fix the problem.