Know before you buy – the ins and outs of mopping robots
updated: January 05, 2023
Mopping gets a really bad rap, even on our website. Very few can honestly say they enjoy it. Those who do – well, they're unicorns. Most of us would rather not bother until we're sticking to the floor. Some of us even pay people to do it for us. If you have kids, most likely, you've put it on their chore list (one of the perks of parenthood). But what if you had a device that would do it for you without complaining?
With the rise of robot vacuums, it was only a matter of time before robot mops came on the scene. There are now dozens of such devices on the market. While they haven't quite achieved the technological prowess of robot vacuums, these little mopping machines are steadily making waves in the cleaning world.
But the question still remains – are they worth it yet? Or should you hold off until they're as advanced as a robot vacuum?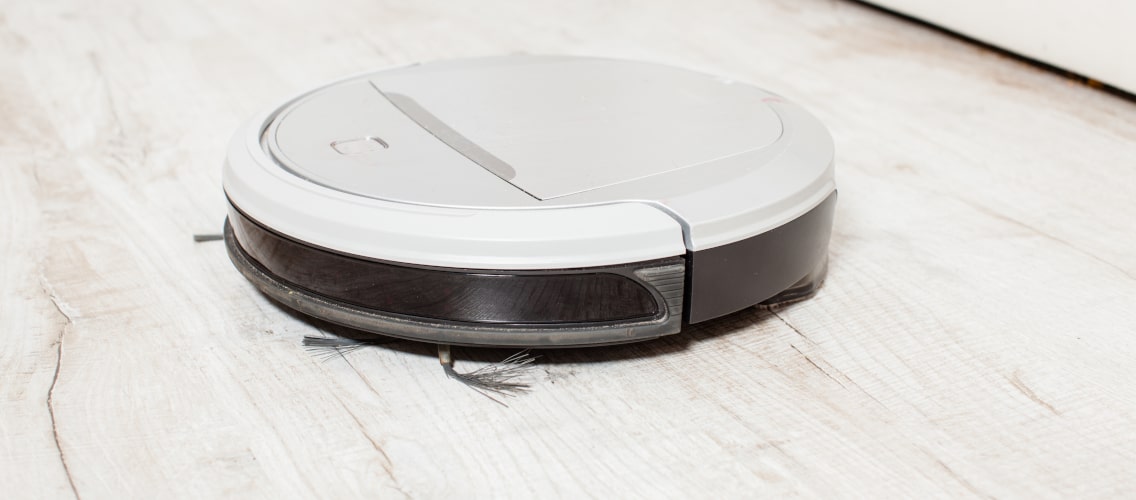 The contenders
If you haven't yet, check out our current robot mop reviews. There, you'll find our unbiased opinions of the top 5 mopping robots currently on the market. They have varied price ranges and features. Some are better than others in certain situations and vice versa.
For the budget conscious, we found the ILIFE V5s Pro to be the best value for your dollar. At about half the price of a Roomba vacuum, it's a good hybrid mop/vacuum with 4 cleaning modes and has a short enough profile to fit under a lot of furniture. Smart features such as obstacle sensors, automatic docking and scheduled cleaning make this one a good choice for families on the go.
The heavy hitter is the Roborock S6 hybrid mop/vacuum. It's the most expensive model on our list, but is loaded with great features and top notch technology. Smart navigation allows it to map your house, plan routes and schedules. It's good at staying away from stairs and has sensors to help it avoid furniture and getting stuck. The Mi Home App lets you schedule cleaning, save maps, set no-go zones, control spot cleaning and has a real-time monitor so you can keep an eye on the little guy from anywhere. It easily switches between 6 different cleaning modes.
---
Still on the fence? Here are the pros of robot mops.
Make no mistake about it. Robot mops are solely a convenience item. As such, they're not cheap. A plain old mop and bucket is super cheap and does a fine job of cleaning. The thing that makes any robotic cleaning device worth the money is that it saves time.
Time is money, but it's also time you could be spending with family or on home improvements or making dinner. Families with two full-time working parents and children with lots of activities can use all the extra time they can get. One or two hours a week may not seem like a lot, but it adds up. That's 50 – 100 hours a year you can have to concentrate on other things besides mopping. That much time saved is worth it for many homeowners who purchase robot mops, especially for those with larger homes.
Other
benefits

to owning a robot mop

Scheduled cleaning. Not every device can do this, but some are easy to program to clean while you're sleeping or at work. It's always nice to wake up or come home to a clean floor!
Dry, damp, or wet mopping. Many models can do all three with interchangeable cleaning pads and different settings. For those with floors sensitive to water accumulation (hardwood for instance), this is a big benefit.
Cleans hard-to-reach spots. When's the last time you cleaned under the bed or the china cabinet? A good low-profile robot mop can get under there a lot easier than you can.
Spot cleaning. This comes as a function on some models. Just direct the mop toward whatever spill or sticky spot you need cleaned, and that's where it focuses its efforts.
Doubles as a vacuum. Most robot mops on the market are currently hybrid vacuum/mops. A multitasker can tackle more floor types while saving time and money down the road.
Quiet. Most robot vacuums and mops are quieter than a regular vacuum cleaner. Some are louder than others, but usually not any louder than a box fan.
So, what's the catch?
There's got to be something not-so-good about robot mops. As we've said before, multi-tasker devices are often hit or miss. They can be jacks of all trades, but master of none. Hybrid robot vacuum/mops have come a long way and continue to improve. But often, they're lacking in one mode or the other.
Don't expect a heavy-duty cleaning machine in any robot mop. It'll never replace the cleaning power of a mop and bucket, powered with your almighty elbow grease and smarter brain. Robot mops are best for maintenance cleaning after you've done a good vacuuming and mopping. Then set it up to run on a daily schedule to extend the time needed between manual cleaning.
Other
drawbacks

to owning a robot mop

Price. Robot mops range anywhere from $150 to $500+. This makes them cost prohibitive for some homeowners. The low-end hybrids are cheaper than most vacuums, but don't come close to their cleaning power and versatility.
You still have to vacuum and mop. For big spills or highly soiled floors, you'll need to manually sweep or mop first, or the mess will just get smeared around. Same goes for clutter. Too many obstacles, and the mop could get confused.
Small water tanks. Some models have really small tanks that will require refilling two or more times for large areas. For remote cleaning, you're better off running it in a small room.
Sometimes gets stuck or lost. Depending on the model, a mopping robot could get stuck under furniture or hung up in loose objects like wires or blind cords. The ones that automatically dock in their charging station can sometimes get lost when the battery runs low.
---
Should you buy a robot mop?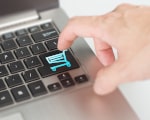 We've given you some valid benefits and drawbacks, so hopefully now you can decide whether one of these cleaning devices is right for you. Be sure to look through our list of the top 5 models of 2023 and our unbiased robot mop reviews for more detailed information.
In general, we feel these are the main things to look for when it comes to finding a good robot mop:
Battery life – Robot mops for large rooms should have batteries that last around 90 minutes. Lithium ion batteries are the best.
Sensors – They should be able to sense obstacles such as walls, rugs, and carpeting. Advanced models can map out a room and store cleaning routes.
Setup – The simpler it is to charge, program, and fill water tanks, the better.
Apps – If available, are they intuitive? What are the benefits?
Performance – Under real-life situations, it should clean various surfaces without damaging them and pick up lots of grime in the microfiber cloth.

iRobot Braava 380t – Mopping Robot
Robot Tips & Tricks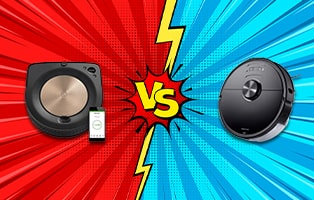 If you want to know which company wins the "Roomba vs. Roborock" battle, check out our article. You'll learn what makes each model exceptional, and things you'll need to know before buying.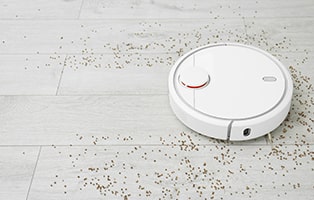 Robotic vacuum navigation systems include sensor mapping, camera mapping, gyroscopes, LiDAR, and SLAM. Read all about this technology in our informative article.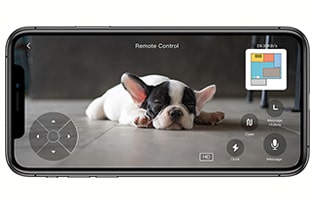 If you're worried that your robot vacuum is spying on you, you're not alone. Read our information-packed article to find out if it is, and what you can do about it.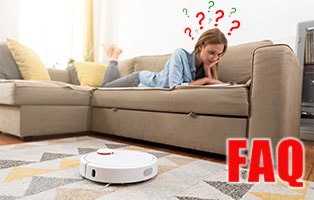 Robot Vacuum Cleaners are evolving at a rapid pace and have indeed become the new necessity for any modern household. Here's a breakdown on some of the most frequently asked questions about these devices