Best Pressure Side Pool Cleaners – 2023 Reviews & Buyer's Guide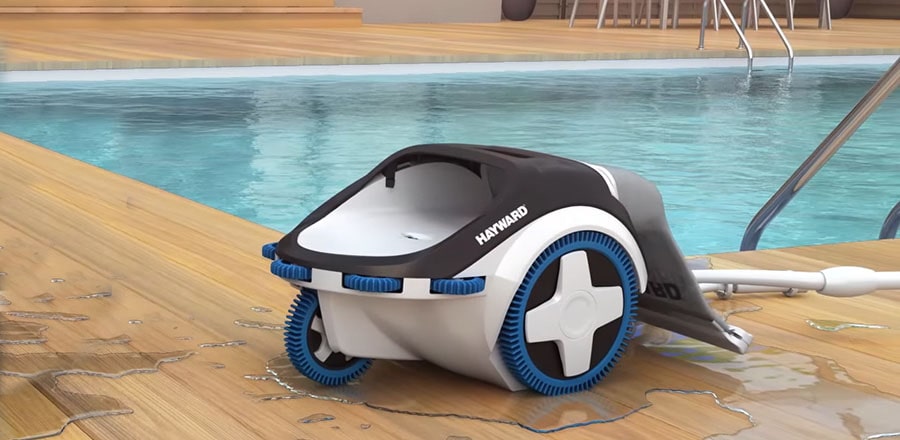 Pressure side pool cleaners are one of the best options out there for automated pool cleaning. They're a good balance between cleaning power, maintenance, energy use, and price.
Cleaning the swimming pool is no one's idea of a fun summer activity, but it's necessary to keep the water crystal clear and healthy so everyone can enjoy it. Every time someone takes a lap in the pool, and with environmental debris falling into it, harmful oils, chemicals, and germs are left behind. Pressure side cleaners are a smart way to handle all that gunk so you spend more time swimming than cleaning.
How do Pressure Side Cleaners Work
Pressure side pool cleaners attach to the pressure (return) side of a pool's pump system. Water heading back into the pool pump propels a pressure side cleaner along the bottom of the pool. The cleaner moves in a random pattern along the floor and walls of the pool.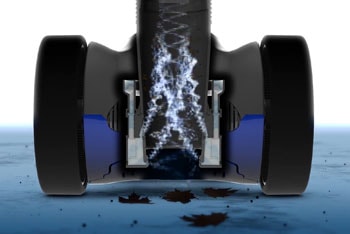 There are two types of pressure side pool cleaners:
High pressure (or booster pump cleaners): These require a separate ¾ hp booster pump to power them. They need around 30 PSI to operate best. The booster pump provides a consistent flow to the cleaner. The advantage of this type is that they have a time clock for scheduled cleanings and can automatically stop and start so they don't run any more than they need to. This saves electricity and wear and tear on the cleaner. The booster pump keeps them from being bogged down by full pool skimmers, pump baskets, and dirty filters.
Low pressure: These have no separate booster pump, though they look much the same as their higher-pressure counterparts. They run on just 15 – 17 PSI and need a larger hose of around 1.5" diameter. Initial purchase price and installation is generally cheaper than the booster pump cleaners. Suction power is dependent upon a well-running pool pump and filter system. Full skimmers and dirty filters will bog them down considerably.
How do you hook up a pressure side pool cleaner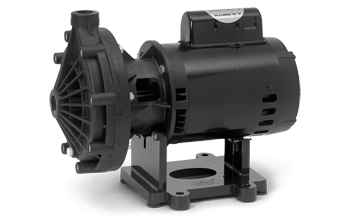 It depends on which type you have and your pool's plumbing system.
For a booster pump cleaner, you'll need a Tee fitting installed to the return pipe after the filter. The booster pump sends water through a cleaner pipe midway down the pool wall. If you don't have a dedicated cleaner pipe, you'll need to install one first either under the deck and through the pool wall or with an over-the-deck kit.
The booster pump needs either 115V or 230V with a dedicated 15 amp breaker and outdoor timer or time clock. This lets you run it for 2-3 hours a day while the main pool pump is on.
For low-pressure cleaners, they'll connect to an existing wall return. You may need to test pressure with a testing stick to see if the system can deliver enough power to operate the cleaner. They won't work in pools with floor or "slit" returns or in pools with pumps less than 1hp.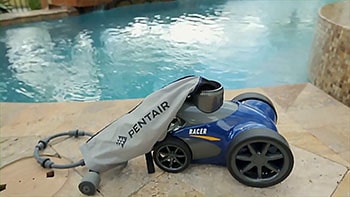 The best installation for low pressure cleaners happens when water is diverted to the cleaner before it reaches the filter and connected to a dedicated pipe rather than a regular return pipe. This will lessen backpressure on your pool pump and filter tank. You would need to install a 3-way valve between pump and filter, then install another small filter (ex: Jandy Energy Filter) on the cleaner line past the 3-way valve. The open valve diverts water to the cleaner while a pressure gauge on the small filter maintains a constant flow rate.
If you don't want to do the above method, then you can connect a low pressure cleaner to a regular return line using adapters between ¾" to 1.5" for smooth or threaded pipes. You may need to restrict flow from other return lines just to get enough pressure to the one you're using for the cleaner. For large pools, if you're connecting to a return line on the far end of the pool, you may need another length of feed hose, a swivel, and 2 connectors just so the cleaner can reach all areas of the pool.
More
Want to spend more time swimming than cleaning? Here are our 2023 ratings and reviews of the Best Pressure Side Pool Cleaners.
We select, test, review and suggest the best products. We may earn a commission, if you buy something through our links.
---
---
---
---
Why buy a pressure side pool cleaner
There are several benefits to owning a pressure side cleaner. One is the time and physical exertion it will save you over having to brush and scrub daily. It will definitely save you money since you don't have to hire a professional pool cleaner.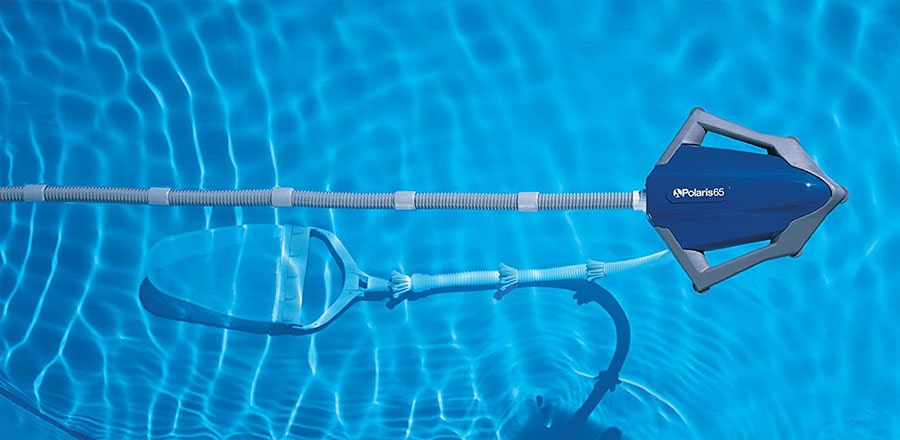 With some of them, you can schedule cleaning for specific days and times. Those with large filter bags can capture a ton of big debris and won't have to be cleaned out constantly. All that debris catching helps prolong the life of your pool pump and keeps it out of your pool skimmer and filter.
What is the best pressure side pool cleaner
There are a lot of choices when it comes to pool cleaners. With pressure side pool cleaners, think about specific features that will work best with your pool setup. The best cleaner is one that fits your budget, thoroughly cleans the type of debris most commonly found in your pool, and doesn't require constant maintenance. Here are some of the top features you'll want in a good pressure side cleaner:
Cleaning power: Pressure side cleaners remove dirt in a couple different ways. The most powerful ones produce suction like a vacuum and are good for large debris like leaves, acorns, sticks, and rocks. It sucks the debris through an intake throat directly into a filter bag.

Simpler cleaners just dislodge dirt and "catch" it in the filter bag as it trails behind the cleaner on a sweeper hose. Those will work better for small to medium debris such as sand, silt, and small pebbles.

Booster pumps: Cleaners with the highest suction power will need a separate booster pump. These aren't cheap, so you'll need to consider that in the total cost. If you already have a booster pump installed, you'll need to make sure the cleaner is compatible with it. Not all of them are compatible with every booster pump.

Low pressure cleaners sometimes don't require an extra booster pump. Good examples are the Polaris Vac Sweep 165 and the Turbo Turtle. While they won't cost as much, you must have a strong enough pool pump to power them AND you'll need to keep your pool filter super clean. Any drop in pressure will bog them down.

Type of pool: Most pressure side pool cleaners are specifically designed for in-ground pools. You'll find the occasional one made for above-ground pools (ex: Turbo Turtle). The average pressure side cleaner will easily cover an 8-foot deep pool that's 10' x 10'.

Your pool's surface material is also an important consideration. Concrete and tile pools can handle sturdier cleaners with hard wheels. Vinyl and fiberglass surfaces may get scratched if the wheels are too hard or have rough treads. Be especially careful if you have any pre-existing damage or if you have roots or rocks under the pool floor. For instance, the Pentair Racer can work fine in a vinyl pool as long as the surface is in great condition.

Setup & Maintenance: Automatic cleaners are supposed to save you time, not add to your already full plate. Most cleaners have a downloadable owner's manual so you can get an idea of how much work it will take to install it. If it looks like the schematics for an interdimensional spaceship, you may want to look for something a little simpler to set up. Otherwise, you'll have to call a pool expert, and then you'll be out another few hundred bucks.

Maintenance should likewise be as fuss-free as possible, especially if you're new to using automatic pool cleaners. Filter bags should be easy to remove and clean out. Hardware should be easy to replace when needed. For major repairs, it wouldn't hurt to research your local pool supply stores to see which brands they can service so you won't have to spend extra money mailing the cleaner to the manufacturer.

Spare parts: Certain items will need to be replaced when they wear out. Or you may want different types of parts depending on changing needs in your pool. For instance, leaf filter bags as opposed to all-purpose sand and silt bags.

Stock up on extra parts when you buy a pool cleaner so you won't have to wait a long time for parts to come in and won't have to pause your cleaning schedule. Things to buy – extra hoses, floats, bags, weights, belts, gears, sweeper tails, etc. You'll find a good list of all these things in most owner's manuals.
What's the big deal about booster pumps
One of the necessary evils to owning a high-pressure cleaner is having to purchase a separate booster pump. Your pool's pump doesn't produce enough pressure to propel them. But what is it exactly? It's basically a pool pump without the strainer pot attached. They're wired and plumbed up in exactly the same way as a regular pool pump. It's a good idea to place the booster pump at a lower elevation than the return pipe so the pump is always filled with water to prevent overheating. You'll want to make sure it's not in any danger from flood water, however, and is also protected from inclement weather and plants/weeds.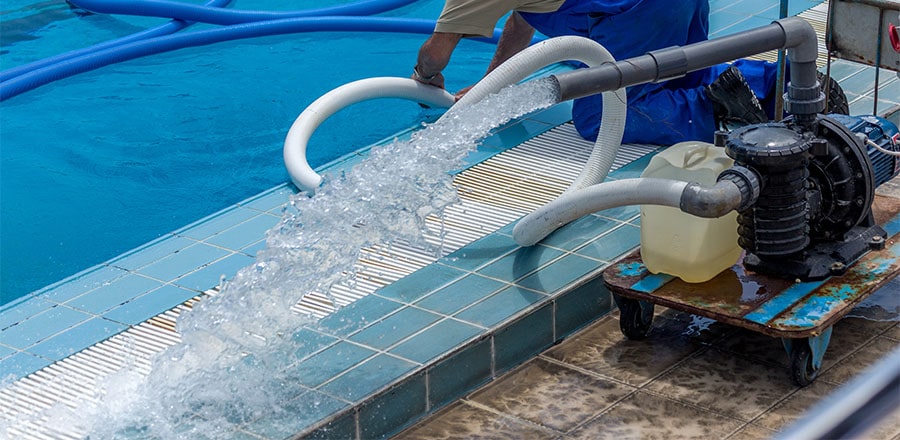 Many pool equipment manufacturers also have their own lines of booster pumps. The good thing is that these pumps are usually interchangeable with several types of cleaners. So if you buy one booster pump, it can last through several cleaners from various brands (with proper maintenance, that is)
Common troubleshooting tips
We've seen the same types of complaints from customers among all models of pressure side cleaners. These are the issues most likely to crop up if you own one, along with some troubleshooting tips we got from the experts:
My pressure side-cleaner is moving slowly.

The first thing you should check is the inline strainer, usually located at the wall fitting. Make sure it's clean.
Also check the pressure bleed-off valve on the wall fitting. It's designed to allow excess water pressure to escape, but if opened too much, can make the cleaner sluggish

Check the hose between the wall and cleaner. Carefully inspect to see if there are any splits or holes. Replace any damaged hoses. A little leakage at the swivel joints is normal.
Slightly lift the cleaner out of the pool. There should be a solid, steady stream of water that sprays out 10 – 20 feet from the back of the unit. Remove the filter bag. The water should shoot up nearly 20 feet from the venturi (top). If the stream is weak in either area, check the sweep tail adjustment screw. If it's loose, tighten it, and if missing, replace it. Inspect the tail for holes or a missing tip.
Inspect the wheels and belt-drive or gear system. If there are any sticks or sand jamming them up, clean it out. Adjust the wheels if they are too tight or loose. Replace any worn belts or drive shafts. If treaded tires have become worn down, replace them so they have better traction.

My pressure side cleaner isn't reaching the entire pool.

Check the thrust jet. The default is set at 11:00. Try 1:00 to move the track in the opposite direction.
Is the hose a proper length? Cleaners will need plenty of hose to reach the far corners and deep end. Too much hose can get tangled or inhibit the cleaning pattern.
Most pressure side cleaners won't do much for steps, stairs, and loveseats. You'll need to brush and net them manually every now and then.
Stuck in the deep end? Adjust the hose floats. Add 1-2 more floats if necessary. Check for pressure loss at the wall fitting, hose, or inside the unit.

My pressure side cleaner gets stuck in one area.

If your cleaner is getting stuck behind the ladder, there are ladder guards available like this one from Polaris that block the cleaner from getting stuck.
If stuck on the main drain, try a drain cover to smooth the transition from drain to floor so the wheels can glide right over.
Watch to see if it will back itself out of a jam. A hydrotimer in the back-up valve pushes the cleaner off the floor every 3 minutes or so and often helps to get it going again.

My pressure side cleaner back-up valve isn't working.

If your cleaner is getting stuck and doesn't get itself out, the back-up valve may be broken or clogged. Inspect for damage or flush the valve out with water.
Check the hose floats on either side of the back-up valve. If they are letting the valve drag across the floor, the valve casing can get damaged.

My pressure side cleaner hose is tangling.

Make sure you don't have TOO much hose. Follow the owner's manual to ensure you have the proper length to fit your pool.
There may be too much pressure (power) propelling your cleaner, which can cause it to move around in circles, thereby tangling itself. Adjust pressure where needed.
Make sure all hose swivel joints are moving freely.
Are all hose floats actually floating? Adjust them until they are. If they still sink, they may have taken on water and need to be replaced.
Stiff hoses can tangle more easily. Remove from the pool, stretch it out in the sun and let it sit for a day. If it still wants to coil and feels brittle, it's time to replace either the entire hose or affected sections with a softer, more flexible hose.
Final thoughts
Buying an automatic pool cleaner of any type is one of the smartest investments you can make for your pool. Try to purchase the best one that your budget will allow for, as you usually get what you pay for with pool cleaners.
Our top recommendations are the Polaris Vac Sweep 380 or the Pentair Racer. Both are exceptional at removing high volumes of debris and get it done quickly, saving energy and giving you more time to enjoy the pool.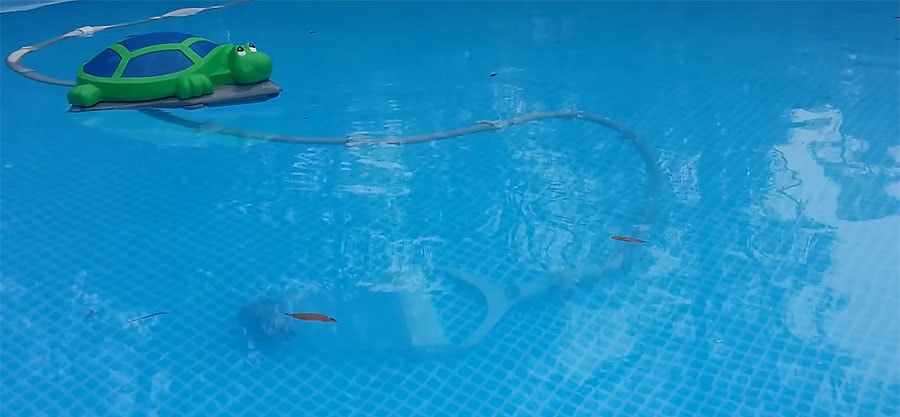 Just read through our reviews to find out what might work best for your pool. Ask friends and family who also own pools if they have any recommendations. You can even ask your local pool supply store about the latest and greatest models.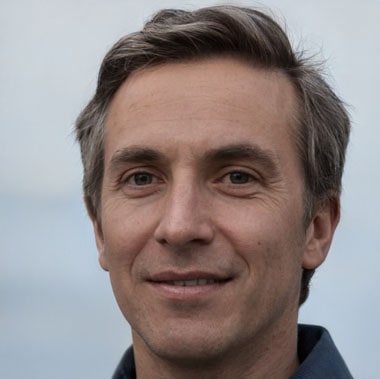 Author
Our pool maintenance expert, Luke Reed, earned his BS in Civil Engineering from Georgia Tech in 1998. Since then, he's worked in a variety of industries, including design and construction of luxury swimming pools.
Pool Maintenance Tips & Tricks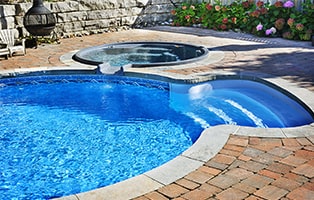 With all the different types of swimming pools available, such as in-ground and above-ground, it can be difficult to decide which one to get. Our guide including pros and cons can help you make that choice.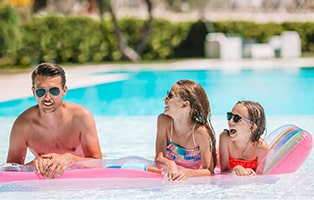 Germs and bacteria can cause life-threatening illnesses in a swimming pool. Find out what the dangers are and what you can do about them by reading our article.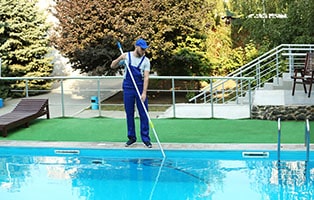 Dreaming of entrepreneurial success? Check out our guide on how to start a pool cleaning business. You'll find everything you need to know to set one up.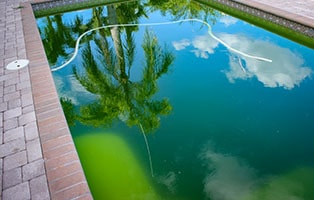 Is your swimming pool too murky to swim in? In our informative article, you'll discover the causes of a cloudy pool and how to fix the problem.