Reviews of car high pressure cleaning tools and how to choose the best one for your car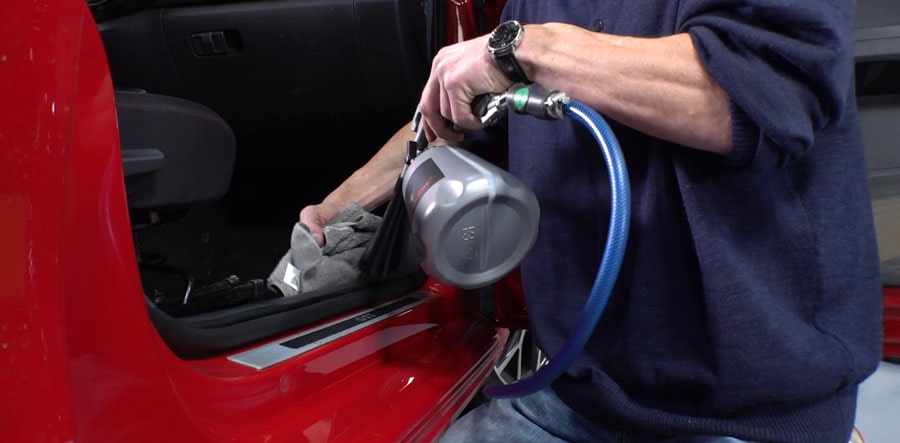 These tools are safe and effective
High-pressure car washing tools have taken the car detailing world by storm. They're designed to work with your air compressor either with air alone or with a combo of air and water. They can be used on both hard and soft surfaces of any vehicle – exterior and interior.
Don't confuse these with conventional foam cannons or guns that are powered by pressure washers. These guys work a little differently. The good thing is, they're not likely to cause serious bodily harm or property damage, which is a risk when using pressure washers.
How do high-pressure car washing tools work
These car washing devices work by blowing a concentrated blast of air from a regular residential air compressor (must produce ~60 PSI minimum). The high pressure breaks up dust, dirt, and grime from places that are often difficult to fully clean in a car. For instance, floor mats are often stained from ground-in grease and grime, and no amount of regular carpet shampooing can fully remove it.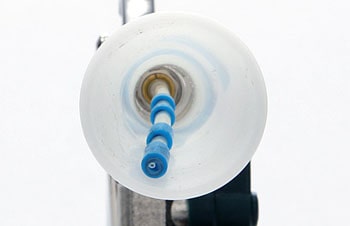 High-pressure car washing devices use compressed air blown through a cone-shaped nozzle. The end of the tip where the air comes out oscillates at a high RPM. A container of water or cleaning solution can be attached to blow out along with the air. The oscillating movement plus the high-powered pressure deliver enough power to dislodge stubborn dirt so set-in stains can be removed.
These tools are also effective in blasting dirt out of hard-to-reach areas such as seams, grills, wheels, wheel wells, and more.
For both home and commercial use
Best of all, these high-pressure car cleaning tools can be used for both the home do-it-yourselfer or professional car detailers. They're often sold in car detailing kits that include several attachments, brushes, and other items that will help you clean every nook and cranny of a vehicle.
Here, we list the top-rated models for 2023, along with our ratings and reviews so you can up your game when it comes to car cleaning.
Our Reviews of the Best Car High Pressure Cleaning Tools of 2023
We select, test, review and suggest the best products. We may earn a commission, if you buy something through our links.
---
---
---
---
A Buyer's Guide to Car High Pressure Cleaning Tools
These cleaning tools have several benefits, and as you can see in our reviews, they're popular with both residential and professional car detailers. Let's touch on some of those.
Quick and efficient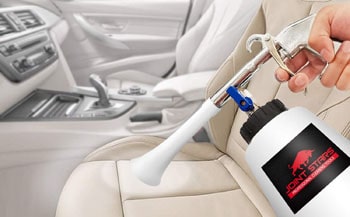 High pressure car cleaning tools provide a fast, efficient way to clean all kinds of vehicles. It's easier and saves time because you don't have to go sit in line at the local car wash.
The high pressure from your air compressor produces a much stronger spray than the regular garden hose you would normally use to wash your car. Removing bird droppings, tree sap, salt, asphalt, and bugs can be a pain in the neck to scrub off by hand. Any one of the cleaners we reviewed will get the job done much faster with less elbow grease.
We're talking minutes here – you might be able to wash an entire car in less than half the time.
Versatility
These high pressure tools don't just wash the exterior. Unlike a garden hose, you can use these tools on your car's interior as well. Cloth, leather, vinyl – they can all be cleaned with a high pressure car cleaner.
The high pressure air works with a minimal amount of water so that your seats and floorboards won't be saturated. You can easily dry up the water with a towel, wet vac, or simply air dry it with the windows down and doors open.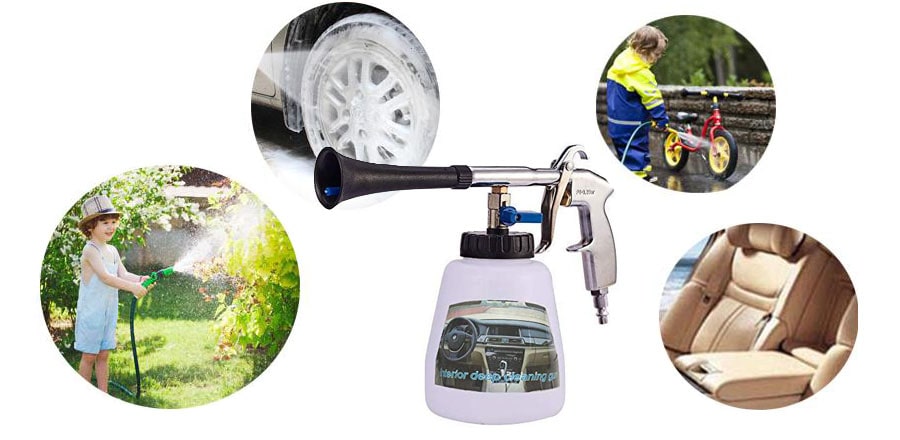 All surfaces could be cleaned.
What's more, when using with air alone, there's no water to worry about. The high pressure air stream will remove loose dust and dirt from hard to clean areas such as dashes, vents, cup holders, and door pockets.
Saves money
Rather than spending several bucks at the car wash or on professional car detailing, you can invest in a one-time purchase of a high pressure car cleaner. Even if you spend more to get the Tornador, it won't take long to see the savings after a few uses.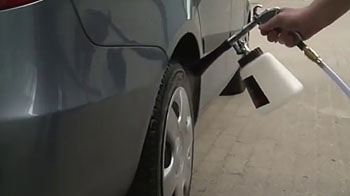 Water usage is minimal, plus there's less need for buckets, sponges, brushes, and mitts. No worrying about busted garden hoses or spray heads either.
For professional car detailers, these tools make a lot of sense. They cut down cleaning time so more clients can be served, plus they eliminate the need for a whole slew of brushes and other detailing tools.
Not just for cars
Customers have found all sorts of uses for pressurized car cleaning tools. They've used them on other vehicles like boats, bikes, motorcycles, and scooters. They've even cleaned household items like fridge and freezer door seals, rugs, garage doors, lawn furniture, canvas awnings, fences, and more.
Unlike a gas pressure washer, one of these tools can safely be brought indoors for use on stubborn stains on carpets and other surfaces.
What are the limitations for car high pressure cleaning tools
One big thing that customers sometimes overlook – you MUST have an air compressor. Not only that, but it must be powerful enough to deliver a consistent pressure so the spray will be strong enough to dislodge dirt.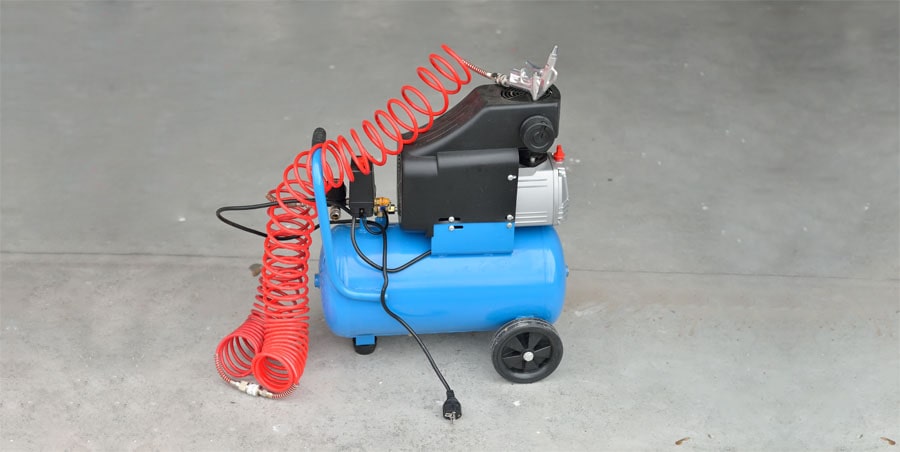 Air compressor is required.
If the air compressor is too small, it will either produce very weak pressure or will have to shut off frequently to refill and repressurize. That kind of negates the whole purpose of the device, so make sure you have a good air compressor.
What kind of air compressor is best for car cleaning tools
The most important thing is to find out what the car cleaning tool requires as far as PSI and CFM. This can usually be found in the owner's manual. But you may have to contact the manufacturer directly if it's not clear. Then compare the numbers to your existing air compressor output. Generally, you'll see a minimum of 60 – 75 PSI, not to exceed 90 – 110 PSI.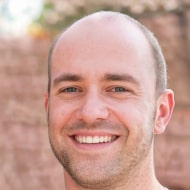 If you have a mobile car detailing business or would like to store the compressor under a workbench, a horizontal model would work best. These will fit in your truck or van and can be tucked away under a workbench or shelf.
If you don't already have an air compressor and don't plan on using it for anything other than washing your personal vehicles, it's probably not worth the investment in money and storage space.
What to look for when buying
Is your air compressor compatible with the tool? That's the most important thing. Compressors less than 20 gallons will usually struggle with one of these devices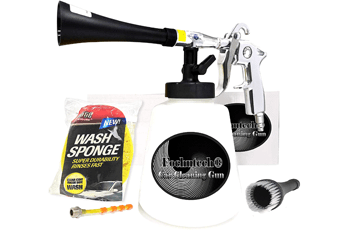 Does it come with a variety of cleaning nozzles? The default nozzle is just a regular cone shape with an open end. But having one with a brush on the end can come in really handy too.
Does it have extra oscillating tips? One of the most common complaints is that the tip can suddenly fly off and get lost in the grass or a drain, etc. Having an extra tip in the box (or those you can easily purchase) is a smart idea.
Does it do anything else? Cleaners like the Tornador Black with Velocity Vac make the process quicker. It hooks to your wet/dry vac so you can vacuum up the water when you're finished cleaning without having to change attachments.
How to use a high pressure car cleaning tool
This section is more specific to the Tornador model, but the general steps are similar for all models.
Fabric

Remove large, loose debris with vacuum or brush.
Turn the water valve to the upright position to spray cleaning solution.
Hold nozzle 1 – 3 inches from fabric. Pull trigger. Move over the fabric in straight lines, using overlapping strokes.
Let the solution sit for 10 – 15 seconds if necessary.
Use a microfiber towel or wet vac to remove excess liquid.
Turn the water valve to the downward position for only air. Then dry the area.

Hard surfaces

Set air pressure to 75 PSI (recommended).
Turn the water valve to the upright position to spray cleaning solution.
Use overlapping motion to spray area.
Let the solution sit for 10 – 15 seconds if necessary.
Turn the water valve to the downward position for only air. Blow dry the area, then polish with a clean, soft towel.
Maintenance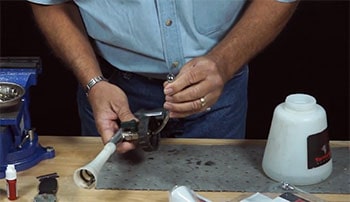 There are a few things to remember when it comes to caring for your high pressure car cleaning tool.
First of all, try to avoid dropping it on a floor or other hard surface. It could easily break.
Always disconnect it when you're not using it.
Keep the water valve turned horizontally after using it to prevent leaks.
While holding the jar lid, tighten the jar so you don't risk stripping the gun assembly connectors
After each use, place the cone 2 – 3 inches in a bucket of soapy water. Squeeze the trigger once or twice to remove dirt that's collected inside.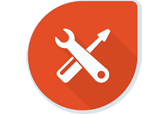 Troubleshooting tips
The tip is not oscillating. Check for air pressure problems – loose connectors, wrong setting on compressor, compressor unplugged or turned off, clogs in tubing, etc.
The tip turns too slowly. Is there dirt built up around it? If so, rinse the cone in clean water and try again. If still too slow, check that you have the pressure turned high enough on your compressor.
Water drips from the tip or assembly. Keep the water valve turned horizontally when not using. When using, make sure you don't overfill the water jar, and try to keep the cleaner as upright as possible.
Water won't come out. Check to see if the cone is filled with dirt. Rinse out if needed. Make sure there's water in the jar. Make sure the air pressure is still on.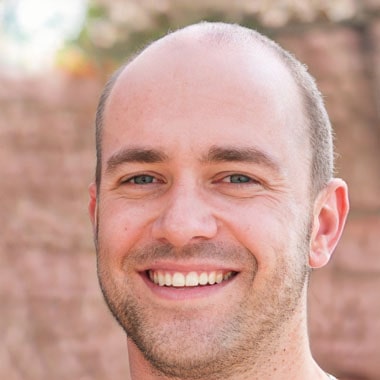 Author
Alex owns a home improvement and restoration company in Vancouver. He obtained his Bachelor's degree in Construction Management from Saskatchewan Polytechnic and is a NARI Certified Remodeler. His team does a wide range of home restoration products, both interior and exterior.
Pressure Washer Tips & Tricks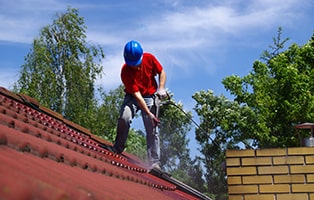 The leaves are starting to fall, and you may be thinking about power washing your gutters. Why? It's the perfect time of year to maintain those dirty drainage systems. The cool weather brings out dirt build-up, which can cause more problems.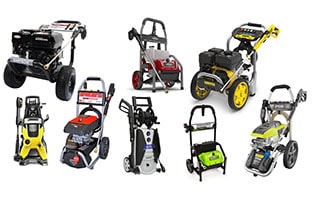 When it comes to cleaning grungy patio furniture, dirt-encrusted siding, and oily driveways, power washers are an indispensable tool. Read our article to find out which companies make the best ones.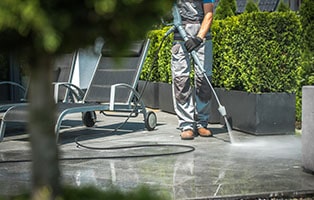 A pressure washer is a way to clean your patio that doesn't involve lots of strenuous scrubbing. Read about the 7 steps you'll need to follow if you want your patio cleaning to be a smash success.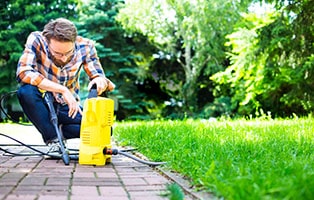 If your pressure washer is getting hot too frequently, this could be a sign that there's either something wrong with it, or you're doing something wrong. Read our article to diagnose these problems.