About Our Cleaning Expert, Melba Espinal
Melba Espinal began her career as a cleaning expert while obtaining her B.S. in Environmental Engineering from the University of Washington in 2002. Ever the entrepreneur, she started her own cleaning service as a way to make money while still in school. After growing the operation from a part-time sole-proprietorship to a full fleet of workers, she now spends her time and focuses her efforts on helping homeowners with her helpful and often advanced advice.
While her children may find it excessive, Melba's obsession with cleanliness has been with her as long as she can remember. She has always enjoyed keeping things neat and tidy, finding a comforting calm in the order she creates. She believes this may have to do with her upbringing as a Military brat during her father's years serving in the Navy, where discipline and strict regimentation were just a daily part of life.
When she's not honing her macrame skills or hiking with her children, she's coming up with creative new tips and advice for new and old homeowners alike. After spending several years contributing to various print and online outlets, we're happy to have her offering her advice, guidance, and consulting as a Cleanup Expert.
Mop Tips & Tricks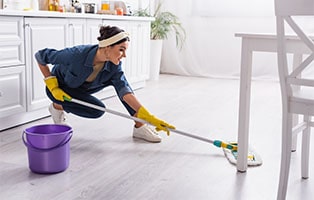 Everyone thinks they know how to clean floors. However, do you really know the steps you need to follow so you don't damage expensive surfaces? Check out what we wrote to find out.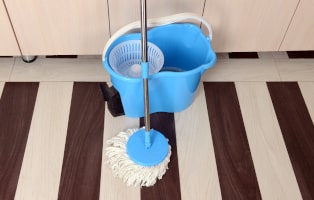 Wood floors need a bit more TLC than other hard floors. The wrong cleaners can dull them, hard shoes can scratch them, and water can warp them. Here are our tips to clean, mop, and maintain any wood flooring.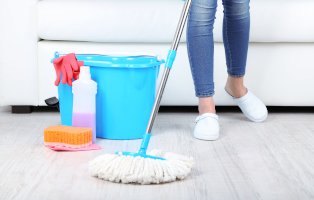 Mopping isn't rocket science, but there are some tips and tricks to get the most out of that not-so-fun task. Here, we'll tell you some of the best ways to mop floors using spin and steam mops.