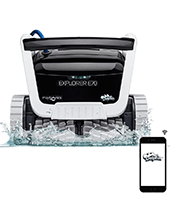 Here's our 2023 review of the Dolphin Explorer E70 robotic pool cleaner and all the features that make it great.
We select, test, review and suggest the best products. We may earn a commission, if you buy something through our links.
The Dolphin Explorer E70 is a durable workhorse with a slew of features that'll make manual pool cleaning obsolete. With this bot on the prowl, dirt and debris don't stand a chance.
Cleaning your pool couldn't be any easier. Plug it in, put it in and come back two hours later to a sparkling clean pool. In fact, the E70 is such an exceptional unit that you might find yourself saying: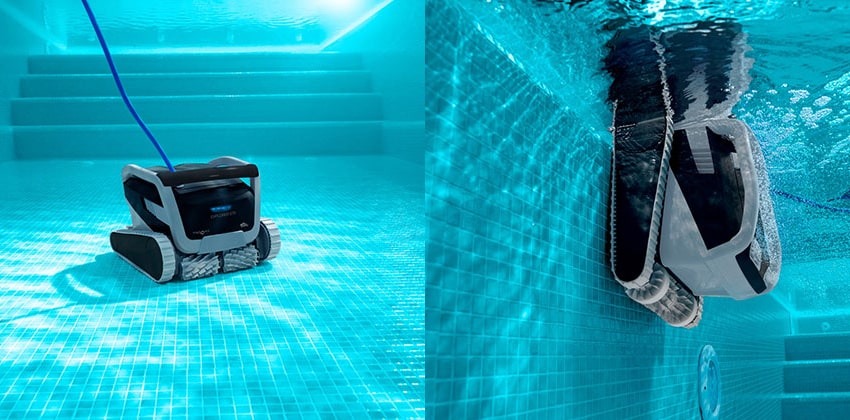 Dolphin Explorer E70 — Robotic Pool Cleaner
"WHY DIDN'T I BUY THIS SOONER?"
This model is jam-packed with useful features that make cleaning your pool an effortless and enjoyable experience. By investing in this unit, you'll get a hassle-free clean without lifting a finger. It's exceedingly easy to operate, too—just take it out of the box, switch it on, and your dirt-busting droid immediately goes to work.
Maytronics has over 35 years of experience dazzling customers worldwide with their well-built cleaning robots. The unrivaled performance of their underwater devices has helped them carve out a sterling reputation in a crowded field, and the Dolphin Explorer E70 is no exception.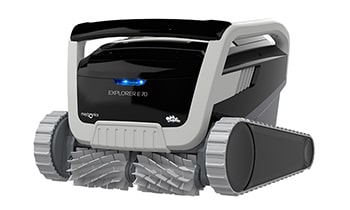 Features
Robust industry-leading suction;
Exquisitely engineered dual brushes;
Superior multi-layer filtration;
Extra-large debris canister;
Energy efficient and environmentally friendly;
Ideal for inground pools up to 50';
Who's the Dolphin Explorer E70 For?
The Dolphin Explorer E70 is perfect for pool owners looking to keep every square inch of their backyard swimming oasis sparkling clean and blessedly free from debris. If you have an irregularly shaped pool such as kidney- or L-shaped, you'll love how the E70 reaches deep into corners and crevices to eradicate crud.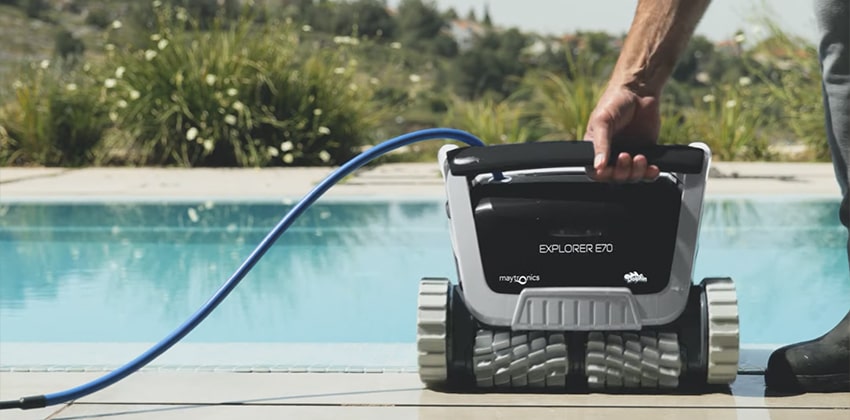 Dolphin Explorer E70 — Fantastic tool for Pool Owners
It's fantastic for older individuals with mobility problems who can no longer wield a telescopic pool pole and skimmer net like they used to. By making this pool-cleaning bot an indispensable part of your household arsenal, having a sparkling clean pool no longer means being in excruciating pain.
Pros

The Dolphin Explorer E70 is your obedient underwater servant, ready to suck up all the nasty filth hanging out on the bottom and sides of your pool. Moreover, its superior cleaning performance and top-notch efficiency team up to make your pool water radiantly clean in no time at all. That way, you can kick back and relax with an umbrella drink while watching your cleaning droid go to town.
Easily Transportable
The E70 comes with a durable caddy that makes it easy to transport and store your robot. That way, you can put the unit away at the end of swim season without giving yourself a hernia. The unit itself is relatively lightweight, making it super easy to remove.
Ability to Create Customized Cleaning Schedules
The Dolphin Explorer E70 lets you create customized, automatic cleaning schedules that ensure that your robot is doing what it's supposed to do with little to no intervention from you. Schedule a cleaning right on your mobile device wherever you happen to be on the planet, and your droid will do the rest.
Spot Cleaning Capability
If you want to do a little spot cleaning, drive the bot around using the app. This is not only fun but helps to increase job thoroughness. For example, let's say you see an algae stain in the right corner near the waterline. All you have to do is to switch the unit on and plunk it into the water.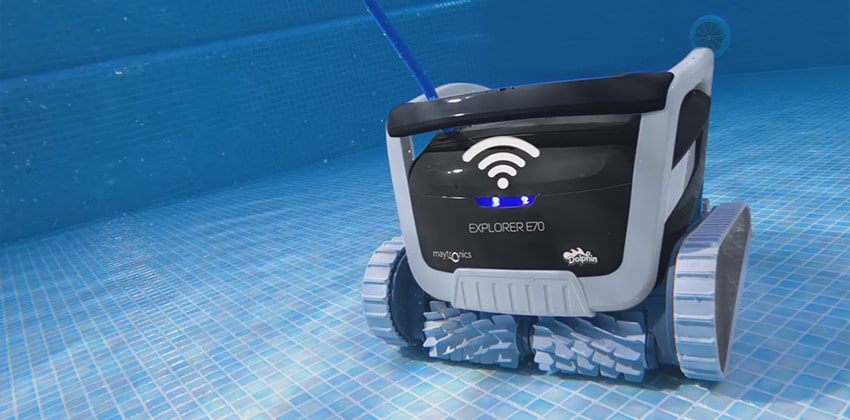 Dolphin E70 has advanced Cleaning Features for Ultimate pool cleaning
Then, power up the app. Here, you'll find controls that allow you to drive your cleaning droid to precisely where the stain is. Watch it as it scrubs the unsightly discoloration away, restoring aesthetic balance to your private natatorium.
Easily Removable From Pool
Some robotic pool cleaners can be a pain to retrieve. That's not the case with the E70, which has a convenient "PICK ME UP" FEATURE that moves the unit right to the waterline after a cleaning session.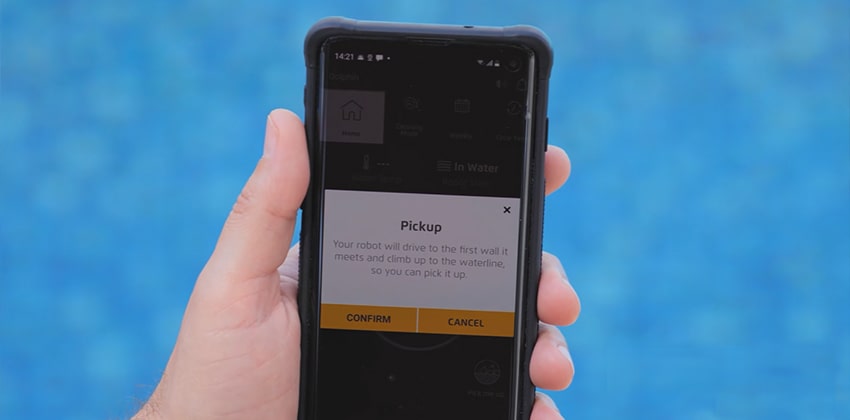 "PICK ME UP" mode — for Quick and Easy removal
All you have to do is to give it a gentle yank, and the machine effortlessly emerges from the pool, dispelling all its water as it does so. That way, you don't have to strain yourself bending over to take the unit out.
Powerful Brushes
Some robotic pool robots, while having excellent filtration capabilities, do a lousy job when it comes to scrubbing. That's not the case with the E70. It boasts exquisitely engineered dual brushes that thoroughly scrub away algae, stubborn stains, and other grime like few other robotic pool cleaners on the market.
Superior Multi-Layer Filtration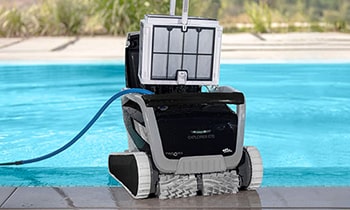 The E70 has superior multi-layer filtration, which means it can screen out virtually every size of particle . There's even a filter gauge that gives you a status report on how each filter layer is performing. That way, you can ensure that the unit is filtering out what it needs to in order to provide you with maximum cleaning performance and a pool that won't make you sick.
Energy Efficient
The E70 is 90% more efficient than old-fashioned and soon-to-be obsolete suction and pressure cleaners. With an average operating cost of five cents per kWh, your pool will get cleaned without a huge spike in your energy bill.
Anti-Tangle Swivel
Lesser units frequently get all twisted up in their cords. That isn't the case with the E70. It'll carry out its mission to keep your pool water crystal clear without you needing to unravel it every two seconds. That's because its patented swivel cable virtually eliminates annoying entanglements.
Extra-Large Debris Canister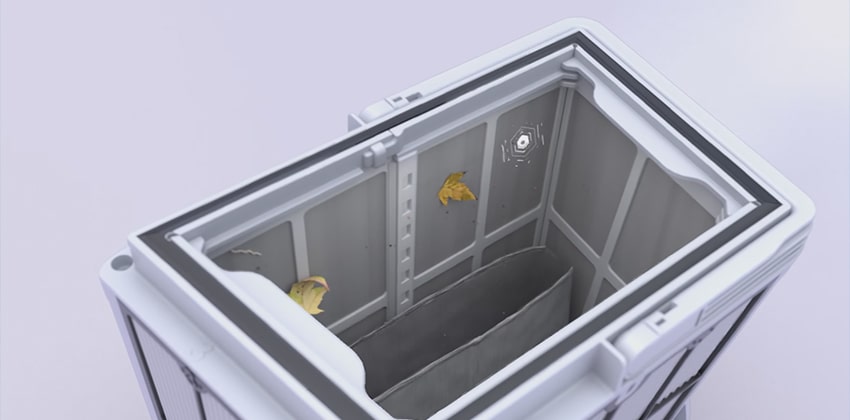 Extra-lerge debris Container for Easy Removal of debris
The E70 has an extra-large debris canister, significantly reducing the need to empty it. You can easily access the gunk the droid collected from the top, making for super easy debris removal.
Real-Time Temperature Sensor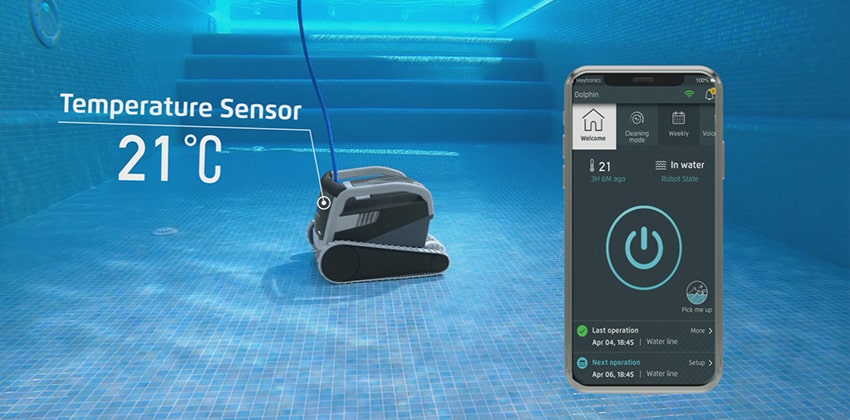 A not quite indispensable yet fun to have feature is the real-time temperature sensor. That way, you'll always know how warm (or cold) your pool is right from your device, so you can decide if you want to take a refreshing dip—or get all nice and toasty sitting by the fireplace instead.
Unrivaled Wall Climbing Capabilities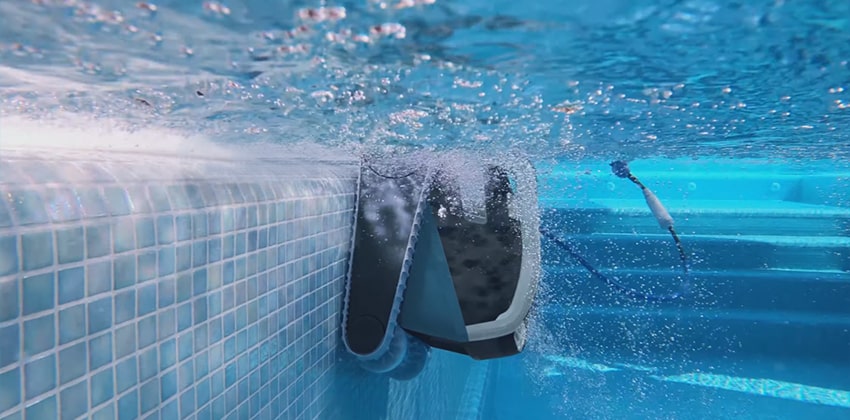 Super efficient Waterline Scrubbing
Some robotic pool cleaners do a lousy job climbing walls, leaving the waterline untouched. Not so with the E70. This cleaning bot effortlessly ascends the sides of your pool better than a monkey could (if they could swim underwater). Patented multi-directional jets ensure a complete grip on vertical surfaces for more efficient cleaning along walls and waterline.
Unmatched Coverage
The E70 uses state-of-the-art scanning technology to navigate every square inch of your pool. This, in combination with the dynamic drive that provides 360 degrees of mobility, provides better coverage than comparable units.
Powerful Suction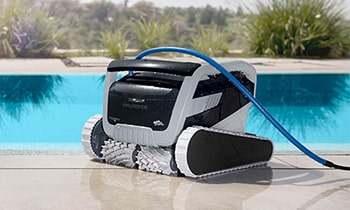 The E70 has an impressive and industry-leading 5,000 gallons per hour suction rate, which boosts cleaning performance. This guarantees that water-borne scum on the bottom of your pool gets slurped up instead of festering.
Out-of-Water Sensor
The E70 has an out-water sensor alerting you whenever it leaves its watery domain to wander around on dry ground. While that won't happen often, sometimes glitches occur. This feature ensures you'll instantly know if they do.
Cons

A few customers complain that the manual controls on the app are a bit wonky. This can result in a slight delay when using the app to maneuver the bot. However, it's unclear whether this is due to users' WiFi connectivity issues or a unit defect.
Unfortunately, like most other robotic pool cleaners, it won't clean the part of the steps that are above water. If you've got an overabundance of acorns where you live, you might not want to get this model because it has a hard time sucking them up. Although the E70 is an exceptional pool-cleaning machine, you'll pay a premium price for what you get.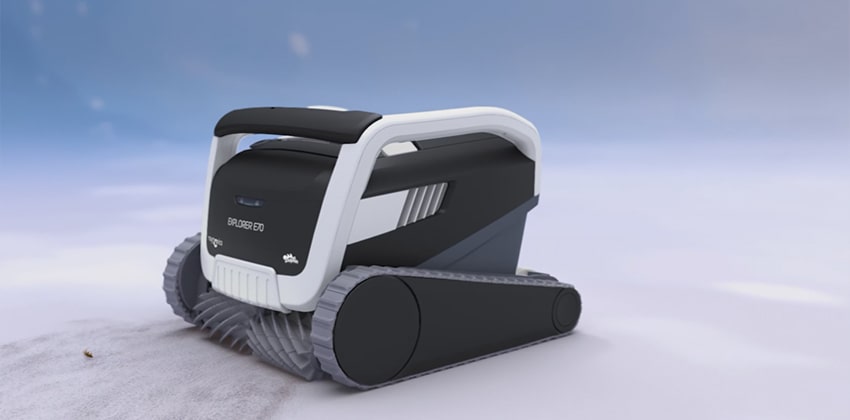 Final Verdict: Should You Buy the Dolphin Explorer E70
With the Dolphin Explorer E70, powerful suction, advanced electronics, and exquisitely engineered dual brushes combine to deliver incomparable cleaning performance. All of this is why we're recommending the E70.
Although it's a bit on the expensive side, if you ask us, it's worth every penny. If you're dying to know what our top picks for 2023 robotic pool cleaner models are, read our in-depth guide.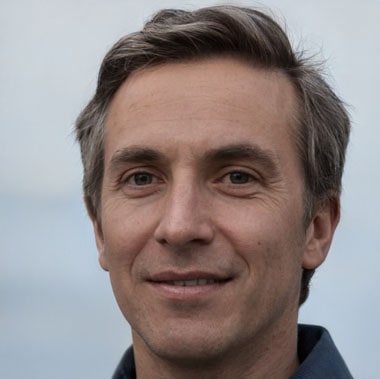 Author
Our pool maintenance expert, Luke Reed, earned his BS in Civil Engineering from Georgia Tech in 1998. Since then, he's worked in a variety of industries, including design and construction of luxury swimming pools.
---
Pool Maintenance Tips & Tricks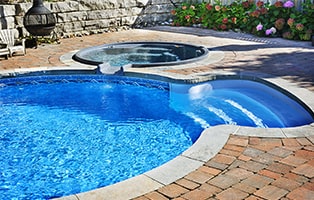 With all the different types of swimming pools available, such as in-ground and above-ground, it can be difficult to decide which one to get. Our guide including pros and cons can help you make that choice.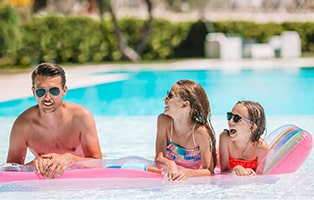 Germs and bacteria can cause life-threatening illnesses in a swimming pool. Find out what the dangers are and what you can do about them by reading our article.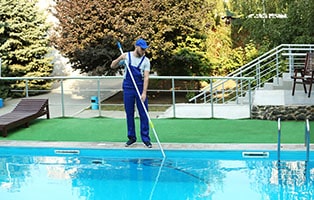 Dreaming of entrepreneurial success? Check out our guide on how to start a pool cleaning business. You'll find everything you need to know to set one up.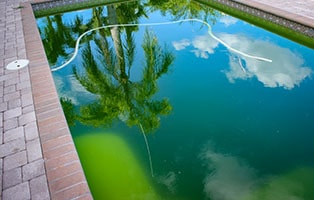 Is your swimming pool too murky to swim in? In our informative article, you'll discover the causes of a cloudy pool and how to fix the problem.