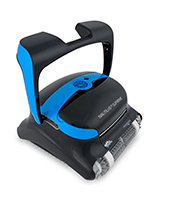 Discover all the advanced features that make the Dolphin Nautilus CC Supreme an exceptional robot pool cleaner by reading our 2023 review.
We select, test, review and suggest the best products. We may earn a commission, if you buy something through our links.
With its stunning array of advanced features, the Dolphin Nautilus CC Supreme is the Tesla of robotic pool cleaners. There are TONS of robot vacuums on the market, just begging for you to buy them. However, the Nautilus has a lot of innovative features you simply won't find in lesser models.
Perhaps you wished you had a pool cleaner with superior performance and eliminated back-breaking manual labor. If so, then the Nautilus is the one to plunk down your hard-earned money for.
With the rising cost of professional pool cleaners, people are clamoring for a less expensive alternative that doesn't leave them doing the work themselves.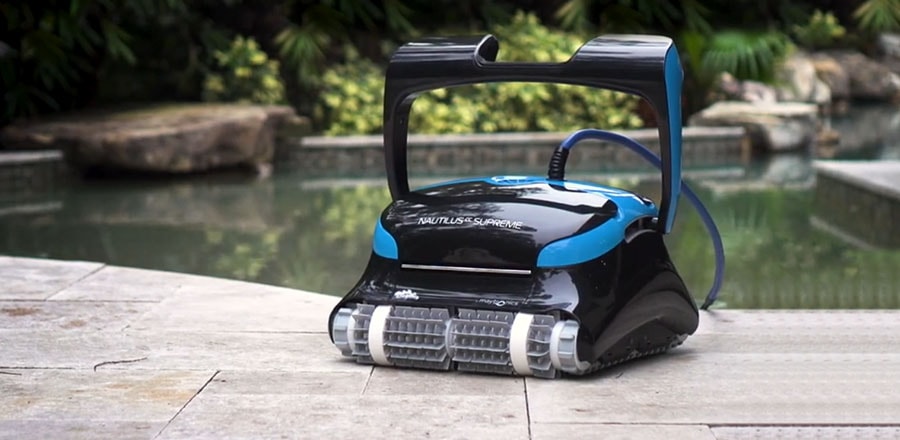 Dolphin Nautilus CC Supreme – Robotic Pool Cleaner
Maytronics has the distinction of being one of the only companies on earth that manufactures robotic pool cleaners. But they don't have much to worry from their competitors, because they've left them in the dust.
The company has over 35 years' experience with designing machines that help people clean their pools in the most efficient way possible.
And, the Supreme is the latest in the line to do just that!
Features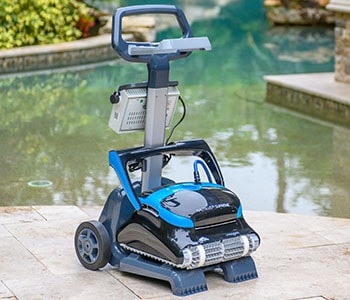 Extremely easy to set up—you can have it in the water five minutes after you take it out of its box
Able to clean large pools (up to 50 feet)
Does a standard cleaning of your pool in 1.5 hours—much faster than some other models, which require 2.5 hours
Dynamic dual-drive—360 degrees turning mobility for better surface coverage
Top-loading filters make cleaning them a breeze
Dual filtration ensures all potentially toxic contaminants are filtered out
Full filter indicator so you're not guessing when to empty it
The innovative design makes it easy to lift and handle
Patented swivel cable prevents tangling
Three scrubbing brushes instead of two for more thorough cleaning action
Comes with a 3-year warranty issued by the world's foremost robotic pool cleaner company
Customizable scheduling options so you can make sure your cleaning gets done when it needs to
Who's It For?
The Supreme is for anyone who wants to keep their inground pool looking as good as the day it was installed. And, wants to achieve this result without hiring an expensive cleaning service or having to expend a lot of energy cleaning it themselves.
Pros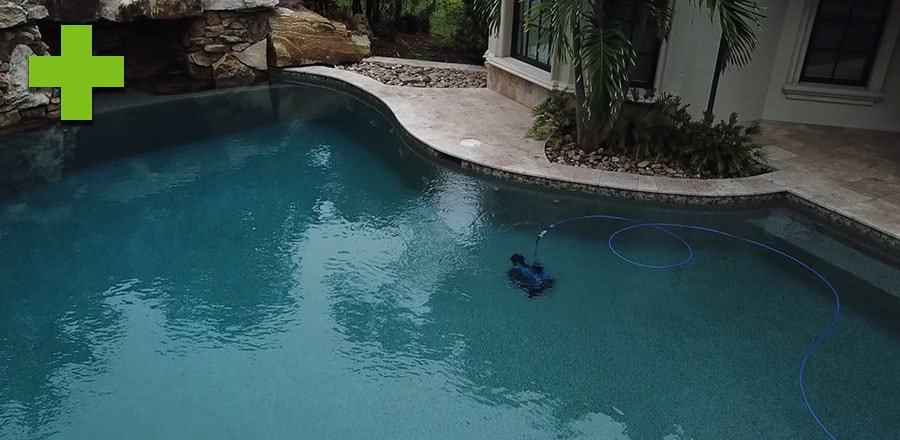 The Nautilus comes with four cleaning modes with three different timed cycles. The cycles are 1.5, 2.5, or 3.5 hours long. The cleaning modes are as follows:
Regular
Floor Only
Ultra Clean
Waterline
This gives you the ultimate flexibility in deciding how and when to clean your pool.
One great thing about pool cleaning robots (including the Supreme) is that they're separate from the pool's filtration system. This means that there's no lack of efficiency if the pool's pump malfunctions. The Supreme has two separate motors: one for the suction and one for the brushes. This means that maximum power is always available for each system.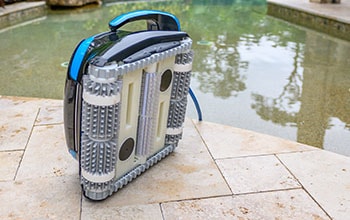 Another fantastic feature of this machine compared to other models, is that it has three brushes instead of two. So, of course, you get the two main brushes on either side of the device. However, you also get a center scrubbing brush. Having three brushes instead of two increases cleaning efficiency. The front and back brush rolls scrub extra hard to remove dirt and algae from pool surfaces.
The center brush rotates at a higher speed. This helps to remove especially stubborn stains. This third brush also makes sure the robot doesn't get stuck on the drain—which commonly happens with many models. That's because the center brush pushes the unit off the drain before it has a chance to get hung up.
Once the grime and the gunk are lifted from your pool surfaces by the triple brush action, it's sucked inside the Nautilus and fed through two extra-large filters. There's a whole lot more surface area in the Supreme's filters than what's in your average pool cleaning robot. This means they'll trap a lot more debris.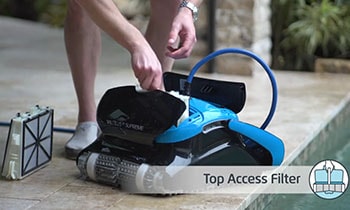 The Supreme comes with two filters: one net mesh screen for trapping large debris and a pleated polyester filter for fine sand. Because it has the second filter, it can pick up small particles that other robotic pool cleaners can't. This dual filtration system ensures that your robot will catch just about everything floating around in your pool.
And because the filters are top-loading, cleaning is a cinch. The double baskets encasing the filters are easily removed. Just open them up, give them a good rinsing with a garden hose, and put them back in the unit.
It can also scale the walls to scour the waterline until it removes every trace of gunk with its powerful scrubbers.
Contained within its artificially intelligent brain is state-of-the-art navigational software. It might look like it's moving in a random pattern. However, it's mapping your pool using something that the manufacturer calls IntelliScan technology. It then uses advanced algorithms to plan the most efficient route so that not much effort is wasted.
The cord swivels 360 degrees to prevent it from tangling. With this innovative feature, your robot won't be hindered in its mission of giving you the cleanest pool in the neighborhood by getting stuck.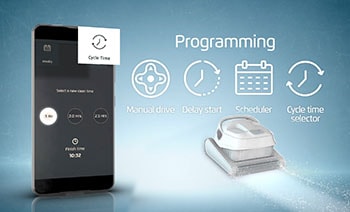 Another thing that sets the Nautilus apart from most other models is that it gives you the option of scheduling your cleaning for more than one week at a time. Besides that, there are a bunch of other customization choices as far as cleaning schedules go. You can choose between the quick clean (which does the floor only), a standard cleaning (which does floors, walls, and waterline), or enhanced cleaning. The latter option is for when your pool is especially dirty and needs extra attention.
Since there's no remote control, you do all this through the easy-to-use MyDolphin Plus app. With this, you can send your robotic friend orders from wherever you happen to the planet. The app also offers a smooth scrolling manual drive when you want to do a little spot cleaning.
You can use this feature to clean any place the robot might have missed. Navigational software isn't 100% perfect, so this is bound to happen. However, these controls are a little clumsy and take some getting used to.
Also, you can check the app for the percentage of work completed and the estimated end time.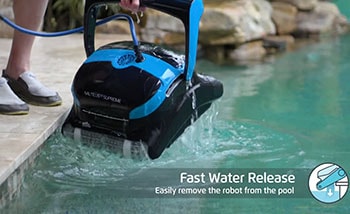 With its array of advanced features, you'd probably expect the Supreme to be hard to lug around. However, you'd be surprised at how lightweight it is. When it's time to remove your little robotic helper from the water, you won't strain any muscles.
The Supreme only uses 180 watts of electricity per hour. On the other hand, booster-pump-powered hydraulic cleaners use up to 1,000 watts per hour. Your electricity cost for this unit will be five cents or less each hour you use it.
Think of the wads of cash you'll save if you trade in your old cleaner for a brand-new Supreme!
Cons
Although the Dolphin Nautilus CC Supreme is one of the best robotic pool cleaners on the market, it's not perfect. Here are some of the issues users have had with it: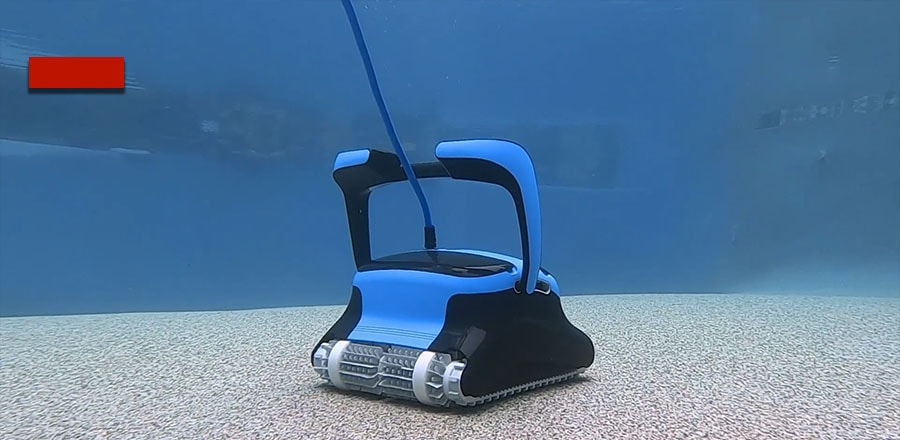 It has trouble ascending stairs because it's not very good adjusting to abrupt changes in terrain. If you have a ladder with large rungs, it might just be able to do the job.
There's no remote control. However, you don't need one with the well-designed smartphone app.
It doesn't come with a caddy. If you think you'll need to quickly move it from one place to another, I'd suggest you invest in one.
It won't clean tanning ledges because they're too shallow. However, it will do quite well with swim out benches because they're in deeper water.
There's no owner's manual—only a digital one.
Alternatives to the Supreme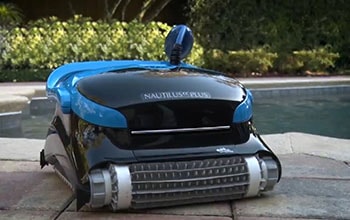 There are robotic pool cleaners like the Supreme on the market. So, how does the Supreme stack up to them?
There are so many comparable machines we could look at. Let's just glance at a few. We'll start with the Supreme's cousin—the Dolphin Nautilus CC Plus. This model is less expensive than the Supreme. However, although it has a dual brush system, it doesn't have the third center brush. This means that it won't clean as well and is more likely to get hung up on the drain.
This model also takes longer to clean your pool.
The Supreme also has bigger, more technologically advanced filters than the Plus. This means they'll be more effective at removing pollen, dirt, and other impurities from your pool. Also, there's no smartphone integration with the Plus like there is with the Supreme.
There's also the Dolphin Nautilus Premier. As far as filters go, the Dolphin Nautilus beats its close relative with better filters. The Premier also doesn't have WIFI functionality, so you won't have the cleaning customization options you get with the Dolphin Nautilus.
The Supreme also moves along your pool bottom faster than the Dolphin s300i, another robotic pool cleaner from Maytronics. So, it'll get more cleaning done in less time. Another way it surpasses this earlier model is that it has better suction. This means—unlike the s300i—all debris is picked up on the first pass. Remote monitoring is better, too, because it has WIFI instead of Bluetooth.
Final Verdict: Should You Buy a Dolphin Nautilus CC Supreme
So, in the end, I would recommend buying a Dolphin Nautilus CC Supreme.
It does a fantastic job keeping the water crystal clear, and your pool surfaces sparkling clean. With this machine, you won't ever have to expend back-breaking effort scrubbing stubborn algae and biofilm from your pool walls. You can kick back, relax, and have this little robot take care of everything for you.
Buy one today and see what all the fuss is about! Or, check our list of pool robots (TOP 10 Rating) to see more of what we recommend.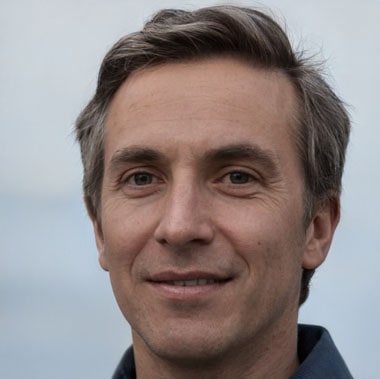 Author
Our pool maintenance expert, Luke Reed, earned his BS in Civil Engineering from Georgia Tech in 1998. Since then, he's worked in a variety of industries, including design and construction of luxury swimming pools.
---
Pool Maintenance Tips & Tricks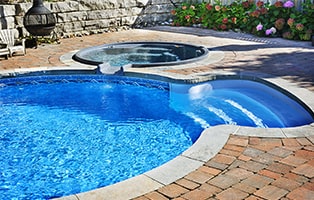 With all the different types of swimming pools available, such as in-ground and above-ground, it can be difficult to decide which one to get. Our guide including pros and cons can help you make that choice.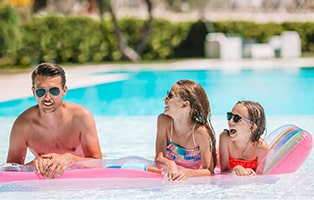 Germs and bacteria can cause life-threatening illnesses in a swimming pool. Find out what the dangers are and what you can do about them by reading our article.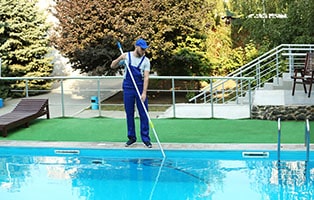 Dreaming of entrepreneurial success? Check out our guide on how to start a pool cleaning business. You'll find everything you need to know to set one up.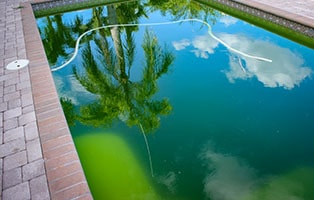 Is your swimming pool too murky to swim in? In our informative article, you'll discover the causes of a cloudy pool and how to fix the problem.