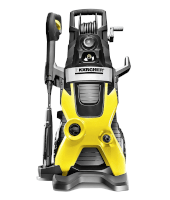 The Karcher K5 Premium electric pressure washer works hard without all the noise. But is it a good choice for you? Find out in our detailed review.
We select, test, review and suggest the best products. We may earn a commission, if you buy something through our links.
The Karcher K5 Premium is the quietest running electric pressure washer on our list. When you hear quiet and pressure washer in the same sentence, you may assume it means less power. But this isn't always the case if the design is right. And in this case, it is.
Of course, any electric pressure washer will have a hard time competing with a gas unit in terms of PSI, but the Karcher K5 Premium will rival most bargain gas washers any day.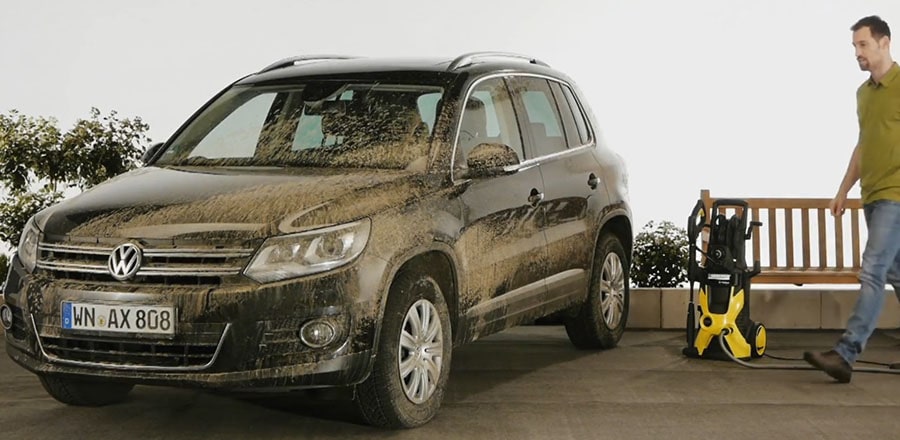 Karcher K5 Premium Electric Pressure Washer
While it's not cheap as far as electric pressure washers go, it's the most powerful electric unit that Karcher makes, producing up to 2000 PSI at 1.4 GPM. Thanks to the sturdy casing, N-COR pump, and water-cooled induction motor, it's one of the quietest running power washers you can find in this power range.
This machine isn't tiny, but it's still more compact than many of its competitors. Plus, the warranty is really impressive, considering how many washers tend to give out within the first year. Let's see what this quiet bad boy is all about.
What do you get with the Karcher K5 Premium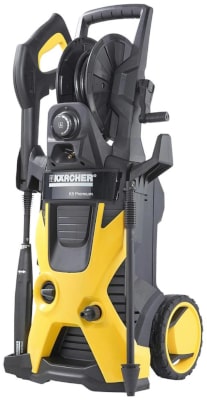 2000 PSI
1.4 GPM
CU Score: 2800
25-foot hose with integrated hose reel
35-foot power cord
Vario power spray wand
Dirtblaster spray wand
N-COR pump
Water-cooled induction motor
Onboard detergent tank with adjustable flow dial
7.7-inch high impact wheels
2-year limited warranty with rapid exchange program
Let's get straight to the warranty. With the Rapid Exchange program, if anything breaks within the first 2 years, Karcher will send a replacement unit. Since pumps often go out within the first year, this is a nice perk.
If you live in the suburbs, your neighbors will really appreciate the quiet operation. You'll hear it softly running while pressurizing the water, then it's completely quiet until you pull the trigger. The only sound you'll hear then is from the water hitting the surface of whatever you're spraying.
Overheating can often be an issue with electric pressure washers, but with this model, not so much. Water circulates around the motor to cool it, which prolongs motor life by up to 5 times.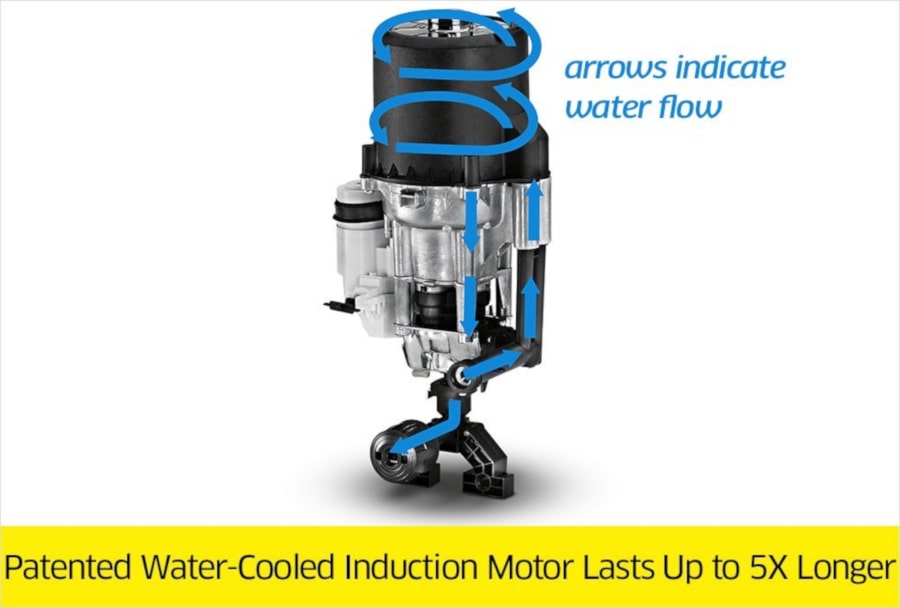 You won't have to deal with a bunch of different nozzles that can fall off and get lost either, with the Vario Power wand. You simply turn to adjust the pressure right there on the wand. For tougher jobs, the dirtblaster wand will be your friend.
Note: If you want to use soap, it will automatically dispense on the lowest setting on the Vario Power wand.
Product Dimensions
Height: 34.33 inches
Length: 16.46 inches
Width: 16.77 inches
Weight: 32 pounds (13 pounds for body alone)
This unit is about the size of a standard upright vacuum, so it won't take up a ton of room. While it can be heavy to lift, the wheels let you maneuver it over most terrain. Like many washers with a top-mounted hose reel, it can be top-heavy, so be careful when reeling and unreeling the hose.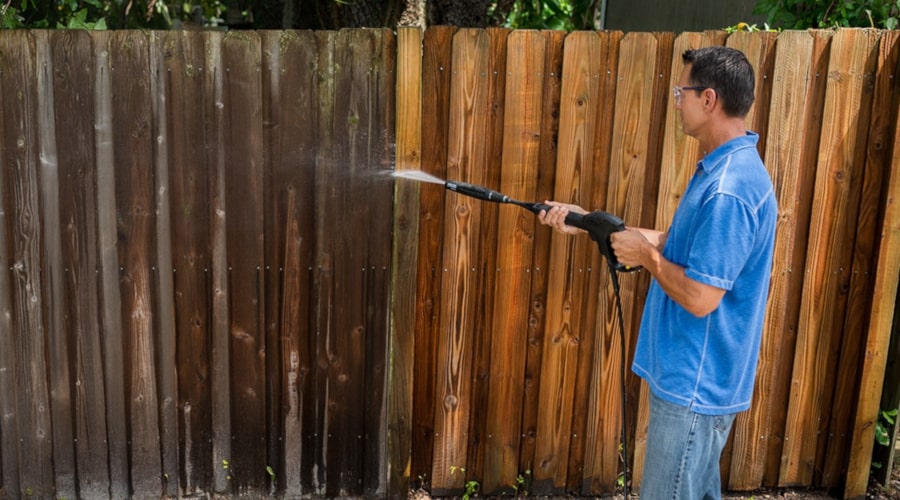 How to operate it
Some assembly is required with this machine. However, you'll only need one medium sized Phillips screwdriver, and the manual has good diagrams with easy to follow instructions. First you'll snap in the wheels and hubcaps, then the spray gun holder and power cord storage hook. Attach the detergent hose, then secure the handle with 2 screws (provided).
Make sure you follow the instructions and diagrams to install the detergent dosage regulator. It needs 2 screws and must be lined up properly with marked areas on the casing. The hose reel comes next. You'll thread the hose through the slot on the dosage regulator, then install the reel and hand crank. Secure the hose reel bracket with 2 screws.
Finally you'll attach the high pressure hose to the hose drum and the trigger gun. Make sure these parts are lined up correctly and give a gentle tug to ensure they're fully installed.
To operate, follow this general startup:
Insert the desired spray wand into the trigger gun.
Attach the water inlet connector to the machine's water inlet.
Screw the included garden hose connector to the end of your garden hose. Push that connector into the water inlet connector (it should have an audible click).
Connect the garden hose to your water source. Turn water fully on.
Plug the GFCI plug into an outlet.

Note: Karcher recommends testing the GFCI each time you start up the pressure washer. If the test fails, don't use the pressure washer.

Unlock trigger gun safety lock. Squeeze trigger to purge air until a steady water stream flows from the nozzle.
Turn the pressure washer switch to ON (I). The motor will only start up once you press the trigger on the spray gun. It turns off when the trigger is released.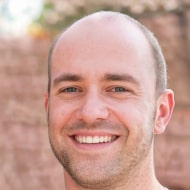 When using an extension cord, Karcher customer care advises that you use one gauge up from the machine's cord (16 gauge), so you'd need a 14 gauge or higher extension cord. Don't exceed 75 feet between machine and extension cord.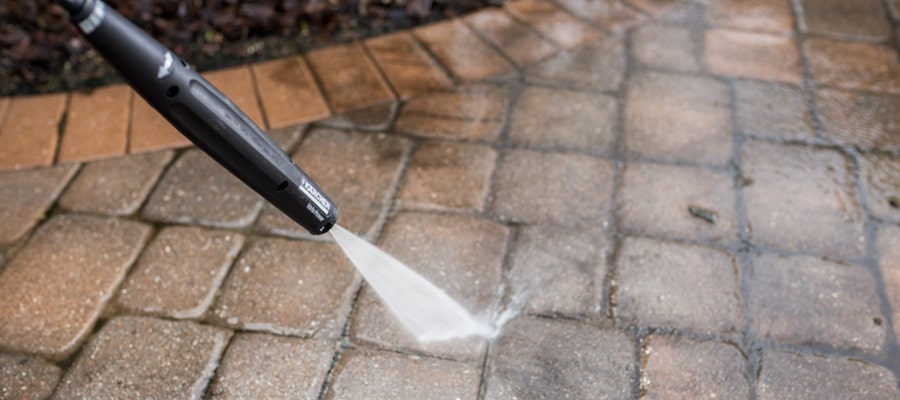 How does it perform?
Customers have appreciated how straightforward this machine is to set up and operate. It's pretty intuitive with the simple, yet sturdy design. It's worked well cleaning even old mildew stains from brick and wood deck boards. Others said it gets into the cracks of their sidewalk really well to remove weeds, moss, dirt, etc.
Many have commented about how impressed they were that the pressure washer made older surfaces such as retaining walls look like new again. They were less impressed with the wheels. They're relatively small and not rubberized, so they can be hard to roll across dense grass or rocky terrain.
One customer advised using silicone spray for connectors with rubber rings to both make assembly easier and prevent damage and leaks. Though some customers said they replaced the plastic connector fittings with brass, Karcher doesn't recommend it.
---
What's to love about the Karcher K5 Premium

Did we mention how quiet it is? It's worth mentioning again, since that's been a big praise of this machine from customers. This makes it perfect for a suburban setting. It won't disturb a napping baby or teenagers who sleep until noon over the summer. Though if they're old enough, you may want to wake them up to help you with your cleanup tasks.
This machine is one of the most powerful electric models on the market. It can handle pretty much every light to medium-duty job you can throw at it. With a total of 60 feet of range counting the cord and hose, you have a good cleaning radius. Many customers have replaced older Karcher units with this one.
What's not so great about the Karcher K5 Premium

Proprietary parts. Very few items on this machine are universal, so you're at the mercy of the manufacturer to supply any replacement parts. If you can't replace something yourself, you'll have to visit an authorized service center. You may not have one within easy driving distance. Some of those technicians may be unfamiliar with this model or even with electric pressure washers in general.
Some customers also wished for a longer hose since 25 feet (plus the 35-foot power cord) wasn't quite enough to reach the end of the driveway. You can buy a 50-foot hose separately, however.
A couple weak points are the plastic hose connector that isn't as durable as a metal fitting. Since the machine is prone to tipping over due to the heavy cord reel up top, the connector may smack onto the concrete and shatter.
Note: Customers have noted that some of the newer units come with an anti-tip platform below the water inlet and pressure hose outlet that works better to prevent tipping over.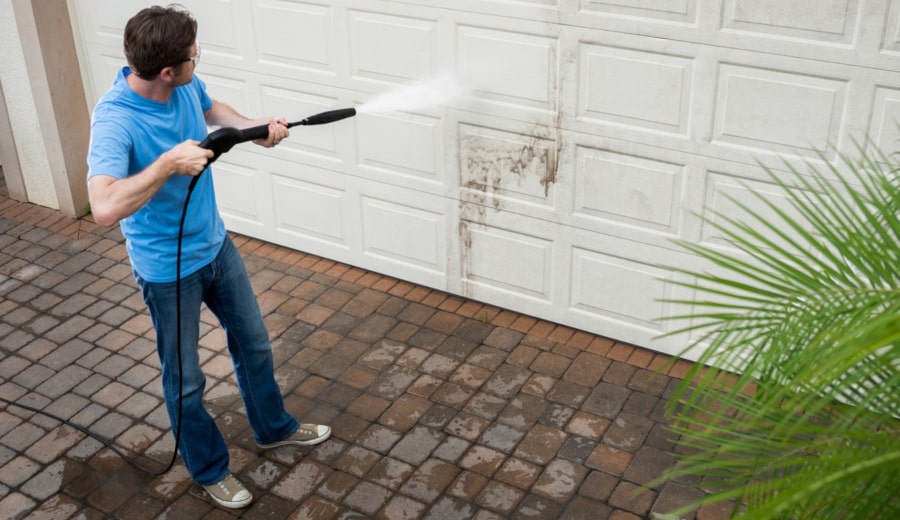 Vario Power Spray wand in action
For a more versatile cleaning experience, try these optional accessories:

Tackles large surfaces quicker with a wide 11-inch cleaning head, variable pressure adjustment and 32-inch wand extension. The wand even locks to keep it upright when taking a break or for storage.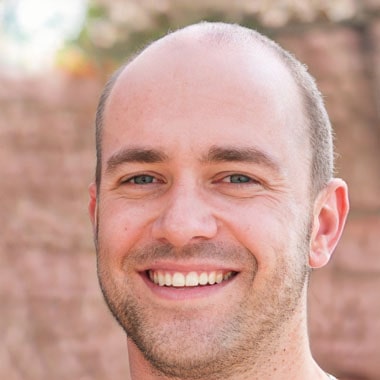 Author
Alex owns a home improvement and restoration company in Vancouver. He obtained his Bachelor's degree in Construction Management from Saskatchewan Polytechnic and is a NARI Certified Remodeler. His team does a wide range of home restoration products, both interior and exterior.
---
Pressure Washer Tips & Tricks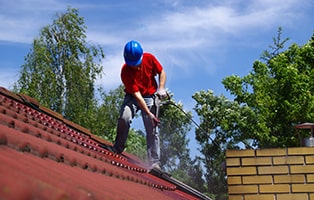 The leaves are starting to fall, and you may be thinking about power washing your gutters. Why? It's the perfect time of year to maintain those dirty drainage systems. The cool weather brings out dirt build-up, which can cause more problems.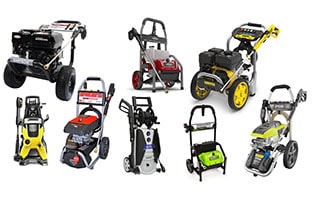 When it comes to cleaning grungy patio furniture, dirt-encrusted siding, and oily driveways, power washers are an indispensable tool. Read our article to find out which companies make the best ones.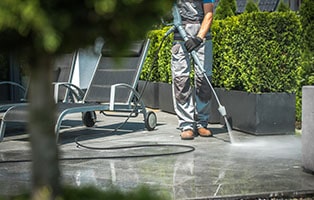 A pressure washer is a way to clean your patio that doesn't involve lots of strenuous scrubbing. Read about the 7 steps you'll need to follow if you want your patio cleaning to be a smash success.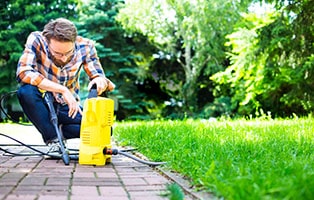 If your pressure washer is getting hot too frequently, this could be a sign that there's either something wrong with it, or you're doing something wrong. Read our article to diagnose these problems.