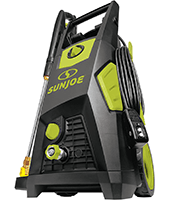 What makes the Sun Joe SPX3500 electric washer one of the very best? Our comprehensive expert review takes an in-depth look at all the specs and features to provide the answer.
We select, test, review and suggest the best products. We may earn a commission, if you buy something through our links.
The Sun Joe SPX3500 is a new breed of electric pressure washer that is changing the game for similar products. This state-of-the-art electric pressure washer offers an exceptional combination of premium quality, class, power, durability, and beauty.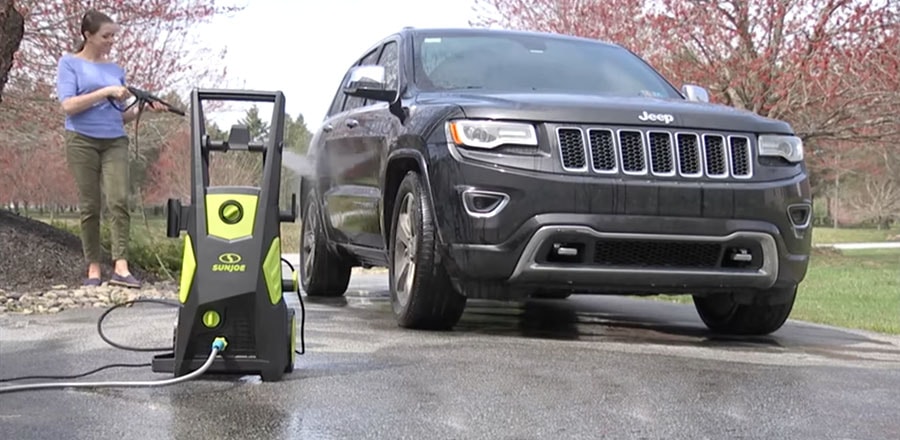 Sun Joe SPX3500 Electric Pressure Washer
Once you take a deeper look at what it has to offer, it's no wonder that customers and reviewers alike have consistently had fantastic things to say about the device. Coming with a range of top-notch features, such as a 1.2-liter detergent tank, a powerful 13 amp motor, and a maximum pressure of 2300 PSI, the Sun Joe SPX3500 is a powerful machine to tackle those outdoor chores.
Main Features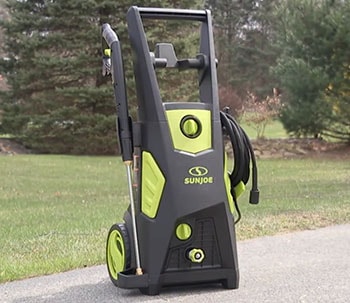 The induction motor provides more power and speed, all at faster speeds than traditional pressure washers.
1.2 L detergent tank ensures you have plenty of soap to get all your jobs done.
13-amp motor provides impressive power, with a maximum pressure of 2300 PSI.
Standard 3/4″ garden hose thread connector.
Adjustable detergent dial allows fine-tuning the amount of soap.
The revolutionary Total Stop System, exclusive to the Sun Joe SPX3500.
The Total Stop System (TSS)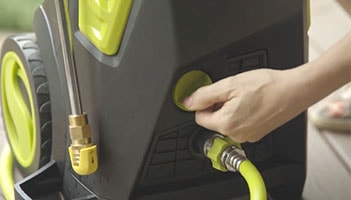 The TSS feature is exclusive to the Sun Joe SPX3500 electric pressure washer. This allows the machine to automatically cut power when not in use. When you release the trigger and water stops flowing, the TSS kicks in immediately and turns off the motor to save energy and protect the pump from overheating.
This system makes the Sun Joe SPX3500, one of the top electric pressure washers on the market today. Water inflow after power has been cut can even potentially cause excessive wear and tear.
The Amazing Power of a 13 AMP Motor
With a powerful motor for such a handy and portable electric pressure washer, the Sun Joe SPX3500 can generate up to 2300 PSI and 1.48 GPM of ultra high-pressure jet spray. It's powerful enough to take on tough oil stains, mud, grease, and any other stubborn grime or slime that stick to your car, truck, motor-bike, and even on your outdoor house or workshop surfaces. Incredibly, despite all of the power, the Sun Joe SPX3500 itself makes very little noise.
Induction Brushless Motor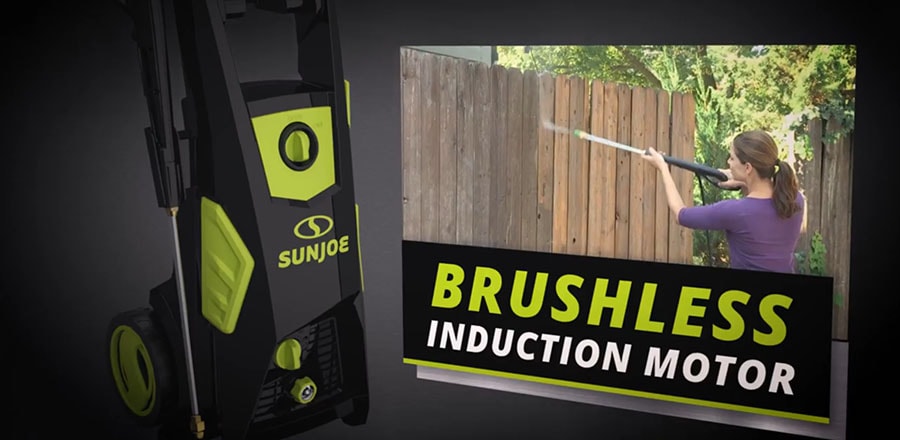 The advanced induction brushless motor is what allows the Sun Joe SPX3500 electric pressure washer to operate with minimal noise. It allows the machine to use a dynamic amount of power, depending on the task. This allows the induction motor to last longer than traditional universal pressure washer motors of the same size and power while running at twice the speed of average washer motors.
What Do Customers Like

Most customers like the powerful motor and pump of the Sun Joe SPX3500 electric pressure washer because of its ability to blast away dirt and grime with minimal effort.
Other customers said that they love the plastic housing because it is durable and is not likely to crack. Another feature of the SPX3500 that drew positive reviews from users is the fact that the electric pressure washer is robust and yet emits very little noise.
Some users said that the assembly process was relatively simple and that the unit was easy to store. There were also some owners that praised the fact the SPX3500 has a storage section for both the electrical cord and the high-pressure hose
The portability of the Sun Joe SPX3500 electric pressure washer also ranked highly among features customers liked. Many other customers appreciated the TSS function.
What Don't Customers Like

While some customers complained that the hose was too long and got entangled during use, others said that it was short and needed to be longer. A few customers complained that though the blast of water from the Sun Joe SPX3500 electric pressure washer was very powerful, it didn't pack the same blasting power as a gas pressure washer. There were also those customers that said the Sun Joe SPX3500 electric pressure washer was a bit heavy, though they also noted the weight helped make it stable.
Is The Sun Joe SPX3500 Right For Me
You could always hire a professional to do your pressure washing. Alternatively, you can rent a unit and do it yourself. But, if you plan on keeping things clean in the long-term, it would be much cheaper for you to own a unit yourself.
SPX3500 is a powerful electric pressure washer
Typically there is a significant gap between the power of gas and electric pressure washers, but the Sun Joe SPX3500 has bridged that gap. The high-velocity 2300 PSI pump packs almost the same power as your typical gas pressure washer, thereby making it the right choice among the top electric pressure washer brands in the United States and beyond.
The Sun Joe SPX3500 electric pressure washer meets all standard qualifications set by the Water Jet Technology Association for the use of manually operated high-pressure water-jetting equipment. So, if you want the power to wash your car, gutter, roof, or pavement, take a good look at the Sun Joe SPX3500 electric pressure washer.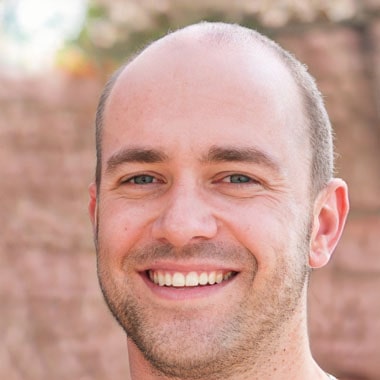 Author
Alex owns a home improvement and restoration company in Vancouver. He obtained his Bachelor's degree in Construction Management from Saskatchewan Polytechnic and is a NARI Certified Remodeler. His team does a wide range of home restoration products, both interior and exterior.
---
Pressure Washer Tips & Tricks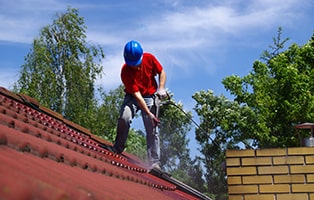 The leaves are starting to fall, and you may be thinking about power washing your gutters. Why? It's the perfect time of year to maintain those dirty drainage systems. The cool weather brings out dirt build-up, which can cause more problems.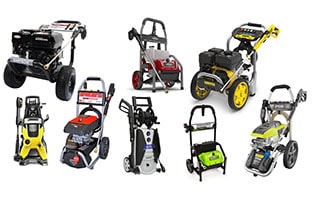 When it comes to cleaning grungy patio furniture, dirt-encrusted siding, and oily driveways, power washers are an indispensable tool. Read our article to find out which companies make the best ones.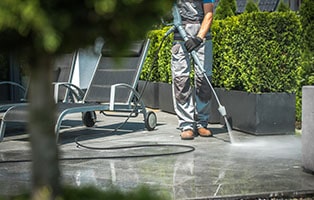 A pressure washer is a way to clean your patio that doesn't involve lots of strenuous scrubbing. Read about the 7 steps you'll need to follow if you want your patio cleaning to be a smash success.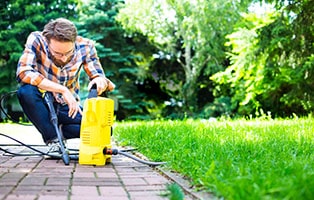 If your pressure washer is getting hot too frequently, this could be a sign that there's either something wrong with it, or you're doing something wrong. Read our article to diagnose these problems.