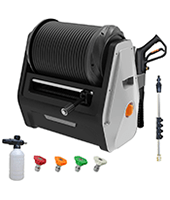 Here's our 2023 review of the Giraffe Tools Grandfalls electric power washer with wall mount!
We select, test, review and suggest the best products. We may earn a commission, if you buy something through our links.
The Giraffe Tools Grandfalls Electric Pressure Washer is one of the best power washers to come out in a long time. It boasts a slew of features that will help keep your home and other things you own looking beautiful all year long.
One of the best things about it is that it's wall mounted. Let's say you want to use your pressure washer to clean your siding. In most cases, you need to unwind your garden hose, attach it to the spigot, unreel the power washer hose, and connect it to the pressure trigger.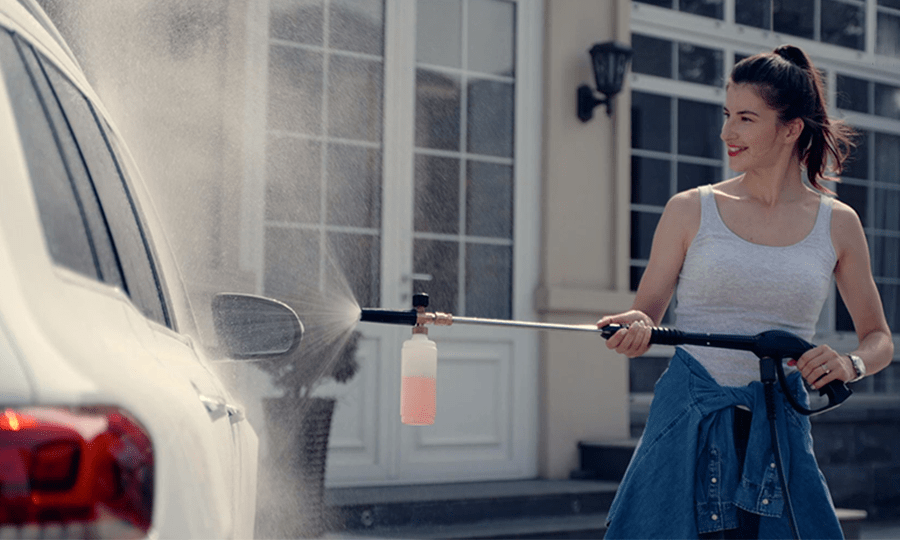 Giraffe Tools Grandfalls Electric Pressure Washer
Lastly, you need to unwind the power cord and plug it in. Of course, after you're finished with your cleaning job, you must reverse these steps. While needing to do all this isn't necessarily a deal breaker when using a pressure washer, the Giraffe makes the process so much easier.
That's because it always stays connected, so you don't need to do any of these steps. This revolutionary innovation makes the Giraffe a stand out in the crowded pressure washer market.
Features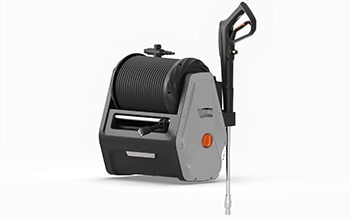 Unique wall mount means the unit is always ready to use;
High-quality foam cannon makes cleaning cars a breeze;
Enough power for all of your everyday uses;
Super easy installation;
Precisely modulate water flow with four quick-connect nozzles;
Specially designed stop-anywhere hose locking mechanism;
Who's the Giraffe Tools Grandfalls Electric Pressure Washer For
The Giraffe is for everyone who wants to keep their automobiles radiantly clean—like the day they first rolled off the assembly line. The top-of-the-line foam cannon that comes with the unit mixes the perfect amount of water, air, and car wash soap to quickly get your vehicle gleaming again.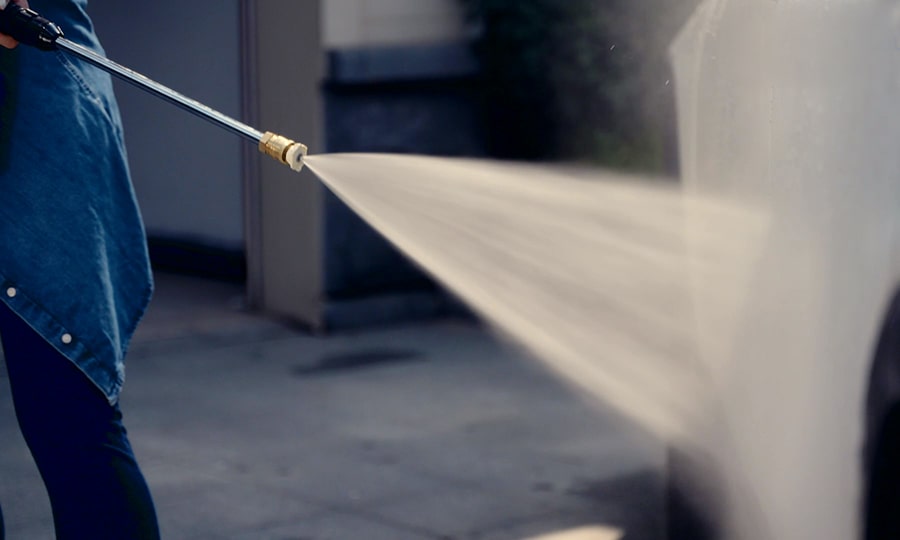 Giraffe Tools Grandfalls for Automobile Enthusiasts
With one of these machines in your garage, you might not need your monthly car wash subscription anymore. This could save you hundreds of dollars a year! Its super durable construction means it'll even hold up under relatively heavy-duty use. For example, in an automotive repair shop.
Some pressure washers are so feeble that they're not able to blast away something like insect residue from windshields. With the Giraffe, you'll never have that problem. Simply turn it on, point the trigger sprayer towards your car, and voila! All those bug guts are immediately cleared away, making your vehicle look so much more appealing.
Homeowners Who Want a Visually Appealing Home
The Giraffe is ideal for getting rid of all the gunk that can build up on your siding during the winter, transforming even the most aesthetically pleasing home into a horrible eyesore. If you have a nasty-looking garage floor that hasn't been cleaned in decades, unleash this beast on it, and you'll quickly roll back the years.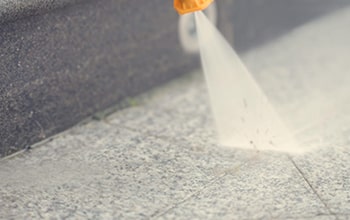 Give patio furniture a good hosing down with your Giraffe before company comes over for that pool party you've been looking forward to for God knows how long. They'll be amazed at how much better the backyard furnishings look compared to the last time they were at your place.
This pressure washer is exceptional at eradicating built-up grime, unsightly oil stains, and gross gunk from most outdoor surfaces, including brick, wood, and concrete. It'll instantly blast away hideous-looking plant growth from your patio or deck, boosting the visual appeal of these areas in a matter of seconds.
NOTE: If you have a brick wall loaded with lichen, mildew, or mold, scrubbing it off by hand can be a total pain. However, the Grandfalls makes light work of even the most challenging cleaning jobs—including things like this that lesser units struggle with.
Pros

Easy to Install and Set Up
The Giraffe is exceedingly simple to install. Simply mount it to your garage wall, connect the hoses, and you're good to go.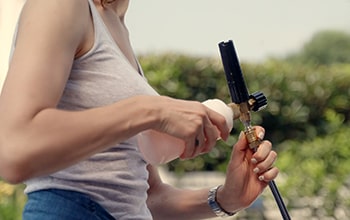 Some pressure washers are a pain in the butt to get out and set up for use. That's not the case with the Giraffe Tools Grandfalls since it's always connected. You'll appreciate the time-saving way you can get the unit up and running without juggling hoses and cables.
If one of your pet peeves is keeping your tools well-organized and easy to access, you'll love the Giraffe. Because it's wall mounted, it won't take up precious floor space in your garage. It has two handles, making it easier to carry should you ever need to remove the unit from your garage wall.
Exceptional Cleaning Power
One of the things that makes a power washer such a tremendous labor-saving device is that you don't have to do any strenuous scrubbing when you have something you need to clean. Simply spray a highly concentrated blast of water, and all the dirt, crud, and gunk is instantly washed away.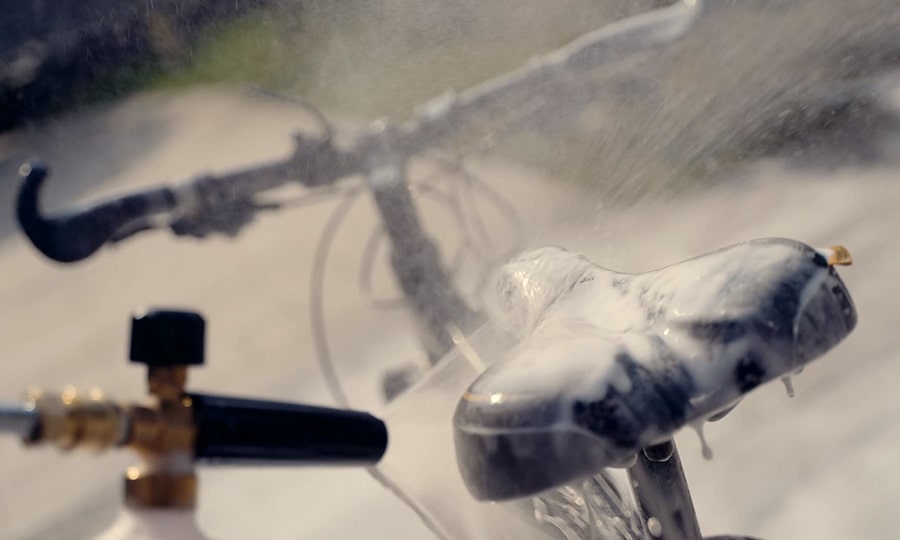 Giraffe Tools Grandfalls has a Powerful Motor up to 2200 PSI
Like many other pressure washers, the Giraffe performs the same function. However, it carries it out much better than most. That's great when you consider that all-too-many pressure washers don't have enough power or a sufficient flow rate to adequately clean most outdoor surfaces.
It's disappointing to sink your hard-earned money into a pressure washer, only to realize too late that you won't be able to clean what you wanted to because it's not robust enough for everyday use. This isn't the case with the Giraffe. Although it's electric, it has enough power to tackle almost anything you can throw its way.
This pressure washer has a powerful 1800-watt motor capable of generating up to 2200 PSI. With 2.1 GPM of water flow, this unit is terrific at removing stubborn dirt and caked-on grime. It's a great machine if you need to clean your patio, driveway, siding, cars, and almost anything you have in your backyard.
Four Quick Connect Spray Nozzles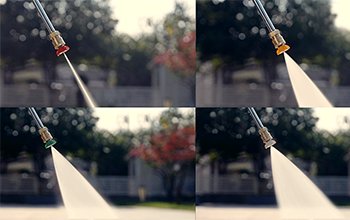 With four different quick-connect spray nozzles (0°, 15°, 25°, and 40°), you have the ability to precisely modulate water flow to meet all your needs. The bigger the angle, the broader the water sweep exiting the pressure nozzle. The pressure gun's barrel even has convenient storage space for the tips—a feature few other models have.
You even get a clog tool if your nozzles ever get crud stuck in them.
Triple Safety Mechanisms
This device automatically shuts the pump off when the trigger isn't engaged. This not only saves energy—it also extends the pump's life because it significantly reduces the chances the pump will overheat. The gun's safety lock stops kids from accidentally pulling the trigger, preventing accidental injury.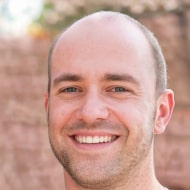 The GFCI circuit breaker protects you from electrical shocks. It can detect small leakages of current through the cord or water flowing through or around the housing. If it does, it'll immediately turn off the electrical power so you don't get zapped
Hoses and Cords That Aren't a Pain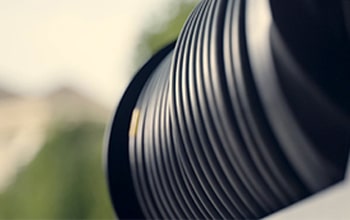 The specially designed stop-anywhere locking mechanism makes it easy to use your hose no matter what length you need. The hose pulls out easily and locks into place when you stop pulling, working much like a seat belt. It automatically retracts after a slight tug, neatly winding up without any kinking.
A traverse guide ensures the hose doesn't tangle as it's being extended or retracted. Because the hose is quite flexible (unlike some other models), you won't waste your time trying to get it to stay straight.
With a 100-foot cord, it easily wraps around most houses. That's fantastic when you consider the typical pressure washer only has 25 to 50 feet of hose.
First-Rate Customer Service
NOTE: Customer service has a well-deserved reputation for being first-rate. In fact, in an era of massive corporate cutbacks, it's refreshing to see a company that's attentive to its customers. This means in the rare event you have a problem with your unit, you can look forward to it promptly getting taken care of.
Cons

Some people might not like using this machine because the decibel level is a bit high. However, it's about as loud as your average electric pressure washer.
If portability is something you value in a pressure washer, don't get this unit because you won't be able to transport it to job sites. Some buyers report that the hardware might be inadequate for mounting the unit on a garage wall.Because the bolts don't seem to be the right size for the anchors, you might want to use better anchors.
While the trigger is made of durable and sturdy plastic, it feels a little loose in your hand. The PSI of the Giraffe is supposed to be 2200. However, some users report that the actual PSI is closer to 1700.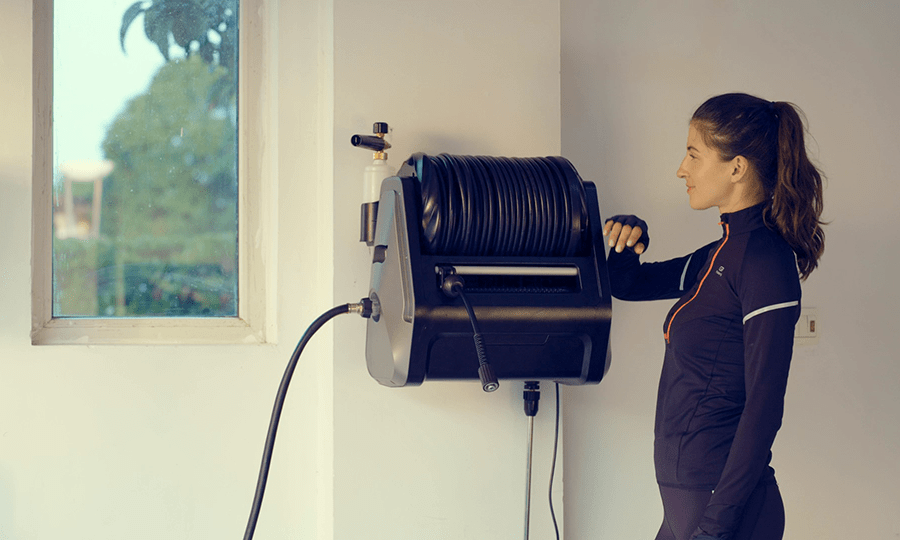 Should You Get the Giraffe Tools Grandfalls Electric Pressure Washer?
Because there's so much to like about the Giraffe, including its unique wall mount, retractable hose, power that's more than adequate for most cleaning jobs, and ease of setup, I'm giving this unit my highest recommendation.
If you need a pressure washer that's durable enough to last for years and has the ability to keep the things you own looking clean and almost brand-new, this is the machine to get.
If you want to know what we think are the best-rated electric pressure washers of 2023, read our guide. You might also want to check out the Giraffe Tools Official Website.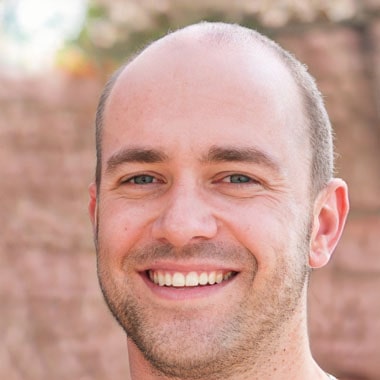 Author
Alex owns a home improvement and restoration company in Vancouver. He obtained his Bachelor's degree in Construction Management from Saskatchewan Polytechnic and is a NARI Certified Remodeler. His team does a wide range of home restoration products, both interior and exterior.
---
Pressure Washer Tips & Tricks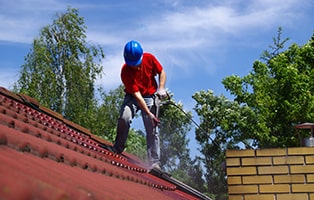 The leaves are starting to fall, and you may be thinking about power washing your gutters. Why? It's the perfect time of year to maintain those dirty drainage systems. The cool weather brings out dirt build-up, which can cause more problems.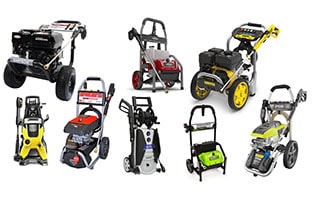 When it comes to cleaning grungy patio furniture, dirt-encrusted siding, and oily driveways, power washers are an indispensable tool. Read our article to find out which companies make the best ones.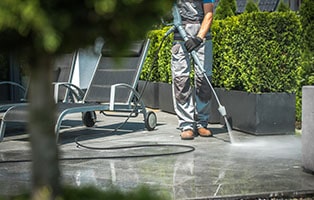 A pressure washer is a way to clean your patio that doesn't involve lots of strenuous scrubbing. Read about the 7 steps you'll need to follow if you want your patio cleaning to be a smash success.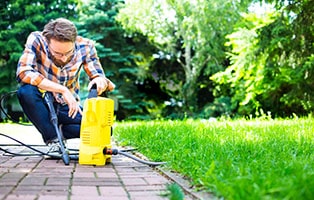 If your pressure washer is getting hot too frequently, this could be a sign that there's either something wrong with it, or you're doing something wrong. Read our article to diagnose these problems.