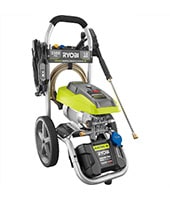 Here's our 2023 review of the Ryobi 2300 PSI Electric Pressure Washer. Find out what makes it so great!
We select, test, review and suggest the best products. We may earn a commission, if you buy something through our links.
The Ryobi 2300 PSI Electric Pressure Washer has all the dirt-fighting power of a gasoline-powered machine, but with the benefits only electrically operated ones have. Use it to blast away years of deeply encrusted filth from patio furniture, so it looks brand-new, or wash hideous grime off a driveway.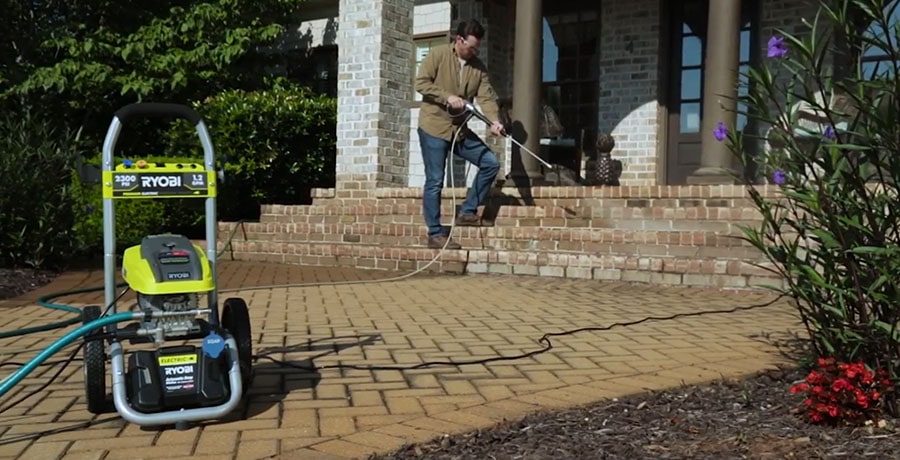 Ryobi 2300 PSI has all the power of a gasoline-powered machine
Features
No gas, oil, or foul-smelling fumes;
Quieter than most gasoline-powered models;
Brushless motor—fewer moving parts to break down;
Sturdy metal wand rated to 3300 PSI;
Extra-large wheels for better maneuverability;
Three-year warranty.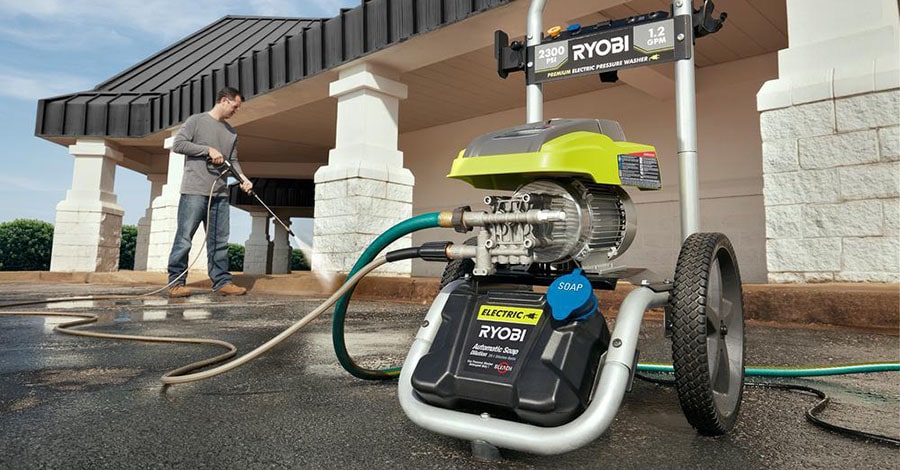 Who's it for
The Ryobi 2300 PSI Electric Pressure Washer is for homeowners with disgustingly dirty front walkways that haven't been cleaned since the Carter administration. It's also for people who have decks covered with mildew and other unsightly blemishes they want to get rid of so they can sell their homes.
Deploy this machine if you have black gunk on your roof and want to blast it into nonexistence. With the turbo nozzle that comes with this unit, you'll be able to complete the job within an hour or two.
Pros

The Ryobi is a medium-duty model. This means it's designed for tasks like cleaning your driveway, washing your car, or rinsing dirt from siding. At 2300 PSI (the highest PSI of any electric pressure washer the company sells) and 1.2 GPM, this model can handle virtually any task you can throw at it.
The power that emanates from this model is impressive. Some users say it's the best they've ever experienced from an electrically powered pressure washer. The spray is powerful enough to cut through decades worth of stomped in dirt, pine needles, pollen, and other debris. If your task requires a little more oomph, use the Turbo Nozzle, which gives you 50% more power.
The Advantages of Electric Power Over Gas
A gasoline-powered pressure washer can be a hassle to maintain. For starters, you need to take it to your friendly neighborhood mechanic each spring to purge the old gas from the carburetor. With the Ryobi 2300 PSI Electric Power Pressure Washer, you won't have to deal with gas, oil, or stinky fumes.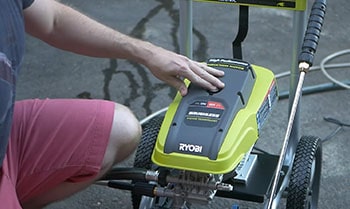 It's a little loud compared to some electric washers, but it's quieter than most gas-powered models. This is something I'm sure your neighbors will appreciate. The Ryobi 2300 has a brushless motor, which means fewer moving parts to break down. Besides that, brushless motors don't get as hot as their brushed counterparts, so the components last longer.
Unlike a gas-powered pressure washer, this machine has no lag or start issues. Because it's electric, you don't have to expend a lot of energy pulling a cord to get it revved up. Merely press the button on the top to turn it off and on (sealed from protection against overspray), and you're good to go. You won't ever have to worry about running out of gas.
High-Quality Components
Some electric pressure washers have wands made from plastic. Not this one!
The Ryobi 2300 has a high-quality metal spray wand with a quick-connect coupler for super easy nozzle changes. The wand is the same one used on Ryobi's gas-powered pressure washers and is rated up to 3300 PSI. It even has a safety lock that prevents accidental activation.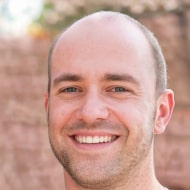 There's a lot of quality materials in this baby, with more metal than plastic. The build quality of this pressure washer is solid as can be. The metal frame is strong, and the rest of the housing is sturdy.
You get three nozzles: 15-degree, soap, and turbo. There's plenty of additional onboard accessory storage for aftermarket attachments if you think you need them.
Excellent Maneuverability
It isn't the easiest power washer to transport in an automobile due to its size and weight (fifty pounds fully assembled). However, it has extra-large 12-inch wheels and an ergonomic handle with a super comfy foam grip. This means you can effortlessly move it wherever you need it to be.
There's minimal danger of unit tipping. With a low center of gravity, it's going to take a lot to knock this baby over!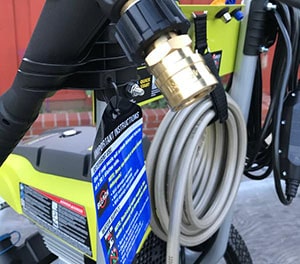 Non-Marring Hose
The cord is 35 feet long, and the hose is 25 feet long. This combination provides you with enough reach to move about without having to move the unit too often. The non-marring hose won't scuff surfaces.
However, it's a little stiff, so you might want to replace it with a more pliable one. If you do, get one that's 50 or even 100 feet long with swivel connections for more flexibility.
GFCI Protection
For extra protection, it comes with an inline GFCI (ground-fault circuit interrupter). The GFCI is at the end of the cord, where you'd plug it into an electrical outlet. There are only a few inches of cord between the GFCI and the plug. This way, the GFCI housing remains off the ground and out of the water.
Cons

The motor is always running when the machine gets turned on, so you need to be careful it doesn't overheat. Although the thermal release valve will activate if it gets hot enough, it's better to turn it off when you're not using it.
The hose is hard to wind up and has a nasty tendency to get twisted and tangled. The trigger handle doesn't have a lock, which means keeping the trigger depressed all the time can tire you out.
You can't use bleach in the Ryobi, unlike some other models. That's a bummer because bleach is a cleaner many homeowners and professionals like to use. Unfortunately, the spray isn't adjustable, unlike the Ryobi 2800 PSI gasoline-powered model. However, you can purchase a pressure adjustment accessory separately.
There's not much room between the garden and high-pressure hose connections, making them challenging to tighten. The plastic hose going to the soap dispenser hangs down under the unit. This seems like a design flaw because it could get torn off if it gets hung up on a stick.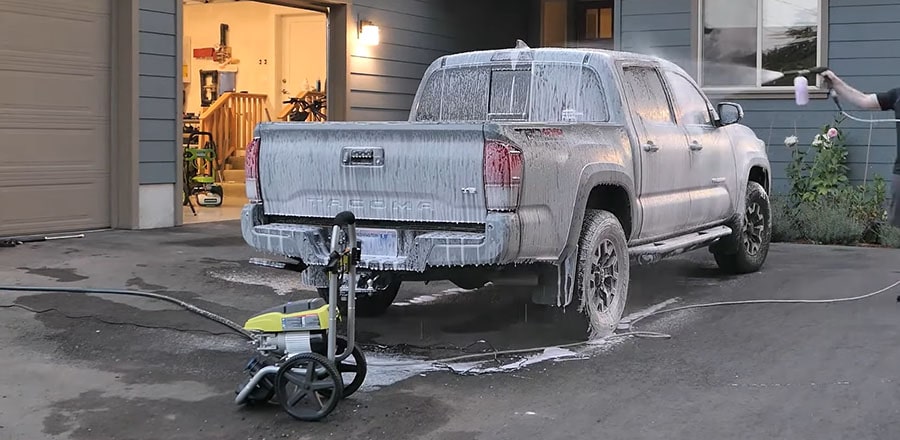 My Final Verdict: Should You Buy the Ryobi 2300 PSI
If you desperately crave a heavy-duty pressure washer but don't want to put up with the hassles of gasoline-powered units, the Ryobi 2300 Electric Power Washer is the way to go.
That's why I wholeheartedly recommend you buy this unit. Having one of these endlessly versatile machines at your beck and call will make short work of previously challenging household cleaning tasks.
Check our updated list of the best electric pressure washers of 2023 for more recommendations!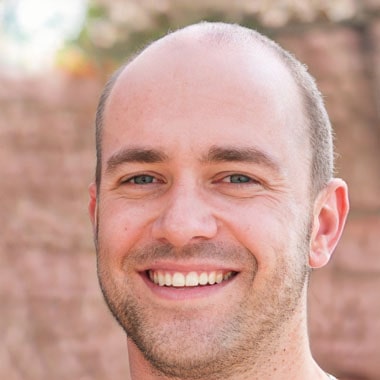 Author
Alex owns a home improvement and restoration company in Vancouver. He obtained his Bachelor's degree in Construction Management from Saskatchewan Polytechnic and is a NARI Certified Remodeler. His team does a wide range of home restoration products, both interior and exterior.
---
Pressure Washer Tips & Tricks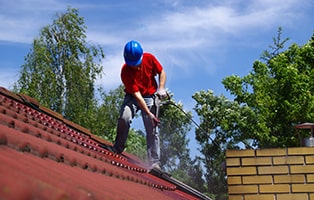 The leaves are starting to fall, and you may be thinking about power washing your gutters. Why? It's the perfect time of year to maintain those dirty drainage systems. The cool weather brings out dirt build-up, which can cause more problems.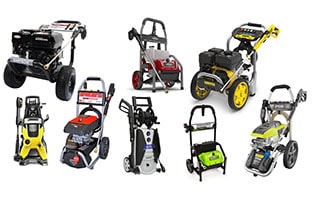 When it comes to cleaning grungy patio furniture, dirt-encrusted siding, and oily driveways, power washers are an indispensable tool. Read our article to find out which companies make the best ones.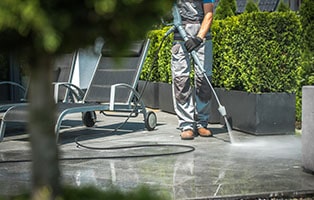 A pressure washer is a way to clean your patio that doesn't involve lots of strenuous scrubbing. Read about the 7 steps you'll need to follow if you want your patio cleaning to be a smash success.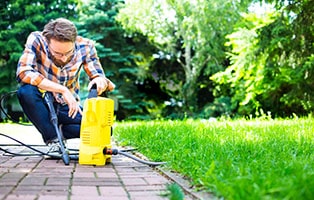 If your pressure washer is getting hot too frequently, this could be a sign that there's either something wrong with it, or you're doing something wrong. Read our article to diagnose these problems.