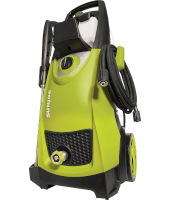 Is the Sun Joe SPX3000 a good electric pressure washer for your needs? Find out in our 2023 review.
We select, test, review and suggest the best products. We may earn a commission, if you buy something through our links.
When you don't need industrial-strength cleaning, an electric pressure washer like the Sun Joe SPX3000 is something you should consider. This lightweight, economical power washer is tough on dirt but easy on your wallet and your back.
For your average cleaning tasks such as car washing, driveways, gutters, and grills, an electric model will usually provide plenty of power. If you're on the fence between electric and gas, it's a good compromise to opt for an electric model with a higher CU (cleaning units score) such as the Sun Joe SPX3000.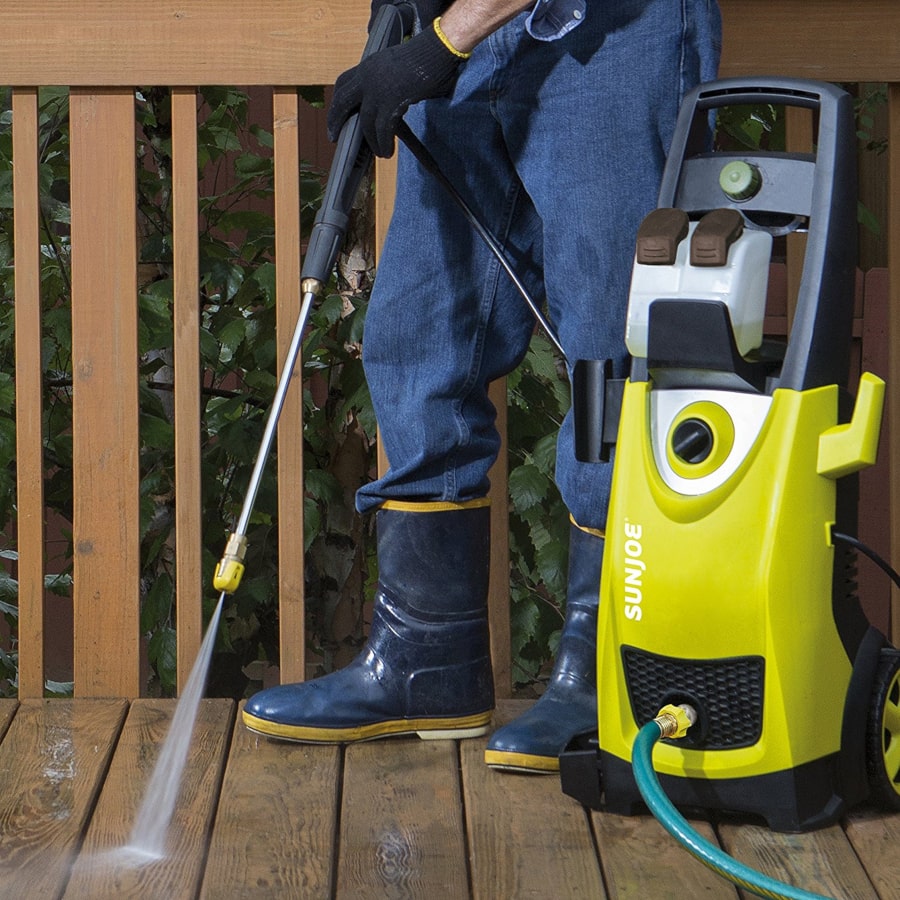 Why choose an electric pressure washer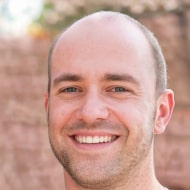 Electric pressure washers have several pros over gas, depending on who you ask and what your cleaning needs are. If most of your cleaning is on the light-medium duty side, then electric is usually more than enough. If you have a farm or heavy-duty industrial jobs, gas is the way to go.
Here are the PROS of an Electric pressure washer over Gas:
Quieter
Cheaper
Smaller and lighter
Easier storage
Can be used indoors (depends on cleaning surface)
Electric pressure washers don't require gas or oil and aren't as hard to winterize as a gas washer. They also won't emit any exhaust, so they don't pollute the air or cause carbon monoxide poisoning.
---
What do you get with a Sun Joe SPX3000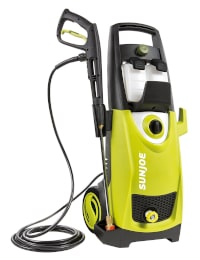 5-quick connect nozzles w/ onboard storage (0, 15, 25, 40, and soap)
14.5 amp/1800 Watt motor
2030 max PSI
1.76 GPM
CU score: 3573
20-foot hose
Two 0.9 L detergent tanks
35-foot cord w/ onboard storage
GFCI plug
Safety lock switch (TSS or Total Stop System)
Full 2-year warranty
The detergent tanks are removable, which helps to avoid spills and makes them easier to empty. You can also fill them with two different cleaning solutions for easy multi-surface cleaning. Switch between tanks with the detergent selection dial, which also allows you to control the concentration of soap.
The TSS (total stop system) is a safety lock switch that automatically shuts off the pump when the trigger isn't engaged. This saves energy, prolongs pump life, and prevents damage or injury from accidental spray.
With a 35-foot power cord, this machine will reach quite far outdoors. The extra 20 feet you'll get with the hose and the 34-inch spray wand extends your reach even further. It will help you tackle second-story vinyl, gutters, the undercarriage of vehicles, and more without needing ladders and without breaking your back.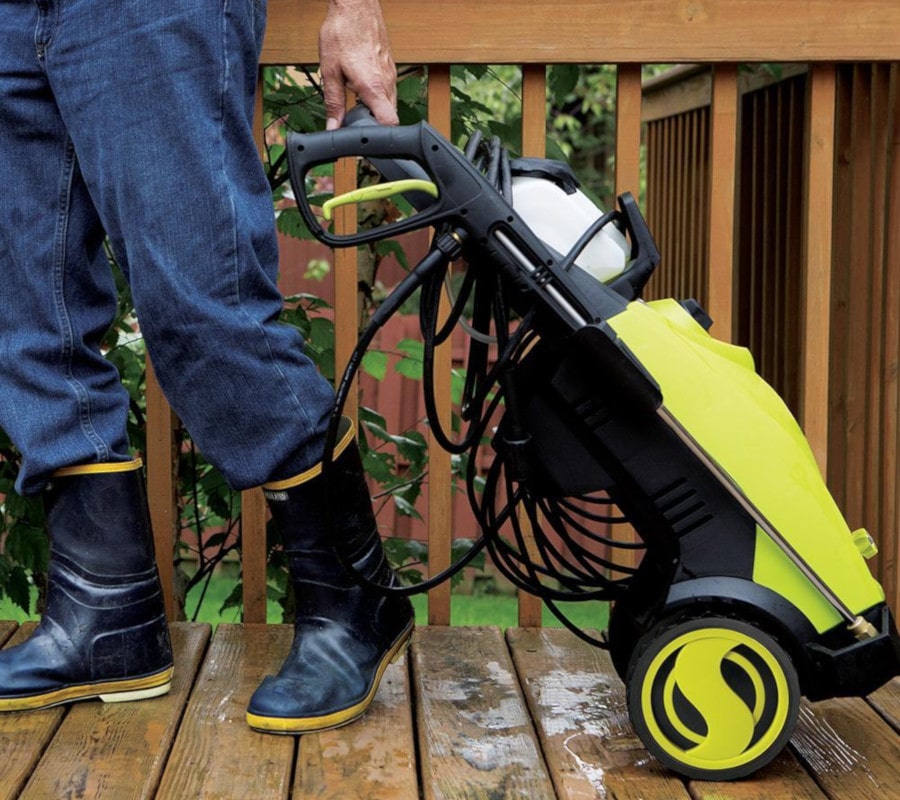 Product dimensions
Height (assembled): 33.9 inches
Width: 13.5 inches
Depth: 15.6 inches
Weight: 31 pounds
The machine is compact enough to easily store without it taking up too much space, although the handle does not fold down. It's lightweight, making it easy to transport from one job site to another.
How to operate
Once you unbox the unit, assembly is a little tedious with almost two dozen separate parts, but not overly difficult. You'll need a Phillips screwdriver to put some parts together with included screws. Both ends of the high pressure hose look the same, so it shouldn't matter which end attaches to the pump outlet and which attaches to the wand.
To operate the machine, attach your garden hose to the faucet and the other end to the hose inlet on the machine. Turn the adapter counter-clockwise to tighten the hose.
NOTE: Don't over tighten the hose connection. Doing so may cause a leak.
If you're using soap (you don't have to), fill one or both detergent tanks with your preferred pressure-washer friendly cleaner. Then, plug the unit in. Attach whichever nozzle you need for the job, and turn on the faucet. Turn the switch on the machine to on. It'll make a little noise as it sucks water into the pump, but then it will be quiet until you engage the trigger on the spray wand.
Recommended nozzles for specific cleaning tasks
This is not an exhaustive list. For more cleaning uses, see your owner's manual.
0 degree (orange): Small, concentrated areas of hard surfaces. Removes tar, grease spots, and caked mud.
15 degree (yellow): Intense cleaning on hard surfaces. Removes paint, mildew stains, and rust.
25 degree (green): Vinyl siding, brick patios, wood, and driveways.
40 degree (gray): Cars, trucks, boats, patio furniture.
Soap nozzle (black): Low-pressure. Always use when applying detergent.

NOTE: Consumer Reports recommends throwing away the 0 degree nozzle since it poses the most danger of personal injury and property damage.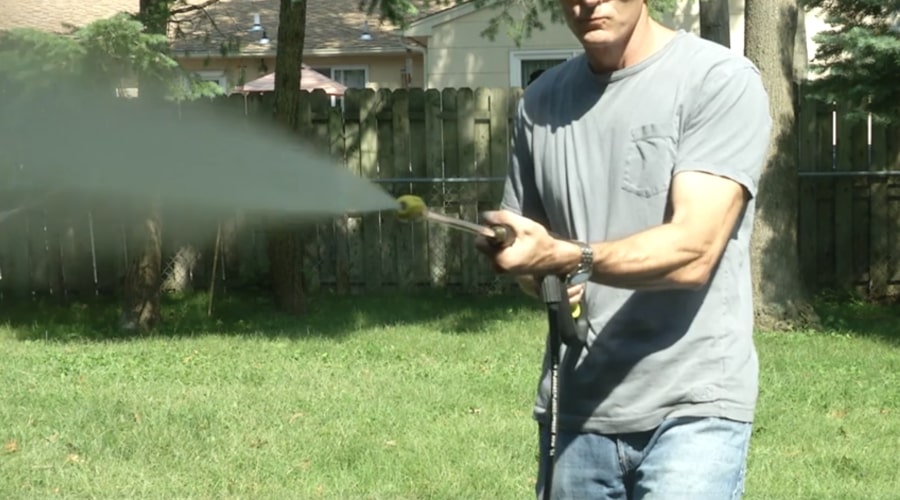 Performance
Users have reported that the yellow nozzle (15 degrees) worked well on cleaning mildew from vinyl and concrete walkways. The gray nozzle (40 degrees) cleaned patio furniture and ceramic planters really well.
On car wheels, caked on dirt didn't come off without some manual scrubbing. Bird droppings and tree sap on the rest of the car came off easily with the gray nozzle.
Some customers had trouble getting deeply stained surfaces clean. Those may require manual scrubbing or a bleach pretreat (for set-in mold).
Many people have been happy with how quiet the machine runs. Mind you, no pressure washer is very quiet. But at 81 dB (decibels), it's somewhere between a hair dryer and blender as far as noise goes. If it bothers you, wear ear protection.
---
What's to love about the Sun Joe SPX3000
This is a top-selling pressure washer with mostly positive customer reviews. Most homeowners found that it met their general cleaning needs. They were able to clean fences, patio furniture, cars, patios, vinyl, and more.
They like that it's quiet and compact for easy storage. The handle is about waist-high so that it is easy for most people to roll around. All the parts have onboard storage, so keeping up with nozzles and hoses shouldn't be difficult.
There's also a full 2-year warranty that covers almost everything so long as you're using it for residential use. Using extension cords, unapproved detergents, or anything prohibited in the user manual can void the warranty.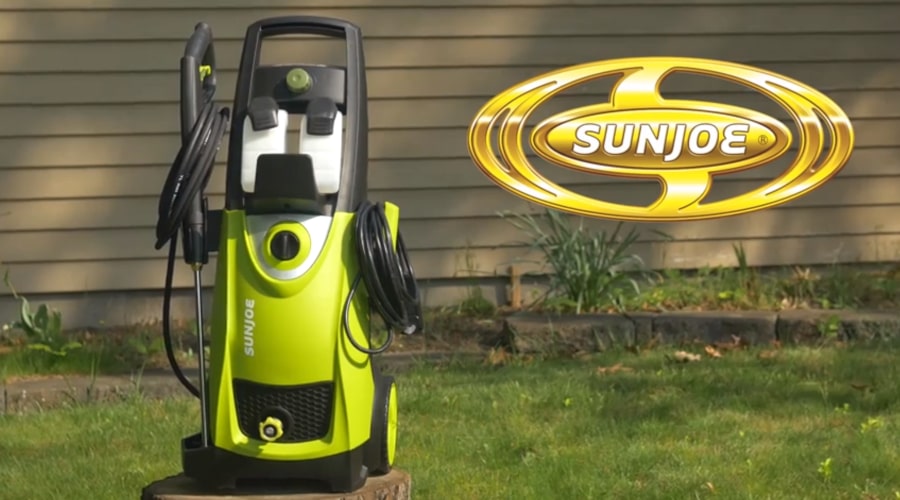 What's not-so-great about the Sun Joe SPX3000
If you're looking for heavy-duty, hours-long cleaning session, you'll probably be disappointed. Running this machine for too long can make it prone to leaks. The aluminum hose connector threads can also be stripped after a few uses, which increases leak chances.
The adapter on the unit itself is plastic, which can also be prone to leaks. If this happens, Sun Joe supposedly has a brass attachment they can send to you for free.
Customers reported that the fittings aren't universal, which made finding replacement parts harder. The 20-foot hose was also too short for some customers, and the hose is mounted low to the ground, so it may get in the way when you're rolling it.
For more versatility in your cleaning experience, try these optional accessories:

Fits a variety of electric and gas power washers up to 2300 PSI with 22mm (M22) connections.

For all Sun Joe SPX series power washers. Good for deep-cleaning patios, cars, siding, and more.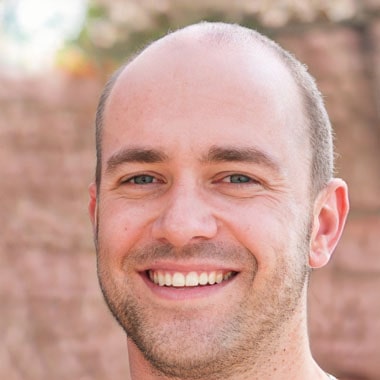 Author
Alex owns a home improvement and restoration company in Vancouver. He obtained his Bachelor's degree in Construction Management from Saskatchewan Polytechnic and is a NARI Certified Remodeler. His team does a wide range of home restoration products, both interior and exterior.
---
Pressure Washer Tips & Tricks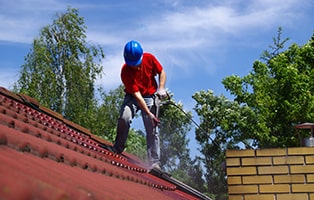 The leaves are starting to fall, and you may be thinking about power washing your gutters. Why? It's the perfect time of year to maintain those dirty drainage systems. The cool weather brings out dirt build-up, which can cause more problems.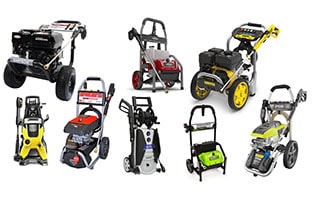 When it comes to cleaning grungy patio furniture, dirt-encrusted siding, and oily driveways, power washers are an indispensable tool. Read our article to find out which companies make the best ones.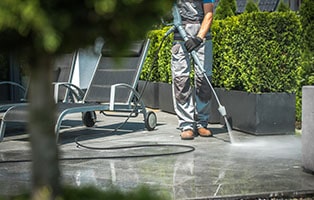 A pressure washer is a way to clean your patio that doesn't involve lots of strenuous scrubbing. Read about the 7 steps you'll need to follow if you want your patio cleaning to be a smash success.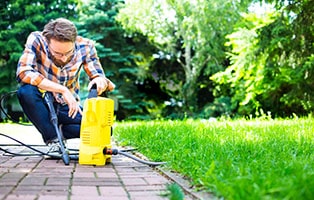 If your pressure washer is getting hot too frequently, this could be a sign that there's either something wrong with it, or you're doing something wrong. Read our article to diagnose these problems.