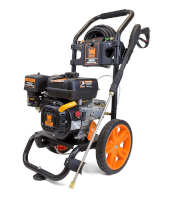 Is The WEN PW3100 Gas-Powered Pressure Washer The Machine of Your Dreams? Read Our 2023 Review and Decide For Yourself!
We select, test, review and suggest the best products. We may earn a commission, if you buy something through our links.
The WEN PW3100 is a machine that gives you all the power you'll need to pressure wash your house, patio furniture, or other household items in the way it's meant to be done. If this is the kind of performance you need, you might expect to pay hundreds of dollars more than what this unit costs. But you won't have to, because the manufacturers of this machine have engineered an inexpensive tool with the kind of power you usually only see in higher-end models.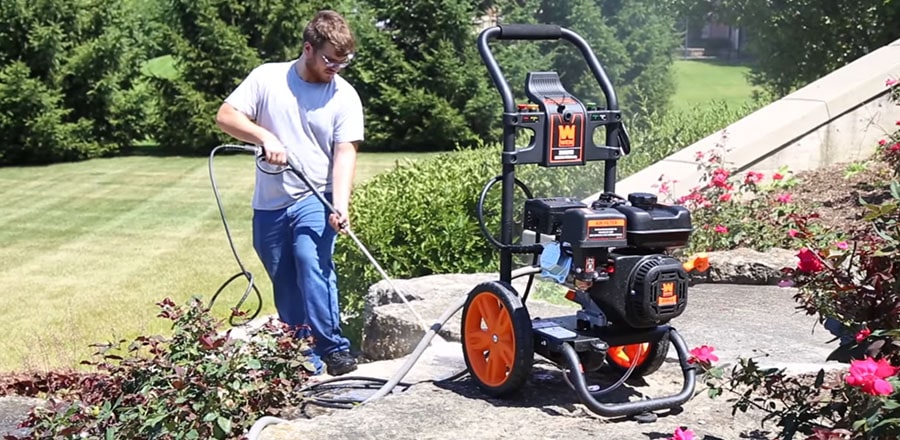 WEN PW3100 Gas Pressure Washer
To get the job done, you really need the power of a 3,000+ PSI machine. Unfortunately, most electric power washers are too small for most situations. And, many quality gas pressure washers aren't exactly affordable. With 3100 pounds of pressure at your fingertips, the WEN PW3100 will blast away dirt, grime, and caked-on mud like few other machines on the market.
And if you're wondering about the CU score, it's 7750, which isn't too shabby. It's such a fantastic unit, it even earned a spot on our top 6 best gas pressure washers of 2023.
What do you get with a WEN PW 3100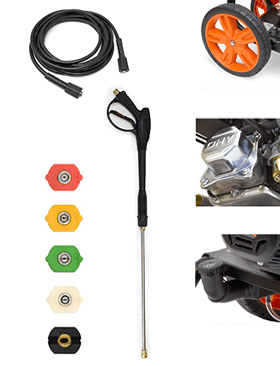 208cc air-cooled 4-stroke PHV engine
2-year warranty
five quick-connect nozzles: 0°, 15°, 25°, 40°, and soap
Nozzle storage holder
Nozzle usage chart
30-foot reinforced hose
Onboard soap tank
Quick connect spray gun
Axial cam pump
12-inch never-flat wheels
It has an Axial cam pump instead of a Triplex. So, if you have the unit any length of time, you're probably going to have to replace the pump. This machine has a soap dispenser that loads from the front and holds about eight ounces of fluid.
The heavy-duty pre-installed wheels are 12 inches in diameter, which allows you to tackle a wide variety of tough terrains. And, they'll never go flat on you since they're not pneumatic.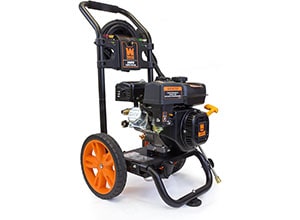 Product Dimensions
Weight: 75 pounds
Height: 40 inches
Length: 21 inches
Width: 21 inches
Performance
This pressure washer pumps an impressive 2.5 gallons per minute. This is enough water flow to tackle virtually any household task you need to get done. You'll go through a tank of gas every two hours or so. The engine is super easy to start. And, it's quiet, so doing a job won't turn into an assault on your poor neighbors' ears.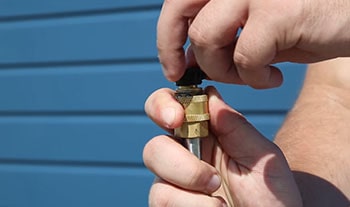 This unit doesn't have adjustable pressure control on the wand. That means to change the pressure, you're going to have to change the nozzle. But fortunately, the nozzles change without too much difficulty. All that's required is to slide back the collar at the end of the lance and pop in any one of the five included attachments. There's even an onboard compartment with slots for all five nozzles.
The 30-foot hose is excellent because it gives you far more range of reach than most other pressure washers. Lots of them have hoses that are only 25 feet in length. It has bigger wheels than some other models, so it's not too difficult to lug across the yard. And because the tires aren't pneumatic, you'll never have to worry about a tire going flat again.
What's to love about the WEN PW3100

After adding your oil and gas, it'll start on the first pull. It's a 4 cycle engine, so no mixing of oil or fuel is required.
It puts out one heck of a water blast, so you should have plenty of aqueous force at your command. The assembly is quick. For most people, it will only take 30 minutes or less. You get a handy chart nozzle that'll let you know which each nozzle is for. That way, you don't have to guess.
The cutting path is three to four-inch-wide, which is pretty decent.
What's not so great about the WEN PW3100

Some people report that when you wheel it around, the cotter pins used to hold the wheels in place can punch a hole in the soap tank. An easy fix for this is to put the cotter pins on the outside of the wheels.
When you first use it, the hose might feel a little too rigid. However, over time it becomes more supple. It also kinks up a little too easily, which can be a bit of a pain. Some report that engine vibration pops the tips of the nozzle attachments right out of their holder. So, you might want to think about keeping the nozzles in your toolbox where you won't lose them.
Some users report that when the box was shipped to them, it didn't include oil. So, you might want to buy 10W30 oil before your package arrives at your house—so you'll be ready to use it immediately.
After all, that grimy lawn furniture probably has waited months for a bath. And it can't wait another day!
Helpful Tips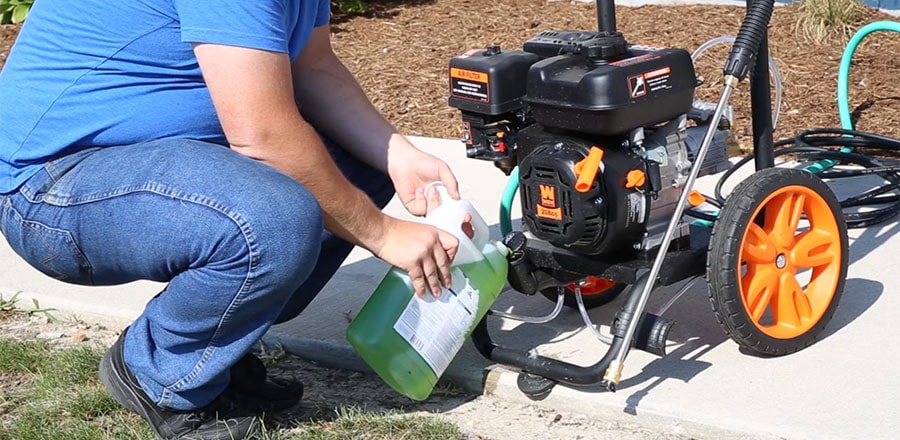 PW3100 has a detergent tank but you might never have to use it.
This pressure washer has a detergent tank, but with this much power, you might never have to use it. However, if you're tackling an especially tough job and you need to boost your cleaning power, add your favorite detergent to the onboard tank. This will help break down grime, dirt, and other surface buildups before the stream of water even hits it.
Make sure you use the soap nozzle when using detergent. Also, you've got to be very careful with the 0° degree setting. That's because it's so powerful it not only takes off paint but can cut into your precious stone and tile too.
Unlike some other pressure washers you can buy, the wand feels very comfortable to hold. You'll be grateful for this ease of handling when you have a job that's going to take hours to finish. However, be extremely careful when attaching the various nozzles. If you don't attach them securely, they'll fly off, and you'll be hunting for them for days.
Final Thoughts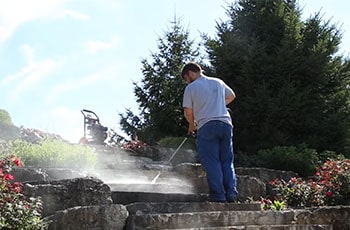 If you're looking for a pressure washer that'll do the job of a commercial unit, look no further than the WEN PW3100. This unit gives you a consistently powerful jet of water with no stutters or hiccups. This is one rugged and durable machine, able to stand up to the toughest jobs life will throw at you.
This is the kind of pressure washer that'll blast through years of greasy driveway grime like it was nothing. Use it to get your car gleaming more brightly than ever before. It'll even clean your boat and RV, and make them look like new again. Give vinyl siding and chairs a new lease on life with this eminently practical machine.
In spring, in some areas of the country, your patio furniture can get covered by a thick layer of yellow pollen from oak trees. If you live where this happens, you'll love the WEN PW3100, because it's perfect for this type of job.
It has more than enough washing power for siding, steps, and walks. It'll totally terminate nasty weeds sticking out from between your patio stones. Many monster trucks are too humongous to fit in a car wash. If you have one, use this powerful tool to wash away on caked-on mud from your big boy toy.
It's a terrific machine for the price and one that should give you years of dependable use without much hassle. This is one of the better commercial pressure washers on the market.
So many are satisfied with the performance of this machine. Although it's not perfect, this machine is a superior workhorse worth every penny of what you'll pay.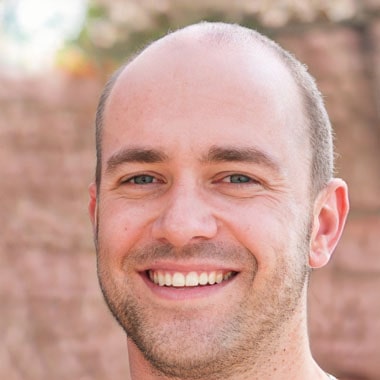 Author
Alex owns a home improvement and restoration company in Vancouver. He obtained his Bachelor's degree in Construction Management from Saskatchewan Polytechnic and is a NARI Certified Remodeler. His team does a wide range of home restoration products, both interior and exterior.
---
Pressure Washer Tips & Tricks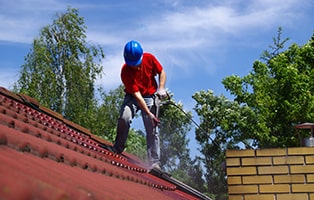 The leaves are starting to fall, and you may be thinking about power washing your gutters. Why? It's the perfect time of year to maintain those dirty drainage systems. The cool weather brings out dirt build-up, which can cause more problems.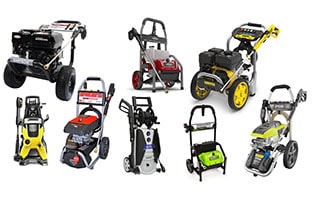 When it comes to cleaning grungy patio furniture, dirt-encrusted siding, and oily driveways, power washers are an indispensable tool. Read our article to find out which companies make the best ones.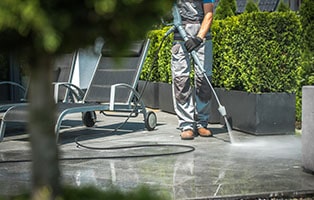 A pressure washer is a way to clean your patio that doesn't involve lots of strenuous scrubbing. Read about the 7 steps you'll need to follow if you want your patio cleaning to be a smash success.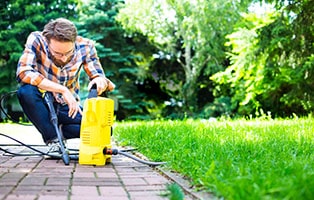 If your pressure washer is getting hot too frequently, this could be a sign that there's either something wrong with it, or you're doing something wrong. Read our article to diagnose these problems.